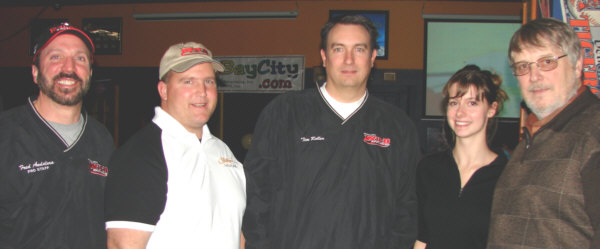 Wild Addiction Team present for the Premier party in Bay City were,
(L/R) Fred Andalora, Jim Beson, Tim Roller, Jessica Cunningham and O.J. Cunningham.
---
Tim Roller's Wild Addiction Big Premier Plays
at Big House Sports Bar
Bay City Gets A Taste of The Wild!
January 10, 2008 Leave a Comment
By: Julie McCallum, Entertainment Editor

Everyone got a taste of the wild, - Tim Roller's Wild Addiction TV that is, Friday night at the premier party of Tim Roller's Wild Addiction TV show at Bay City Big House Sports Bar on Midland Street.
The new TV show was not only featured at the Big House bar but also nationwide on The Sportsman Channel. (Charter Channel 217)
Wild Addiction TV features exciting and informative fishing and hunting action with some of the finest, most dedicated, hunters and anglers who display their talents, methods and techniques on the show. Host and Producer of the show is Bay City Native Tim Roller, 39, who currently resides in Lake City, Michigan.
Click Here For A WILD ADDICTION Preview
Special appearances at the premier party included, Roller, and two of his pro staff members, Fred Andalora, Jim Beson. Also BugWater Media camera crew from Florida, Jessica Cunningham, and O. J. Cunningham, Bay City. (Other pro staff members include Jeff LaCourse, Chris Peterson, Mike Shrauger)
The half hour show left the audience only wanting more as they applauded Roller and his Wild Addiction team. Roller commented, "I couldn't be happier with how things turned out Friday. The support was really overwhelming."
Roller went on to say, "Everyone, especially the manager of the Big House James McClure really put a lot of thought and work into making tonight a success . . . I don't think it could have been any better."
Roller said The Big House was the perfect venue. "All of the staff there was incredible and unbelievably accommodating throughout the entire evening. I really appreciate Art Dore allowing us to 'take the place over' on a Friday night." added Roller.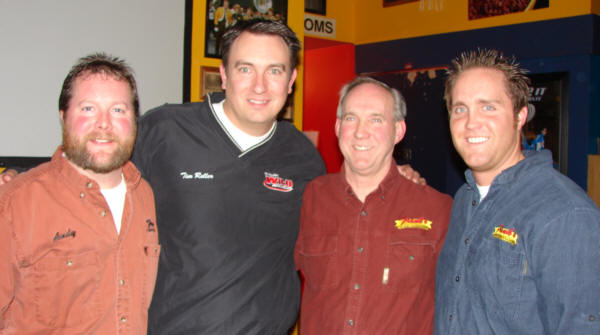 (L/R) Tim Roller, second from left, with representatives from sponsor, Frank's Great Outdoors: Andy Gorske, Roller, Larry Gorske and Pete Gorske.
"The premier party was as much about our local sponsors as it was about anything and it was really nice to be able to have most of them there for the premiere", said Roller.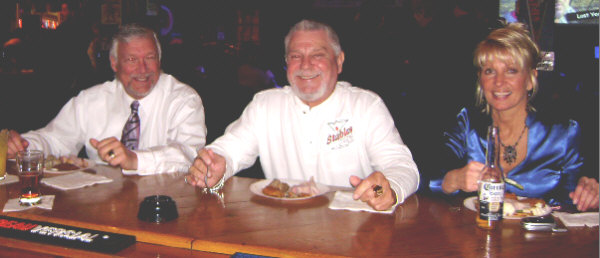 In attendance for the Wild Addiction Premier
(Above L/R)
Dick Bork, (Labadie Auto), Owner of the newly opened Big House Bar; Art Dore and Penny Warner enjoy the hors d'oeuvre while waiting for showtime! (MyBayCity photo)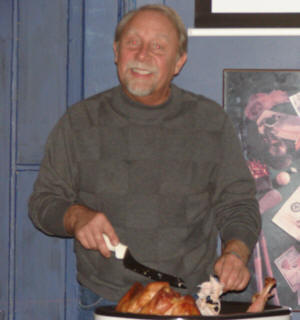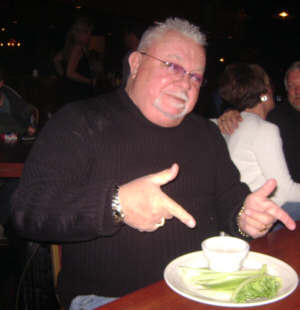 (Above Left)
Wild Addiction Sponsor, Tom Simon from Poultry Pal serves up his famous, incredibly juicy, flavorful
Poultry Pal
turkey -- much to the crowd's delight.
(Above Right)
Wild Addiction Sponsor, Ray Stack of Silver Sand Limousine, shows his support at the premier show and party. (MyBayCity photo)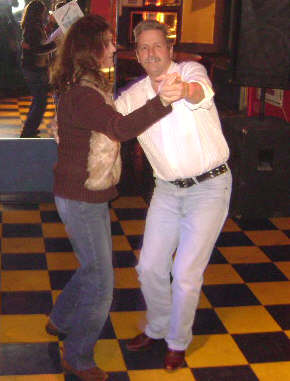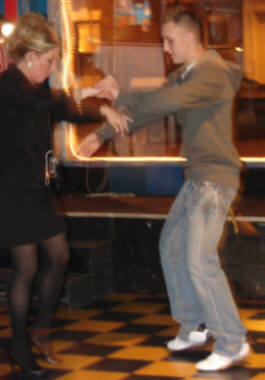 The night ended with music and dancing. (not to mention some foosball & pool)
(Above Left)
Larry Rickett from
Derringer Band
and his dance partner shake things up on the dance floor after the show. (MyBayCity photo)
(Above Right)
Jeff, the DJ for the Big House, nabs his dance partner to get things moving on the dance floor. (MyBayCity photo by Jessica Cunningham)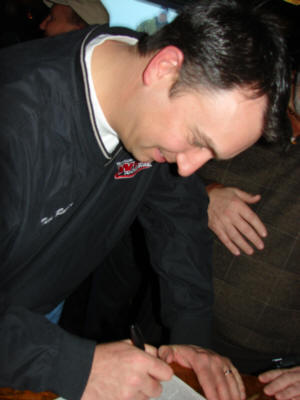 (Left)
Tim Roller signs autographs after the show.
"A lot of planning and work over the past couple of years led to the premiere of Wild Addiction. It was really gratifying to see all of our hard work come to fruition." said Roller.
(Below Right)
Roller and
BugWater Media
partner O.J. Cunningham.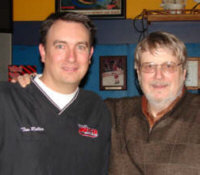 The Wild Addiction Television Show can be seen weekly on The Sportsman Channel (Charter Channel 217):

3:30 a.m on Tuesday

2:30 p.m. on Wednesday

7:00 p.m. on Friday

7:30 a.m. on Sunday.
Wild Addiction sponsors include the following companies which Wild Addiction fully endorses and relies on the products and services of these quality companies....
Pere Marquette River Lodge 8841 S. M-37 Baldwin, MI 49304 231-745-3972 http://www.pmriver.com (Incredible fishing for Steelhead, Salmon, and Trout.)
Frank's Great Outdoors 1212 N. Huron Rd. (M-13) Linwood, MI 48634 989-697-5341 http://www.franksgreatoutdoors.com (Hunting, Fishing, and Camping Gear and Accessories)
Duncan's Outdoor Shop, Inc. 501 Salzburg Ave. Bay City, MI 48706 989-894-6691 http://www.duncansoutdoor.com (Rifles, Shotguns, Pistols, Ammo....all things guns! Incredible indoor gun ranges up to 200 yards!)
Mathews Inc.919 River Rd. Sparta, WI 54656 608-269-2728 http://www.mathewsinc.com (The Wild Addiction pro-staff is proud to shoot and endorse the best bows on the planet...Mathews!)
Poultry Pal 877-4-BEER-CAN or http://www.beercanchicken.com (Simply the best tasting chicken on the planet!)
Two Men and a Truck 989-895-5252 http://www.twomenandatruck.com (Residential and Commercial movers who care)
Swaffer's Toyota 888-792-3337 http://www.swafferstoyota.com
Silver Sand Limousine 1315 N. Trumbull, Bay City, MI 48708 989-225-5010 http://www.silversandlimo.com (Your full service Limousine Company proudly serving all of Michigan!)

The Time Has Come....Get Hooked.....Get Close.....Get ADDICTED!
(Click on Above Logo to visit the Wild Addiction Website!)
---
---
---
Send This Story to a Friend!
Letter to the editor
Link to this Story
Printer-Friendly Story View
---
--- Advertisments ---