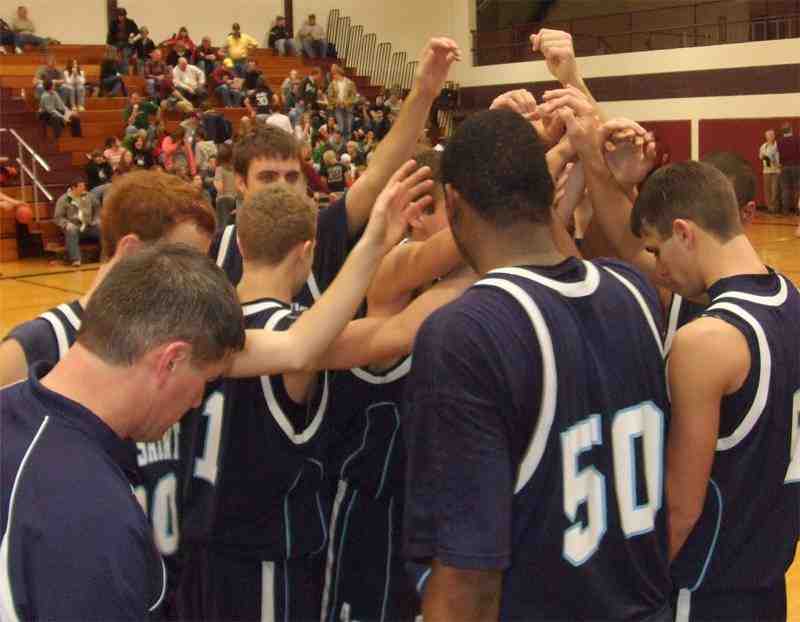 All Saints Varsity team lead by Coach Mike Showalter prepare for the game.
(MyBayCity Photo by Kevin Kula)
---
Cass City Edges All Saints 44-41 In Defensive Struggle
Defensive Battle Decided by Decisive Fourth Period
January 17, 2008 Leave a Comment
By: Kevin Kula

After two straight victories since their Christmas games the All Saints Cougars were narrowly beaten by the Red Hawks of Cass City in the epic fourth period. Right from the get-go this game was all about defense. Both teams battled on each side of the court for any points they could get their hands on. The scoreboard showed 12-11 with the Cass City Red Hawks clinging to their fragile one point lead after the first period expired.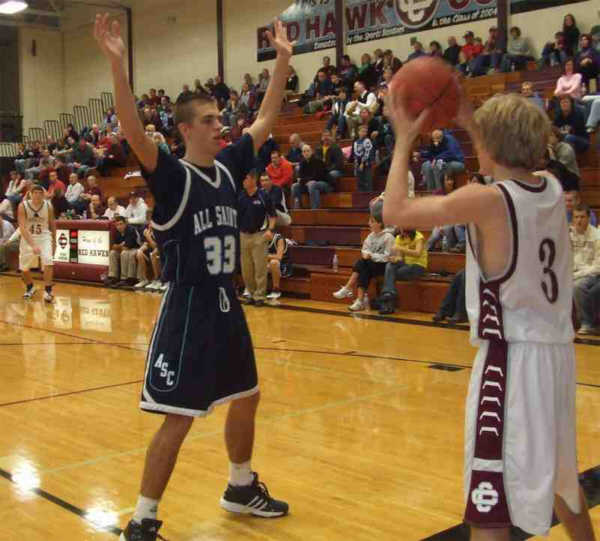 ASC's B.J. Weaver blocks Cass City's Chris Binder in a defensive battle.
(MyBayCity Photo by Kevin Kula)
The Second period was a stalemate. Until late into the period neither team managed to break through the opposing defense. Finally the Cougars found their fire and came back strong as ever. Despite all their stamina and teamwork they only managed to snag a few more precious points. More importantly though, they effectively shut down the Red Hawk offense. The score at intermission was in a deadlock. Tied 18-18 every indication pointed to an explosive second half.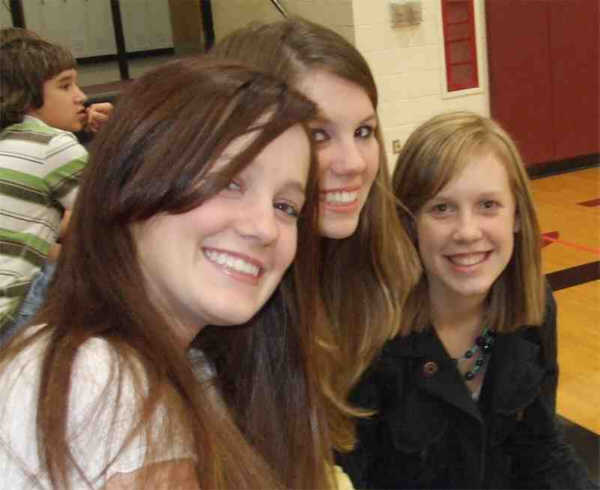 ASC fans Whitney, Brianne, and Julie hope for some scoring action in the 2nd half.
(MyBayCity Photo by Kevin Kula)
Fighting for the upper hand both teams turned up the heat on the court a couple notches. Led by the likes of Ollie Hull, and the Cougar?s most ferocious combatants, the Red Hawks barley managed to hang on to their lead. With the score showing a four point lead to the Hawks, the Cougars knew they would need to hit the court with everything they had in the last fateful period.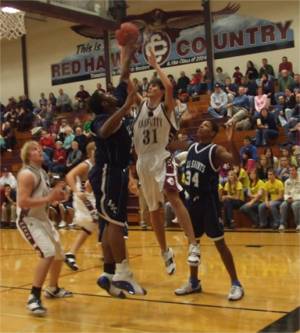 Cougar Ollie Hull blocks #31 Chris Summerset's shot, as Mario Walker waits for the rebound.
(MyBayCity Photo by Kevin Kula)
Unfortunately a series of untimely fouls hurt the Cougars where they were most vulnerable; on the scoreboard. Despite these setbacks the Cougars played with all the intensity they could muster; And finally with 5 minutes left to go they took the lead. Things were looking up for the Cougars as their morale rose and a victory seemed possible.
However the Hawks had other plans for the outcome of the night. Capitalizing on the Cougars sudden weakness the Hawks gained the upper hand, and enough free throw points to win the game. In the end the Hawks came out on top 44-41.
Ollie Hull managed 13 points while Aaron Janer with 7 and Preston Oaks with 7 chipped in their bit too. The Cougars record now stands at 5-6. The Cougars will take on Lakers next week at home.
---
---
---
Send This Story to a Friend!
Letter to the editor
Link to this Story
Printer-Friendly Story View
---
--- Advertisments ---