Saginaw River Marine History in Princess Wenonah Tour Focus August 2
River Has Seen 888 Ships Built, 1787-1976; Defoe the Leader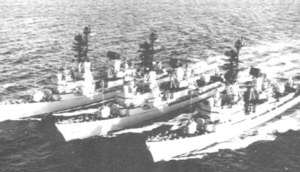 Guided missile destroyers built by Defoe for Australian Navy make a tidy threesome in the 1960s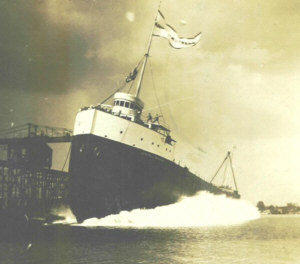 Wheeler's Daniel J. Morrell was launched in 1906 with full fanfare, but ended tragically.
The Saginaw River Marine Historical Society will cruise the river exploring history aboard the Princess Wenonah on Saturday, August 2.
There will be plenty to talk about, and some places where historic ships were built, as well as buildings and facilities left over from a century or more ago, to see. The most recent shipbuilding site, Gougeon Brothers, on the river at the Independence Bridge, has world class sailing craft to its credit but currently is not building any vessels.
The voices from the past might even echo the sad tale of the first shipbuilder, Louis Tromble', who built sloops to be used in the coasting trade with the Indians at the mouth of the river in 1787 and 1788. Tromble', weakened by an injury suffered in an Indian attack, fell off one of his own ships and drowned.
Some 888 ships were built on the river in Bay City alone from 1787 to 1976. The long and colorful shipbuilding history of Bay City was the subject of a presentation last week to the Michigan Chapter of the Destroyer Escort Sailors Association annual meeting at the Bay Valley Inn.
The total of 888 ships built was documented by the late Catherine Baker in her booklet "Shipbuilding on the Saginaw," published by the Bay County Historical Society in 1972.
These vessels range from sailing sloops to guided missile destroyers and feature famous ships such as the Presidential Yacht called Barbara Ann by Eisenhower, Honey Fitz by Kennedy and Patricia Ann by Nixon. "Tricky Dick" auctioned the Defoe built 92 foot yacht in an economy move in 1971 and in 1998 it sold for $5.9 million. The ship has been restored and is now operating in Mobile Bay, Alabama.
The Coast Guard Cutter Escanaba, 175 foot steel diesel ship built by Defoe in 1931, made tragic headlines when it was sunk with loss of 101 of 103 hands in 1943 off Greenland. It is believed to have hit a German mine or have been struck by a torpedo.
The Defoe-built USS Rich, a 306 foot destroyer escort, perished along with 89 crew members on June 7, 1944 when it struck mines during the Normandy Invasion off the coast of France.
In 1906 the Wheeler Shipbuilding Co. of West Bay City built the 580 foot steel freighter Daniel J. Morrell, which sunk in a storm inLake Huron in 1966 with loss of all but one man, Dennis Hale, of Ashtabula, Ohio.
Wheeler in 1897 built the Niagara, a 266 foot long steel steamer which became a highly familiar sight to local residents as it traversed the river almost daily taking sand from Lake Huron to the General Motors foundries in Saginaw.
The huge buildings now owned by the Fletcher Oil Co. in the Banks area are a reminder of the glory days of Bay City shipbuilding. The were once owned by the oil tycoon John D. Rockefeller and the American Shipbuilding Co. which took over when Wheeler went broke in 1908.
Cruisers also will be able to see the 400 foot long graving dock (dry dock) of the legendary Capt. James Davidson in Wenonah Park. Davidson used two huge pumps to remove 2 million gallons of water in an hour and a half so he could repair ships. He built the longest wooden ships ever built, 341 feet. The hulks of five of those ships are visible in low water off Veterans Park and the huge rudder of the steamer Sacramento is on display ashore.
Persons interested in taking the history cruise may contact Carol Schmolitz, 684-2816. Tickets are $15 each and are limited. A cash bar and light snacks are available; boarding is at 5:45 p.m.
---
Community Article 224
---

Dave Rogers




Dave Rogers is a former editorial writer for the Bay City Times and a widely read,
respected journalist/writer in and around Bay City.
(Contact Dave Via Email at carraroe@aol.com)

More from Dave Rogers
---
Send This Story to a Friend!
Letter to the editor
Link to this Story
Printer-Friendly Story View
---
--- Advertisments ---