The Spirit of Dr. King on Saginaw's North Third Street in Summer 1977
Civic Activist Recalls Nonviolent Protest to Closing of Street
January 20, 2008 Leave A Comment
By: Guest Columnist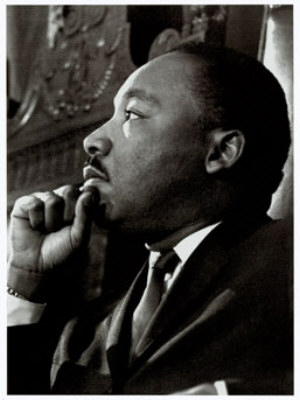 Martin Luther King
By a Saginaw Civic Activist
(Note to Readers: I have attended many Martin Luther King Holiday events through the years, usually speeches at luncheons. However, the event in my own life that makes me most think of Dr. King took place nearly 10 years before his holiday became official in 1986. I was doing community work, similar to what an AmeriCorps volunteer would do today, in what I believe was the spirit of Dr. King. Here's the story of what happened.)
This is summer 1977 in Saginaw, and 40 urban residents have gathered in late afternoon's warmth.
Many of them have folding lawn chairs, but this is not the scene of a sunny picnic.
It's an inner-city picket.
Most of the neighbors are from 50 to 80 years old. They are highly traditional and God-loving people. In many of their homes I have seen framed portraits of the Rev. Dr. Martin Luther King Jr., often flanked by smaller images of John F. Kennedy on one side and Robert F. Kennedy on the other.
The neighbors on this day are sitting and standing on rutted railroad tracks where North Third Street's narrow two lanes cross the edge of a C&O yard that sprawls wider into the distance, into neglected open acres of overgrown shoulder-high grass and weeds. Businesses along the sides include a barber shop, a shoeshine parlor, a poultry store, a bakery and a corner grocery. Behind the scene is the massive Potter Street Railroad Station, built of red brick in 1881 but now abandoned, which had been the portal for many neighbors who arrived in Saginaw years ago from the Deep South.
Saginaw City Council members and C&O plan to close the Third Street traffic crossing at the tracks, and residents are raising their objections in a nonviolent and peaceful method that Dr. King may have employed.
They have good reasons. Many streets in this rundown area already are blocked either at the rail yard or at the nearby Interstate 675, a new I-75 downtown business loop that bulldozed more than a thousand homes and businesses and churches in the heart of the East Side's minority community. By being cut off from the rest of the city, the northeast section's blight is becoming even more severe, and now City Hall is approving yet another dead end. The rail yard and the elevated highway are a scant three blocks apart, like two Berlin Walls slicing through the same ghetto.
Neighbors repeatedly have pleaded to keep Third Street open. They have failed to reap a response from city leaders and C&O. The summer protest on the tracks is a last resort, just as the Montgomery bus boycott was the last resort for a then-youthful Dr. King and his followers.
Those lawn chairs accommodate the older neighbors. Younger residents stand. Some in the group chat with one another. Others are quiet amid the tension.
A railroad foreman emerges. Enough is enough, he tells the group. The trains need to run, and the next one is coming through. Stay on the tracks at your own risk.
The foreman pivots quickly, strides away and makes a signal. A locomotive revs about a mile to the east in the endless rail yard, back somewhere in the depths near Fourteenth Street. The wheels squeal. Here comes the chain of train cars, gradually building speed.
Neighbors scatter aside off the tracks, lawn chairs in tow. Even the oldest folks show an urgent hop-skip-jump. They head toward the adjacent dirt parking lot for Mama Lillie's, a soul food restaurant in a tiny old brick hut.
But one of the younger protesters, Eugene Henderson, is trembling with anger and refuses to move. How can they do this? They're just gonna rev a train and run over these mostly gray-haired people? Where are the police? He stays glued on the tracks as the train presses forward. Finally, a pair of the older but still-strong men grab him and pull him back.
Three white people are part of the scene as the train screams through: The railroad foreman. The train conductor. And me, the shaggy young volunteer who is the grassroots organizer of the black and brown elders in the neighborhood association.
Afterward I ask myself, was it as close as it looked? Would Eugene really have stood on those tracks until the fatal end, lean and strong, crushed along with his Coke-bottle eyeglasses?
This event is far from on a par with events during Dr. King's era. It is not exactly a rival to Alabama's 1963 Birmingham police dogs and fire hoses and church bombings, or with the 1965 Selma skull-crackings on the Edmund Pettus Bridge. But it is equally as oppressive.
For Eugene Henderson and other neighbors, the issue now goes beyond keeping a street open at the railroad tracks. They once more feel racially disrespected. This is nothing new, but at the same time it never gets old. It always cuts to the soul.
(FOOTNOTE: The residents eventually lost their fight for Third Street, but from 1976 to 1982 they achieved grassroots victories in other ways to improve neighborhood conditions. They cleaned abandoned lots and took ownership of them. They helped repair homes. They fought to keep schools and small businesses open. I created the group but I didn't run it; they did. My role was as their resource person. Many of the neighbors had grown up in Jim Crow oppression that was blatant in the Deep South, but that also existed up here in Saginaw in a more subtle form. Through their citizens' association they learned that they had the rights to speak up for themselves, the same as any other Americans. They treated me, as a young adult making my door-to-door organizing rounds, like a member of their own families. Most of them have passed away by now, but their wisdom and strength and kindness will always live within me. On this holiday I honor not only Dr. King, but also these neighbors and elder friends who lived and acted in his spirit.)###
---
Community Article 2240
---
---
Send This Story to a Friend!
Letter to the editor
Link to this Story
Printer-Friendly Story View
---
--- Advertisments ---