UAW Concessions of About $1,000 Per Vehicle Give Big 3 Chance to Succeed
UAW Chief Gettelfinger Speaks to Bay City Rotary Club
January 23, 2008 Leave a Comment
By: Dave Rogers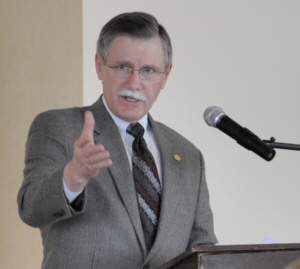 UAW Chairman Ron Gettelfinger makes a point in speech at the Bay City Rotary Club on Tuesday. (Photo by Andy Rogers)
The recently-negotiated settlement between the United Autoworkers international union and the Big Three automakers should save approximately $1,000 per vehicle, Ron Gettelfinger, UAW president, said here Tuesday.
In a speech to the Rotary Club of Bay City, Gettelfinger said the concessions in pay through establishment of a limited number of lower-paid employees and a new independent health care fund "frees up resources for the companies to invest in plants in the United States."
He said the savings were the result of "sacrifices" by UAW members and urged the companies not to abuse the trust of the workers by rewarding executives with bonuses and extra compensation.
Last year's UAW negotiations with the automakers "set the stage for the industry to succeed," he said, adding: "We've done our part, now it's time for the industry and government to do theirs."
Gettelfinger urged the automakers to respond forcefully to the needs of customers and government CAFÉ gas mileage standards.
The main UAW concession was in agreeing to a limited number of lower wage employees at each company, said the UAW chief. In the case of the Ford Motor Co. that number is 20 percent of the total number of UAW employees at that company, he said.
The contract also protects jobs through guarantees that certain products will continue to be made in the U.S. and by a "groundbreaking moratorium on outsourcing," he said.
He said a recent study by Harvard University refutes the often heard claim that automotive products made by non-union plants are better than those made in union facilities.
"Training and a voice on the job simply produce better quality products," he said, noting quality awards for the Big Three from J.D. Power and Associates, a firm that does quality analysis and reporting.
The health care program resulting from UAW negotiations must be bolstered by a national health care system covering everyone to provide maximum benefit, he said.
"It's really a shame that we don't have national health care since every other industrialized nation has such a system and at lower cost than ours," he said. Infant mortality in Washington, D.C., is worse than in Beijing, China, said Gettelfinger.
He also cited a wide disparity in administration costs between government and private programs. He said administrative costs are two percent of the total cost of government programs and 30 percent for private, corporate programs.
As the debate heats up between candidates in the Presidential primary campaigns, Gettelfinger joined the discussion by asserting: "You'll hear a lot of negatives about the proposed expansion of health care including the charge of "socialized medicine" because they've got to give you somebody to hate."
Gettelfinger noted "risk" in the Voluntary Employee Beneficiary Association (VEBA) negotiated by the UAW with the Big Three automakers in 2007 but he said "rigorous analysis" by the union shows that the independent health care insurance program should stand for 80 years.
He said the base funding deposited by General Motors into the VEBA as a result of last year's negotiations will begin drawing interest now even though the health insurance program doesn't go into effect until 2010.
The VEBA will not be run by the UAW but instead will be managed by an independent board approved by a federal court. That board will manage and pay benefits to employees of the three major U.S. automakers and oversee long term solvency of the fund, he said.
Part of the strategy of lowering health care costs will be to encourage healthy lifestyles of auto firm employees. Gettelfinger called the VEBA "the largest transfer of capital from management to labor in history."
A $30 million contribution negotiated from the automakers will fund a National Institute for Health Care Reform that Gettelfinger said will "reach beyond the bargaining table" and allow expansion of health care coverage while controlling costs. "We want to blaze a nationwide trail to better health care for everyone and lower health care costs," he exclaimed.
The UAW chief had harsh words for the proposed U.S. trade agreement with South Korea, noting that last year the Koreans exported about 700,000 vehicles to the U.S. while accepting only 7,000 U.S. made vehicles.
"Our government is doing nothing to require Korea to reciprocate our open trade policy," he charged. He said the nation's "failed trade policies" are creating a $2 billion a day trade deficit that has amounted to $500 billion in the first 10 months of 2007 and will rise when all statistics are totaled for last year. "This enormous transfer of wealth to other countries can't be sustained indefinitely," he said.
A national industrial policy is needed to help restore the industrial base for local tax base and national security, he said, noting that a company in Indiana making magnets for "smart" bombs recently moved to China. That policy should include human rights, worker rights, environmental protection, import surges and currency manipulation. If a country is in trade deficit two years in a row the policy should be examined, he said.
An industrial policy is needed, he said, noting that the U.S. textile industry lost a million jobs with NAFTA but the shift hasn't caused a rise in living standards in Mexico where most of those jobs moved, he said.
A petition drive now underway seeking a referendum to install a "right to work" law in Michigan "won't happen," he predicted, "because the UAW won't let it happen" He called the proposal "a right to work for less" and noted that few petition seekers were seen at polling places during the Jan. 21 Presidential primary.###
---
---

Dave Rogers




Dave Rogers is a former editorial writer for the Bay City Times and a widely read,
respected journalist/writer in and around Bay City.
(Contact Dave Via Email at carraroe@aol.com)

More from Dave Rogers
---
Send This Story to a Friend!
Letter to the editor
Link to this Story
Printer-Friendly Story View
---
--- Advertisments ---