NEW CANCER-FIGHTING WEAPONRY NOW IN USE AT JEPPESEN CENTER
Area Patients Can Access Service Available at Only 10 Percent of Facilities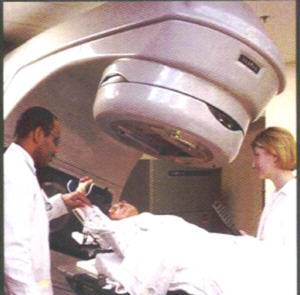 Bay Medical Center patient is prepared for linear accelerator treatment which can be beamed on affected area with accuracy to two millimeters.
When you're in a war, you need weapons and support services. And, as charterized by officials of Bay Regional Medical Center, cancer is a war.
The prime firepower of this weaponry is the new Varian 21EX Linear Accelerator located at the JeppesenRadiation Oncology Center, located on the west campus of Bay Regional Medical Center, 3250 E. Midland Road, Bay City.
Radiation oncology is the use of x-rays, gamma rays and other forms of radiation on cancerous tissues in humans, hospital officials explain.
"We are trying to get the word out that we have this new technology which puts us in the top 10 percent of the country," says Courtney Szelesi, marketing executive of the Jeppesen Radiation Oncology Center.
The new equipment was installed in January and took about a month and a half to be prepared for operation. Treatment takes 10-12 minutes and the patient feels nothing, said Ms. Szelisi.
What makes this equipment so special is its ability to "treat to higher doses with no side effects, leading to higher care rates," says Ms. Szelesi.
Procedures using the Intensity Modulated Radiation Therapy (IMRT) provide tightly focused energy beams to target cancerous tissue. Surrounding healthy tissue is minimally affected by the therapeutic beam, the executive says.
The acquisition of the new cancer-fighting technology positions Bay Medical Center favorably with several other major Michigan medical centers which have this technology. In addition, the Jeppesen Center's equipment is the latest such technology available.
Officials at Varian Medical Systems state the case for the new technology:
"For years, oncologists have faced a frustrating challenge. They've known that if they can deliver a high dose of radiation to a localized tumor they have a very good chance of eradicating the tumor and possibly curing the patient. On the other hand, such a dose may pose a substantial risk to a patient's surrounding tissue and organs. This facthas required some patients to be treated with less radiation than ideal for local tumor control and has made it difficult if not impossible to optimally treat some tumors.
"Until now.
"Clinicians at leading institutions are using a new technique called SmartBeam IMRT, that is showing promise of improving cure rates while reducing harmful side effects. This therapy, called Intensity Modulated Radiation Therapy, or IMRT, is a form of three-dimensional conformal radiation therapy (3D-CRT) that links treatment planning and driver software to the actual treatment delivery devices. As a result, clinicians can determine and deliver an optimum plan of individualized radiation for each patient.
"IMRT offers tremendous potential for improving the efficiency and efficacy of radiotherapy," says Radhe Mohan, PhD, Director of Radiation Physics, Medical College of Virginia. "I believe it will change the field of radiation oncology."
"Recent studies in prostate cancer patientsconducted by Michael Zelefsky, M.D., and his colleagues at Memorial Sloan-Kettering Cancer Center in New York, have shown that higher radiation doses (81 Gy) possible with 3D-CRT afford improved local tumor control (from 55 to 94 percent) as measured by favorable biopsy compared with lower doses of radiation (64.8 - 72 Gy). This represents an almost 71 percent improvement in local tumor control. Using IMRT techniques, clinicians were able to deliver these high doses while actually reducing the rate of normal tissue complications from 10 percent to 2 percent.
"For thousands of clinicians and millions of patients, these are exciting statistics because they show that the odds of beating cancer are improving significantly. Still, in most parts of the world, including the U.S. where there are 1.3 million new cancer cases each year, many are unaware of the dramatic life-saving advances being made in the war against this deadly disease."
For more information, visit the following web site:
Jeppesen Radiation Oncology Center at
www.midmichigan.org/jroc
EDITOR'S NOTE:
Varian Medical Systems, Inc. (NYSE: VAR), of Palo Alto, California, is the world's leading manufacturer of integrated cancer therapy systems. More than 4,500 Varian Clinac® medical linear accelerators and Ximatron® simulators systems are in service around the world, treating an estimated 200,000 cancer patients each day. The company is also the premier supplier of X-ray tubes for diagnostic imaging applications. Varian Medical Systems is involved in several high-growth product development opportunities, including its advanced brachytherapy system for cancer treatment and the world's first real time, digital X-ray fluoroscopic imager. In addition, the company is pursuing technologies and products that promise to improve disease management by employing targeted energy to enhance the effectiveness of leading-edge molecular medicine.
---
Health/Fitness Article 227
---

Dave Rogers




Dave Rogers is a former editorial writer for the Bay City Times and a widely read,
respected journalist/writer in and around Bay City.
(Contact Dave Via Email at carraroe@aol.com)

More from Dave Rogers
---
Send This Story to a Friend!
Letter to the editor
Link to this Story
Printer-Friendly Story View
---
--- Advertisments ---