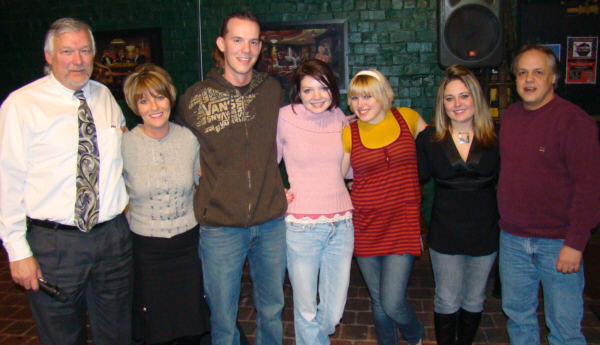 MADE IT TO THE FINALS - (L/R)Judges Dick Bork and Kathy Lagalo, Chris Claude, Lauren Thomas, Jessica Rex, Tarah Bailer and Judge Tommy Anderson. Missing: Bridgette Ballor. (MyBayCity Photo by O. J. Cunningham)
---
Stables' Michigan Talent Competition Names First Set of Finalists
Five Singers Get "Gold Ticket" to the April 2nd Finals
February 3, 2008 Leave a Comment
By: O. J. Cunningham
Five Named To April 2nd Finals
| | | | | |
| --- | --- | --- | --- | --- |
| Lauren Thomas | Jessica Rex | Tarah Bailer | Chris Claude | Bridgette Ballor |
Last Wednesday night, it was darn cold outside in Bay City. One of bartenders at Stables said, "It's not a fit night out for man nor beast."
But there was a huge crowd on hand at Stables at 7:00p.m. as Judges Dick Bork, Kathy Lagalo and Tommy Anderson took their seats on the Judges' Couch to pick finalists after the first four weeks of Michigan's Got Talent II.
The biggest surprise of the night was the arrival of five "first-timers" to this edition of Michigan's Got Talent. Jeremy Brand, Joe DiPiero, Debbie Kirkbride, Caleb and Geno Cummings all made their first appearance last Wednesday.
The influx of new talent set the judges back in their seats. "These new singers turned in wonderful performances," said Head Judge Dick Bork, after the competition. But none of the first-timers made it into the Finals. Bork explained that it was difficult for the judges to pick a first-timer over other singers that had participated all four weeks of the competition.
"It just wouldn't be fair to let first-timers walk right in and get a pass to the Finals," said Bork. "We made that mistake in the last Michigan Talent competition," Bork said. Judges Tommy Anderson and Kathy Lagalo both agreed. "You just gotta pay your dues," Anderson said.
At the end of the night, it was Chris Claude, Tarah Bailer, Bridgette Ballor, Jessica Rex and Lauren Thomas that earned the "Gold Ticket" to the Finals.
Nonetheless, the crowd was visibly buzzing after the competition about the performances of Jeremy Brand, Geno Cummings and Joe DiPiero. "If those guys come back for the next four-week session," said Dick Bork. "It'll be real hard to keep them out of the Finals."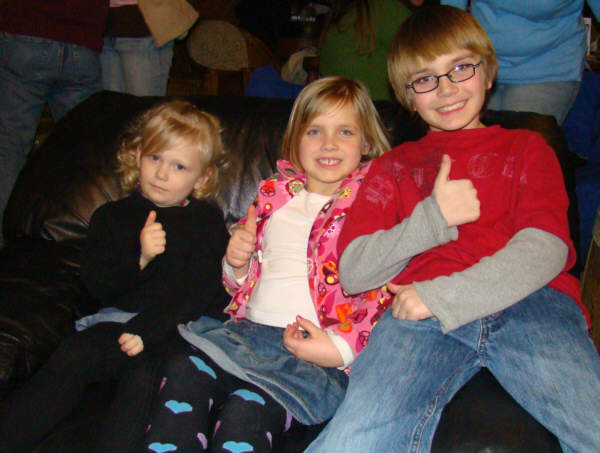 Three Thumbs Up - (L/R) Taylor, Emily and Justin give "thumbs up" for the performance of Chris Claude at Stables last Wednesday. Claude made it into the Finals.
(MyBayCity Photo by O. J. Cunningham)
Click Here To Cast a Vote for Your Favorite Stables Performer.
Thanks to the Sponsors of Mid-Michigan Idol, Ray Stack of Silver Sand Limo and Dick Bork of Labadie Auto and AP Sites for their support -- They make On-Line Voting possible for this competition.



Watch the flash video below and then Click Below to Vote for your THREE favorites. You may only vote once per day.
Watch Flash Video Below Then - Click Here To Vote for Your Favorite Talent!
| | | |
| --- | --- | --- |
| Joe Atchinson | Tarah Bailer | Bridgette Ballor |
-------------------------------------------
| | | |
| --- | --- | --- |
| Craig Blanchard | Jeremy Brand | Caleb |
-------------------------------------------
| | | |
| --- | --- | --- |
| Chris Claude | Geno Cummings | Joe DiPiero |
| | | | |
| --- | --- | --- | --- |
| Chuck Kirkbride | Debbie Kirkbride | Jessica Rex | Lauren Thomas |
---
---

O. J. Cunningham




O. J. Cunningham is the Publisher of MyBayCity.com. Cunningham previously published Sports Page & Bay City Enterprise. He is the President/CEO of OJ Advertising, Inc.

More from O. J. Cunningham
---
Send This Story to a Friend!
Letter to the editor
Link to this Story
Printer-Friendly Story View
---
--- Advertisments ---