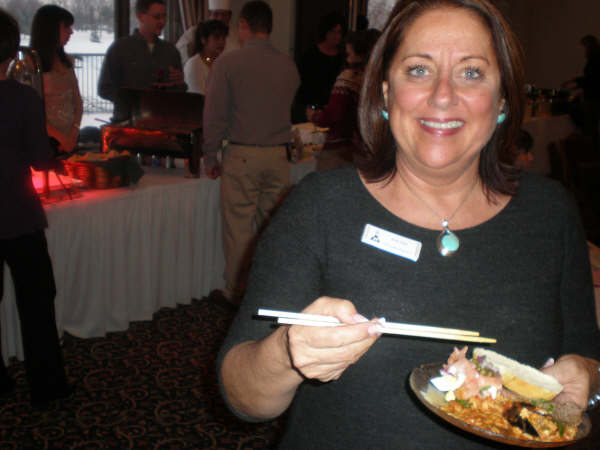 Weidner Center Director, Jerre Cory displays her prowess with chopsticks while enjoying Sushi during the Fundraiser (MyBayCity Photo by Kevin Leahy)
---
Nathan Weidner Wine Affair at Country Club is Huge Success
Good Cause, Good Time
February 3, 2008 Leave a Comment
By: Kevin Leahy
Nathan Weidner Children's Advocacy Center held their Wines Around The World tasting and Silent Auction fun fundraiser Friday night to a packed house at the Bay City Country Club.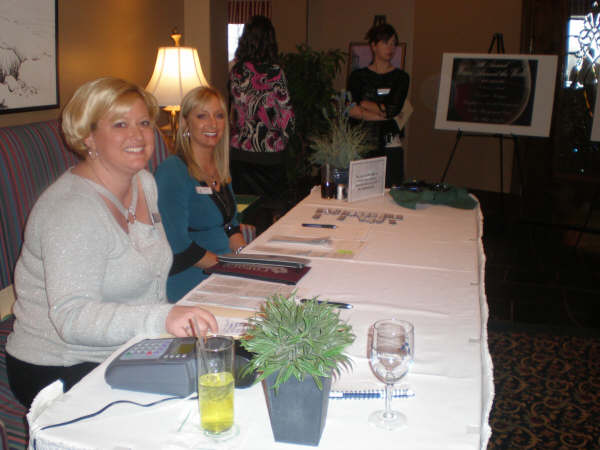 Jill Krol and Angela Childs welcome arriving guests.
(MyBayCity Photo by Kevin Leahy)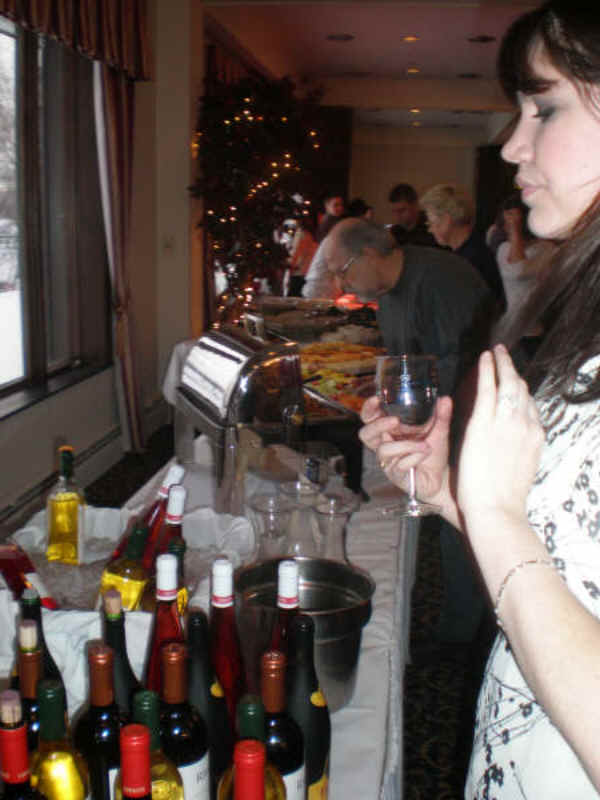 Anneliese May surveys her choices of wines as others check out the food
(MyBayCity Photo by Kevin Leahy)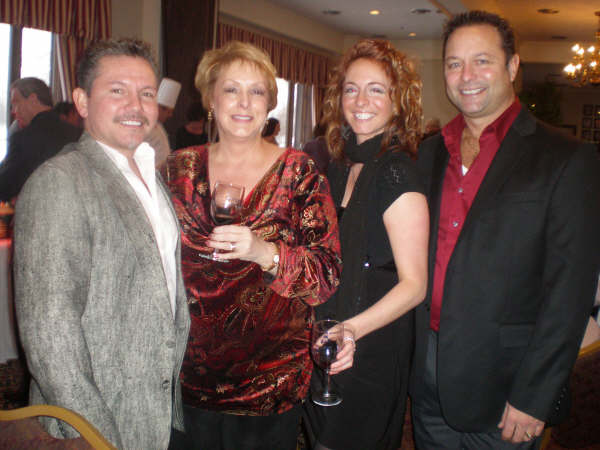 Rick Garcia, Glennda Stephens, Cassie Sohn and Rick Decker pause before their next tasting.
(MyBayCity Photo by Kevin Leahy)
The enthusiasm of the crowd was running at a fevered pitch, just as fundraiser co-chairman Al Doner was when I cornered him to ask him what he expected for the evening.
"A great night in a real upscale environment with regional food pairings from the best local chefs to the great wines that are here to be tried," was his proud reply.
"We expect to raise $20,000.00 tonight for the Children's Center," he beamed, as I noticed a gentleman behind him approaching to talk to him. This was at the same time someone from the Japanese themed sake and sushi table called him over to their table. Doner was very busy.
As I scribbled to write what Doner said, that gentleman waiting asked me, "Could you set up a table in the opening at the end of the room behind us?"
I told him I thought he should be asking Doner, who was making tracks to assist at the sushi table. Doner's night was filled with never-ending questions. So it goes, when your the head-man of such a huge event in a new environment.
By the looks of the huge crowd that was on hand at the end of the affair, it turned out very successful.
There was almost a buzzing electric energy throughout the room that grew exponentially as each of the seven wine region tables were assaulted by the growing crowd.
Each station of wine and paired food had three to five different wines and three or more appetizers and entrées that matched perfectly.
A good one to start with on that cold snowy night was at the far end of the room next to the roaring fireplace where
Dixie Dave Minar's
assorted soups and stews matched with big robust Argentinian wines.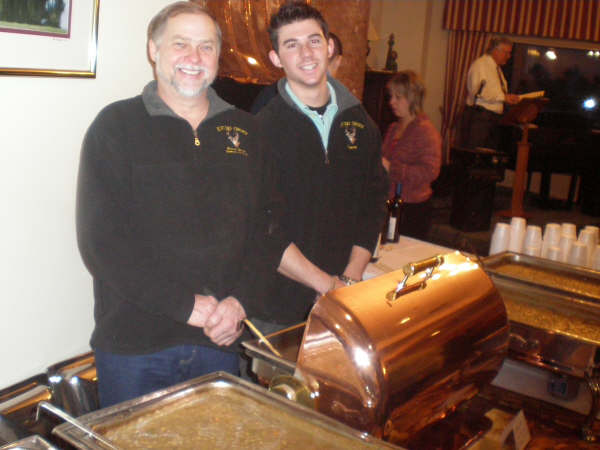 Dixie Dave stands behind his "Hunters Choice" selections of gourmet stews.
(MyBayCity Photo by Kevin Leahy)
It was
Dixie Dave
at his best offering the "hunters choice" of Pheasant & wild rice, Venison & Woodland Mushroom, Gator Gumbo, Buffalo Barley or my favorite Wild Boar & Black Bean which was more like chili than stew, but that's probably why I liked it, especially with their Proemio Reserve Cabernet.
Each table was exquisitely adorned with very little open space due to the excess of wines and good food.
For the sake of space I will mention each chef and one of their offerings;
Chef Ken Poroskey
from Kathleen's had Stuffed Beef Rollatini with Pasta and Vegetables paired with Italian wines, Chef Colleen Porosky had desserts and Stuffed Lemon Roulade matched with Dessert Ports.
Chef Craig Fiebke
from Fusion 1 Café had assorted Sushi Rolls with Japanese Wines.
Chef Dave Feinauer from Old City Hall had Wild Caught Smoked Salmon matched with California wines.
Chef Fred Garcia and Scott Grant
from Heatherfields offered Roasted NY Strip with Chimichurri Sauce paired with Chilean wines.
Chef Dean Schultz
from Bay City Country Club had Classic Seafood Paella with Spanish wines.
When I first looked at the program, I was overwhelmed with the array of choices and noted the Gekkeikan Sake wine - that is a wine made from rice - that I never had experienced.
I truly intended to try the Sake but somehow, amidst the excitement, great company and good cheer and mostly the occasional long line at the Sushi table, I never did get to experience the Sake on my palate.
Although held at the Country Club, the crowd was very diverse from hair stylists to lawyers and waitress's to politicians. It really seemed like a bunch of old friends getting together for real good time...and a great cause, which it was.
As MC for the night, Dick Bork from Labadie's thanked "everyone braving the weather to come out in the miserable weather to support such a worthwhile cause." By the looks of all the wonderful silent auction gifts, the community rallied itself in support of this fundraiser.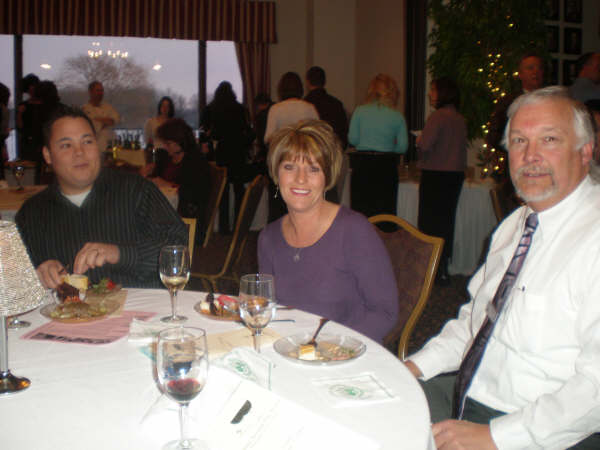 Robert Struck (left), Kathy Lagalo and event Master of Ceremonies, Dick Bork get a bite to eat before the evening's program.
(MyBayCity Photo by Kevin Leahy)
There was everything from a Cancun vacation to a Coach Purse to golf packages.
In its fifth year, the Wines Around the World event has taken on a life of its own, with tickets selling out long before the event.
"Two years ago we made $10,000, last year we raised $15,000 and this year our goal is to raise $20,000," said Center Director Jerre Cory, as she showed off her chopstick talents.
The mission of the Nathan Weidner Children's Advocacy Center is to prevent child abuse in our community through education and intervention.
"Were expecting 350 people tonight," added Cory. And by the looks of the crowd toward the end of the affair, just before Bork announced the winning bidders for the silent auction, they met or exceeded that expectation.
The most memorable wine of the night could have been the Sake, but out of the ones I did try, the Chilean Mont Gras Ninquen Syrah had the most robust complex yet balanced and delicate flavors all at once.
Easily the most memorable pairing I saved for last was the decadent cocoa chocolate brownie washed down with a Benjamin Tawney Port. Maybe it was the anticipation of it at the end of the night or how I savored it . . . but it gave me that first kiss in grade school kind of feeling . . . of being all warm and fuzzy inside -- then again maybe it was the 20% alcohol in that sweet dessert wine.
All the wines being sampled that night could be purchased from Ideal Party Store and 20% of the purchase orders that night were donated back to the Center.
I highly recommend you seek out a ticket to this worthy valuable community event next year. Make sure and get yours early because people are going to remember how great 2008 was.
Everybody will be back next year.
---
---

Kevin Leahy




Kevin Leahy has an interest in all sports-related activities at the Local, State and National levels. Looking for the inside story? Leahy's got it . . .

More from Kevin Leahy
---
Send This Story to a Friend!
Letter to the editor
Link to this Story
Printer-Friendly Story View
---
--- Advertisments ---