Valentine's Pressure
One Thing For Sure . . . I'm Not Going to Jared!
Who Wants a Diamond?? Raise Your Hand!!
February 10, 2008 Leave A Comment
By: O. J. Cunningham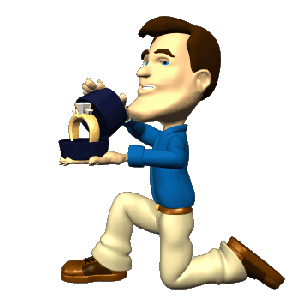 Diamonds??
Who Wants One For Valentine's Day?
Crap . . .
It's that time of year again . . . the time of year when every man is under the gun . . . under the pressure of the moment . . . to buy the perfect Valentine's Day gift. And we all know what the PERFECT Valentine's gift is . . . Don't We?
Let's try a little online survey . . .
Everybody that wants a diamond for Valentine's Day . . . Raise Your Hand.
Exactly . . . Not One Guy Put His Hand Up . . . Just the girls. It's always the girls.
Why is that?
We all know why . . .
It's those damn Valentine's Day diamond commercials from De Beere's, Zales, Kay's and the non-stop, relentless, annoying, badgering . . . "He went to Jared."
Here's a link to one of the Kiss Begins at Kay Ads
I hate those diamond people.
"He went to Jared." I hate Jared. Who the heck is Jared, anyway?
Fortunately for me, my wife, (the lovely Donna Jean), has little interest in diamonds. (I'm pretty sure she doesn't want a diamond)- But I sincerely feel the pain of every guy that squirms in his seat every time one of those "Every Kiss Begins With Kay" commercial spots shows up in the middle of a television made-for-tv movie.
"He went to Jared." Do we even have a Jared in the tri-cities?
Here's a link to the most famous of the De Beere's Ads
Ron White (Blue Collar Comedy Tour) put it this way - when talking about the De Beere's Diamond ads and how they are finally getting close to Truth in advertising:
White said, "And now the slogan is
'Diamonds . . . render her speechless.'
White goes on: "Next they are just going to say it outright . . .
Diamonds . . . that'll shut her up . . . for a minute."
The most recent addition to the 2008 diamond barrage has come from JC Penny's. I wish I could show you an example but I can't find a link on line.
Maybe you saw it over the weekend . . . The silver diamond-studded heart dangles from the chain . . . swinging slowly back and forth . . . the voice-over says something to his woman like . . . "You're soooo happy," . . . I guess trying to convince all the men watching at that moment to leap up and run down to JC Penny's for a Valentine diamond - that will make their woman happy -- all for only $199.
I've always liked St. Patrick's Day more than Valentine's Day - Must be the green beer.
---
Speaking of television ads . . . one of my favorites right now is the Subway ad that features the phrase "Hootchie Mama." Here it is.
Here's a link to the Hootchie Mama Subway Ad
Happy Valentine's Day . . .
Sweet Sassy Molassy . . .
---
Columns Article 2298
---

O. J. Cunningham




O. J. Cunningham is the Publisher of MyBayCity.com. Cunningham previously published Sports Page & Bay City Enterprise. He is the President/CEO of OJ Advertising, Inc.

More from O. J. Cunningham
---
Send This Story to a Friend!
Letter to the editor
Link to this Story
Printer-Friendly Story View
---
--- Advertisments ---