You Have Not Heard it All: How About Cherry Hamburgers! For Health!!!
Plevalean and Cerise Neutraceuticals Are New Products Developed in Michigan
February 21, 2008 Leave a Comment
By: Dave Rogers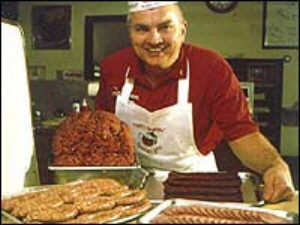 Ray Pleva producing some of his cherry pecan sausage. Not your father's breakfast sausage.
Everybody loves Michigan cherries, right?
But will you love them in hamburger? That idea is being promoted by a new Michigan business, and so far it is a hit.
And, how about cherry pecan sausage and cherry skin cream?
Ray Pleva, the "Cherry King", has done it all, from growing cherries along the blue waters of Lake Michigan to raising the recognition of the cherry to new heights around the world.
Ray's enthusiasm and his natural skill as a promoter led him to new celebrity status including appearances on the Oprah Winfrey Show, Home Improvement with Tim Allen, and CNN's Headline News.
Ray has invested 18 years of research into a new specialty in complementary and alternative therapy that he has named Cherryology. And in recent years he became convinced that he had only scratched the surface in creating products that use cherries in ways that are consumer friendly with highly desirable life-enhancing benefits.
Ray has spent most of his life in and around the cherry industry. Ray grew up on a cherry farm in Cedar in Leelanau County, where his family also ran the local butcher shop.
Ray's daughter Cindy became the 1987 Cherry Queen and asked her dad if he couldn't develop a new product to help promote the sagging cherry industry. That was the start of Cherry Pecan sausage, followed within a few years by his best known meat product, Plevalean. Plevalean combines cherries with 91 percent lean ground round or ground sirloin to create a juicy, tasty, healthy burger.
Plevalean quickly caught the attention of a nation that adored hamburgers yet was becoming increasingly conscious the amount of fat in their diet. Plus, Plevalean is not just leaner than traditional ground beef, it's safer to grill, it's tasty and juicy and it lasts longer than plain ground beef, according to Chef Pleva.
That was just the start of his interest in developing new products using cherries. A natural progression for this born entrepreneur was to look at additional ways the health enhancing feature of cherries could be used and marketed to help the quality of life for people around the globe.
Ray began delving more and more into the subject of cherries and their potential health benefits. After five years he convinced Michigan State University to initiate research into the health benefits of tart cherries.
The scientific research that Ray started resulted in the discovery of the first antioxidant in tart cherries. MSU's extended research revealed 16 additional components of antioxidants with high levels of anthocyanins, melatonin and other health enhancing compounds of tart cherries.
Studies at various universities around the country have now confirmed the positive effects of cherries on several body systems.
A natural progression for this true entrepreneur was to look at additional ways the health enhancing feature of cherries could be utilized and marketed to help the quality of life for people.
Mr. Pleva has formed Cerise Nutraceuticals, LLC, featuring six new products designed to "put the skin and body back into its natural comfort zone for total body rhythm."
Testing of these six products has resulted in testimonials of the efficacy of the lotions, serum, and capsules on a variety of bodily complaints.
After lengthy research, Mr. Pleva has combined cherries and emu/kalaya oil with other natural nutrients, creating a synergistic effect that he says helps the body return to harmony and restores the body and skin's natural comfort levels.
Ray has received several patents on cherry enhanced products.###
---
---

Dave Rogers




Dave Rogers is a former editorial writer for the Bay City Times and a widely read,
respected journalist/writer in and around Bay City.
(Contact Dave Via Email at carraroe@aol.com)

More from Dave Rogers
---
Send This Story to a Friend!
Letter to the editor
Link to this Story
Printer-Friendly Story View
---
--- Advertisments ---