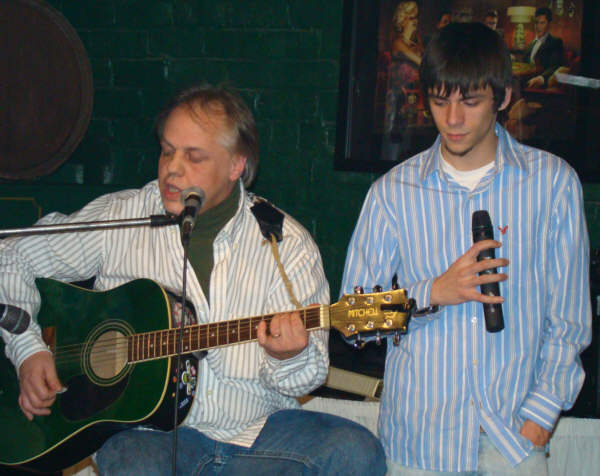 Michigan Talent Judge Tom Anderson and Joe DiPiero play a Beatles' duet for the crowd after week seven of the Michigan's Got Talent Competition.
(MyBayCity Photo by Marlo Leveling)
---
Stables' Michigan Talent
"You're Only as Good as Your Last Performance"
Singers Sing, Crowds Watch - "It's Not Easy," says Judge Tommy Anderson
February 21, 2008 Leave a Comment
By: O. J. Cunningham
"You're only as good as your last performance," says Tommy Anderson.
Anderson should know what he's talking about since he plays (drums, guitar, vocals) locally with well-respected, professional bands,
Paisley Fogg
and
Infinity
.
Anderson is also one of the weekly Judges at Stables Martini Bar every Wednesday for the Michigan's Got Talent Competition.
Every week, Anderson watches singers perform and then (with Judges Dick Bork and Kathy Lagalo) comments on the performance and gives constructive criticism whenever needed or appropriate.
"Way back last summer (June 2007), John Buehl asked me if I'd like to get involved in the first "idol-like" competition . . . either as a performer or as a judge," Anderson explained. Anderson says he thought about it and decided he'd be better suited to judge. "I figured with the varied experience I have in different areas of the performing arts, I would be better suited to judge," Anderson said.
Each Wednesday night, Anderson sits on that Judge's couch. "People should not be so quick to make negative comments about a singer's performance," Anderson said after a recent Wednesday talent show at Stables.
When you listen to Anderson talking with the singers at Stables on Wednesday nights, you know that he not only cares about the music, he cares about the competitors, too.
Anderson says we should remind ourselves and remember . . . "Don't judge 'til you've walked a mile in their shoes".
---
--- Advertisements ---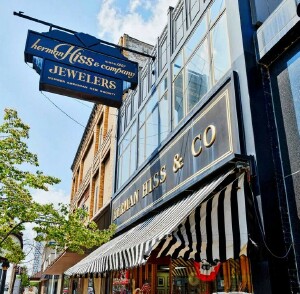 ---
Last week, Anderson and Joe DiPiero performed a Beatles' duet after the competition. "Young Joe's a great, natural talent and singer," Anderson said about DiPiero. "But he's young and kinda nervous up on stage."
So Anderson figured he'd give it a try (with DiPiero) as a singing duo. "We used the same guitar, same microphones, same chairs and stood on the same line of tape that all the other performers do every night," Anderson went on. "I wanted Joe to see that it was hard for anybody (everybody)," Anderson explained. "I wanted to walk in his shoes."
"It (my performance) was humbling," Anderson smiled, graciously.
After listening to many singers who had great nights and some that had "not so great" nights, Anderson says he just wanted to try it for himself under the same conditions.
"From the Judge's Couch (and probably from the crowd) it just looks simple," Anderson said. "Just hold the microphone and sing. Like when when I play with Paisley Fogg or Infinity," Anderson went on.
"However when I stood up on the line of tape, with somebody else's microphone, somebody else's guitar, under a different set of circumstances . . . well, it was a whole different ballgame," Anderson explained.
Beatles' Duet - Tommy Anderson (left) and Joe DiPiero
"Well you were there," Anderson smiled as he explained it to me. "I couldn't find the right note with a compass and a map," he smiled.
Anderson told me to try to find 30 seconds of usable video from his Beatles' duet with DiPiero to show the Michigan Talent fans (ands singers) just how hard it really is to just "get up there and sing a few songs."
Anderson's Final Comments:
Just please rest assured that this Judge knows a little of what it takes to get up in front of a crowd and perform. Every night can bring different results even though it appears that everything seems the same.
Life is like Show Business:
We are only as good as our last performance.
Editor's Note:
Tommy Anderson is one of the "good guys" in Bay City music circles. Anderson cares . . . about the music and about the kids competing at Stables every Wednesday. The Michigan Talent Competition (at Stables) is blessed to have Anderson sitting on the Judge's Couch.)


Watch Flash Video In Last Week's
Then Click To Vote for Your Favorite Talent!
---
---

O. J. Cunningham




O. J. Cunningham is the Publisher of MyBayCity.com. Cunningham previously published Sports Page & Bay City Enterprise. He is the President/CEO of OJ Advertising, Inc.

More from O. J. Cunningham
---
Send This Story to a Friend!
Letter to the editor
Link to this Story
Printer-Friendly Story View
---
--- Advertisments ---