Saginaw Future Boasts of $1.1 Billion Investment, 808 New Jobs Last Year
Solar Energy Firms Growth Eyed in Tri-Counties, the Original Silicon Valley
February 21, 2008 Leave a Comment
By: Dave Rogers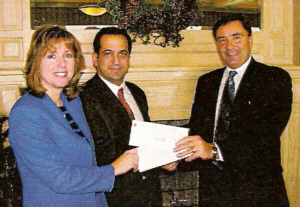 JoAnn Crary, president of Saginaw Future, and Dr. Samuel Shaheen, chairman, accept contributions from Citizens Bank President Jim VanTiflin for a database and SFI operations.
Dow Corning was producing silicon back in 1944, way before California caught on, so Michigan is the ideal place for alternative energy growth.
So said J. Donald Sheets, Dow Corning chief financial officer, director of Hemlock Semiconductor Corp., at the Saginaw Future Inc.(SFI) 16th annual business meeting at the Horizons Center last Friday.
The meeting paid tribute to 31 companies expanding or making new investments in Saginaw County last year, racking up $1.1 billion and 808 new jobs in the process.
A regional economic development initiative also was announced by SFI, Bay Future Inc. and Midland Tomorrow to cooperate in a Photovoltaic Initiative to build the solar industry.
The mid-Michigan region is home to highly specialized industries in chemical processing and technology production that will provide the foundation for this initiative.
The three organizations are working on an attraction plan for solar related industries.
"Alternative energy is going to grow; why not here?" asked Mr. Sheets, who serves as president of the Americas area of Dow Corning.
There is a lot of one Dow Corning product, polycrystalline silicon, in solar panels, Mr. Sheets said before an enthusiastic crowd, noting the field is expanding by 30-40 percent a year. "We need to see fields of solar panels and windmills and installers here."
He said Dow Corning's worldwide expansion helps the local area because it makes Michigan operations stronger and better positioned to invest locally.
Noting the company's origins as a manufacturer to silicon, he said: "We are the original Silicon Valley; I don't know where California thinks it comes from, but it comes from here."
In 1942 Dr. Shailer Bass developed Dow Corning's first product, a silicone grease (Dow Corning #4 Compound) that solved the problem of high altitude flight. Dow Corning was formally established in 1943 as a joint venture of Dow Chemical and the Corning Glass Works to produce and expand the field of silicones.
Products developed over the years include silicone sealants, adhesives, silicone mold-making rubbers, lubricants, release agents for cookware, sound-absorbing silicone, leather treatment, skin care lotion, pre-ceramic polymers for high temperature applications, liquid silicone dry-cleaning solvent, and silicone waxes.
Hemlock Semiconductor Corporation, a Dow Corning subsidiary founded in the 1960s, is one of the world's leading manufacturers of high-purity polycrystalline silicon which is used in semiconductor silicon wafer manufacture and photovoltaic solar cells.
Dr. Samuel Shaheen, SFI chairman, noted that the agency secured more than $6 million in community development grants and $253,000 in worker training grants for Saginaw County.
The $1 billion invested in the Hemlock Semiconductor Corporation (HSC) and $63 million in General Motors Saginaw Metal Casting Operations (SMCO) topped the list, Dr. Shaheen noted.
Dow Corning also invested $9.6 million in its Healthcare Industries Materials Site in Thomas Township; Glastender pumped $9 million into infrastructure for a 40,000 square foot expansion to its Kochville Township site; Downtown Development LLC III put $6 million into its third medical/professional office building in the South Washington Avenue corridor; Dow Chemical put $3 million in the Horizons Conference Center; some $1.8 million was invested in Union Court Assisted Living, St. Charles; Buena Vista Group LLC purchased a blighted site on the Dixie Highway for $1,250,000 to construct an auto supply store and strip mall; Rifkin Scrap Iron & Metal invested $1,020,000 in new equipment; National Roofing and Sheet Metal added $1 million in equipment and a building.
Other substantial investments were made by Allied Tool & Machine Co., $375,575; CIGNYS, $321,500; Fullerton Tool Co., $892,650; InCal Technologies, $186,037; K.L.C. Enterprises, Inc., $117,300; Mistequay Group Ltd., $136,800; MKR Fabricators, $185,600; Ranger Tool & die Co., $223,448; R&M Machine Tool, Inc., $50,000; Rhinevault Olsen Machine & Tool, Inc., $150,000; Sargent Docks & Terminal Co., $125,000; Siler Precision Machine Inc., $160,000; Universal Engineering and DeVlieg Tooling Systems, $58,800; Zatkoff Seals & Packings, $552,000; L-2 Decorative Products, $798,222; and Triple M Tire, $600,000.
---
---

Dave Rogers




Dave Rogers is a former editorial writer for the Bay City Times and a widely read,
respected journalist/writer in and around Bay City.
(Contact Dave Via Email at carraroe@aol.com)

More from Dave Rogers
---
Send This Story to a Friend!
Letter to the editor
Link to this Story
Printer-Friendly Story View
---
--- Advertisments ---