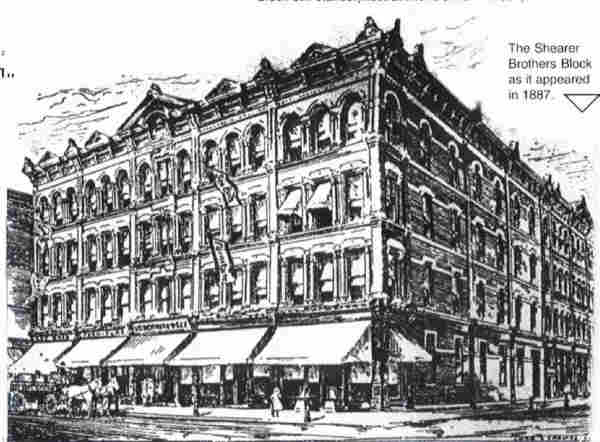 The historical Shearer Brothers Block is poised to reopen its newly renewed expanses under the deft touch of developer Dr. James Reid, with a string of businesses along Center Avenue adding to the vitality of downtown.
---
DOWNTOWN BAY CITY FIGHTS BACK WITH NEW BUILDINGS, HISTORY, SPECIALTY SHOPS
Shopping Secondary as Housing, Entertainment, Tourism Now Rule City Center
Here is the Doubletree Hotel-Conference Center rising, its 150 rooms carrying the hope of city leaders for the future of downtown.
There is the old Jennison Steel Warehouse, which may become Northeastern Michigan's largest housing development inone building and the crowning achievement of developers Paul Rowley and Bill Gregory, progenitors of the magnificent Jennison Place.
>br>City officials have seen preliminary drawings of a four story condo palace on the river on Water Street between Third and First and are eagerly awaiting plans for consideration of the planning commission. Rumors are the building will be an edifice to marvel at and die to live in, so observers are wishing the developers well in their efforts.
On Center between Madison and Adams are signs marking the site of one of the finest central libraries in the state, destined to provide an activity and learning center for a gentrified and affluent population as well as a wellspring of knowledge for youth.
Scattered everywhere are old buildings, mainly, with a history and a new potential to supplement the new construction in the rebirth of downtown Bay City.
The old State Theater, built in 1908 as the Bijou, glistens with renovated spirit much as it must have in 1930 when C. Howard Crane, the noted Detroit architect and leading theater designer, brought the Mayan civilization back to the imagination of moviegoers in Bay City.
Soon the Pere Marquette depot, Bay City's Union Station of the 1880s, will sport a restored bell tower and a renovated structure preserving the Frank Lloyd Wright style prairie style of architecture which shocked residents of the day. The Bay Area Community Foundation and the Bay Area Convention and Visitors Bureau may hold forth at that location, streaming out ideas and dollars to further revitalization of the city.
The Shearer Brothers Block is poised to reopen its newly renewed expanses under the deft touch of developer Dr. James Reid, with a string of businesses along Center Avenue adding to the vitality of downtown along with several floors of elegant condominiums price from $250,000 up.
The fabulous Consistory Cathedral, host to big bands like Glenn Miller and Tommy Dorsey in its heyday as a high school, college and social dance headquarters, is still an attraction worthy of national attention. The adjoining Masonic Temple with its magnificently decorated ritual rooms awaits an "angel" to save it from gradual deterioration.

The Bay City treasure trove of century plus old buildings, now bolstered by such edifices as the startlingly modern Delta College Planetarium, is standing tall in the Michigan tourism wars with the Frankenmuths, the Henry Ford Villages and the Muskegon and Traverse City waterparks.

We haven't even gotten to the Industrial Brownhoist complex with its Albert Kahn office building, awaiting a developer's touch, or the 40 acre Downtown at River's Edge, with potential to make the "Great American Downtown" award winning city even greater and more attractive to visitors.

"Do you want glitz, or do you want real history?" one Bay City booster asked. "We've got what no place in the Midwest has, historical buildings and stories to go with them, stories of tycoons, titans of industry, bandits and ghosts. There is no place like Bay City for interesting stories."

That's why people move here from all over, buy and live in $300,000 to $500,000 condos on the riverfront and relive the glory days in Bay City every day of their lives.

It's like the 1880s all over again, with prominent developers pouring their millions into the city and people moving here from all over. What a great time to be from Bay City!

---
---

Dave Rogers




Dave Rogers is a former editorial writer for the Bay City Times and a widely read,
respected journalist/writer in and around Bay City.
(Contact Dave Via Email at carraroe@aol.com)

More from Dave Rogers
---
Send This Story to a Friend!
Letter to the editor
Link to this Story
Printer-Friendly Story View
---
--- Advertisments ---