General Grant Talk Slated at Civil War Round Table March 12 at Stein Haus
Great, Great Grandson of 5th Michigan Cavalry Bugler Tells Family Secrets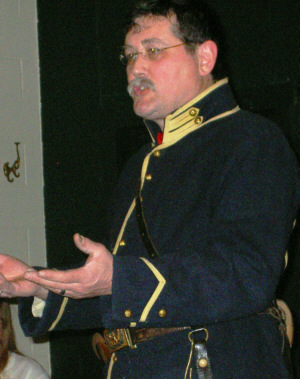 Len McInerney is dressed in his Union Army garb as he speaks to the 7th Michigan Cavalry Civil War Round Table.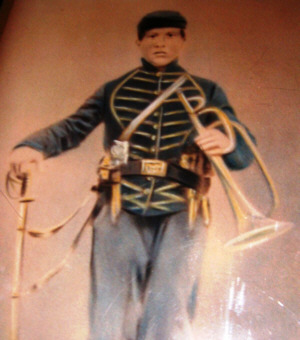 Pvt. Solomon Stegris poses with bugle and sword before he saw action at Gettysburg, Pennsylvania, during the Civil War.
THIS MONTH'S PROGRAM: Wednesday, March 12, 7 p.m., Stein Haus.
"Who Was or Wasn't Ulysses S Grant?"
Speaker, Mark Hoerauf.
Mark Hoerauf, is now a resident of Florida who lived the previous 8 years in Bay City. He is originally from Frankenmuth and taught Economics and Government in the Saginaw City School system.
He has always had an interest in history and became active in a Civil War Study group in The Villages, Florida.
In addition to the Grant talk he has done presentations on the Lincoln assassination and Dr. Samuel Mudd, The Great Locomotive Chase and The Medal of Honor.
"I became interested in Grant because of a number of similarities he had with Eisenhower," he said. "Today we may not think much of Grant but he was regarded as one of our country's true heroes." Grant's funeral was largest of any American. His tomb was the most visited place in New York City prior to WWII. His monument in Washington D.C. is almost never visited.
"He is regarded as one of our best generals but his presidency is considered a failure. His many different skills and foibles make him a fascinating subject. You will find my presentation both entertaining and educational."
LAST MONTH'S PROGRAM:
Len McInerney of Saginaw is a dedicated Civil War re-enactor.
But few re-enactors have such a close family connection with history: his great, great grandfather was a bugle boy in the Civil War.
When a picture of his relative was found in the attic, McInerney learned more of his amazing story from nearly 150 years ago from family members.
McInerney's great, great grandfather was Solomon Stegris (Stagray) who hailed from Switzerland where he had been a peddler.
Immigrating to the U.S. during a period of famine in Switzerland, Stegris was one of many of his Mennonite (Amish)
religion to escape not only bad economic conditions but religious persecution. He spoke French, German and Italian.
Soon after coming to this country, he enlisted in the Union Army in Detroit, joining Company C, 5th Michigan Cavalry on 2 August 1862.
Twenty-two years of age, he was 5-7 tall, weighed about 130 pounds, had brown hair and brown eyes and a dark complexion.
Stegris served as a bugler in the Michigan Cavalry Brigade under newly-appointed Brig. Gen. George Armstrong Custer, who was only two years older.
Another member of that unit was 18-year-old James G. Birney IV, who enlisted from the town of Hampton (Bay City). He was the grandson of James Gillespie Birney, the nation's first antislavery Presidential candidate.
Notably, 34 men of Company G of the 5th Michigan Cavalry were from Essex, Michigan, now Essexville.
Units in the brigade included the 1st, 5th, 6th and 7th Michigan Cavalry regiments. They first saw action at Hanover, Pennsylvania on June 30, 1863.
Following was a key action east of Gettysburg as the Michigan Cavalry Brigade defeated an effort by the dashing Confederate cavalry leader Gen. J.E.B. Stuart to flank the Union lines.
"This was the famous moment in history when Custer won fame by shouting to his men "Come on you Wolverines!' as he led the charge," said McInerney.
Soon after Gettysburg the brigade was issued Spencer repeating rifles that caused the users to become known by the enemy as "Seven Shot Devils."
Of 69 Medal of Honor winners from Michigan, eight were from the Michigan Cavalry Brigade and two were won by Thomas Custer, brother of the general.
Unfortunately, young Stegris did not have time to savor his unit's victory or new arms since his horse was shot from under him at Culpepper Court House, Virginia as he was blowing a charge.
According to some reports he was dragged a mile with his foot caught in the stirrup after falling from the saddle. The cause of death was listed as disease and he may suffered from heat stroke. He had served one year, one month and one day, said McInerney.
"He is probably buried in the unknown section of the Culpepper County Court House Cemetery," theorized McInerney, concluding: "To this day, if I visit a southern cemetery, I will sprinkle some Michigan soil from my backyard on the graves of those who served from Michigan to preserve the Union."###
---
---

Dave Rogers




Dave Rogers is a former editorial writer for the Bay City Times and a widely read,
respected journalist/writer in and around Bay City.
(Contact Dave Via Email at carraroe@aol.com)

More from Dave Rogers
---
Send This Story to a Friend!
Letter to the editor
Link to this Story
Printer-Friendly Story View
---
--- Advertisments ---