Dow Seeks to Invest In, Acquire Smaller Companies, Solidify Profits
Firm Well-Positioned to Weather Economic Storms in Transformational Year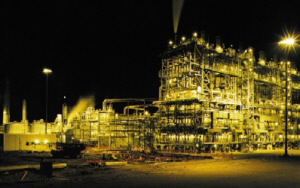 Dow Chemical's Fort Saskatchewan location is the second largest ethylene-producing facility in the world, after a neighboring facility in Alberta, also owned by Dow. Liquid natural gas is piped in and ethane is extracted and converted to ethylene.
Got a better idea?
See the friendly folks from Dow.
Who knows, you may just be able to jump on the bandwagon as the economy of the tri-county area is being remade from automotive parts to high technology.
Not only is The Dow Chemical Company a global giant with two thirds of its sales outside the United States, it is seeking to invest in and assist in development of new local companies.
Dow CEO Andrew Liveris said at a recently quarterly meeting: "We are evaluating every option against our ultimate goal of growing shareholder value.
"Second, and in particular, we will continue to look for and pursue smaller, bolt-on acquisitions, as well as medium and large transactions.
Expect to see high tech start-ups blossom in the tri-county area with investments from Dow and other venture capital companies headquartered in Michigan.
Mr. Liveris sees 2008 as "a transformational year for this great company -- on par with our move to Texas in the 1940s -- the moves internationally in the 1960s and the move to plastics in the 1970s and 1980s."
Dow is moving its Basics business to joint ventures, many with overseas partners like one recently announced with a major oil producing firm in Kuwait. He expects that deal to close this year.
The key to the joint venture strategy is to give Dow "advantaged feedstocks," he said, to offset high hydrocarbon and energy costs.
Aiming to eliminate earnings "troughs," Mr. Liveris asserted: "This powerful company has been, and will continue to be, a growth company," said Mr. Liveris. "Now it is positioned to also be a consistent earnings-growth company."
Mr. Liveris said the firm is well-positioned to weather any potential U.S. economic downturn.
"Housing, employment levels and energy are all ongoing concerns that suggest the U.S. economy could go further south, especially through the first half of the year. My belief, however, is that this more a crisis of faith and not a crisis of markets and there are no signs of a recession in our product chains."
Meanwhile, the firm is turning to incentivizing research and development start-ups that could help revitalize Michigan and the tri-county area.
Dow Venture Capital (VC) has invested over $350 million in businesses based on Life Sciences & Biotechnology; Communications & Information Technology; and Physical Sciences.
Dow VC invests through institutional venture capital firms, and also directly in start-up companies. It has developed a broad network of VC partners that specialize in targeted investment markets and geographies.
Dow VC's investment professionals are widely experienced in discovering new investment opportunities, and supporting portfolio companies, say officials of the firm.
Typically, Dow VC takes active minority positions in syndicated investments, within the following guidelines: Minimum investment: $250,000; preferred investment: $500,000 to $5,000,000 Geographies: US, Canada, Europe, Japan.
One company in which Dow has an interest is Millennium Cell, Inc., focused on the $6 billion portable energy industry. "New sources of portable power are essential to supporting the next generation of consumer electronics," says Rob Spurling, Emerging Energy Platform Director of Dow Ventures, a business unit within Dow.
"Millennium Cell has promising and unique technology. They have gone from concept to prototype demonstration in two key market segments - the military and consumer electronics. We believe that through our collaboration, we can accelerate the development and commercialization of the technology. This agreement reflects Dow's overall interest in developing a diverse Emerging Energy portfolio."
He added: "Part of our investment strategy is to support portfolio companies with access to Dow's R&D and manufacturing organizations for technology development, act as a market defining customer of IT or other products, bring the significant brand equity and validation of a Fortune 50 company."
Millennium Cell makes hydrogen batteries for use in portable electronic devices used in the military, medical, industrial and consumer markets. Based in Eatontown, New Jersey, Millennium Cell employs 40 people, primarily in technology development.
Mr. Liveris commented on potential investments by Dow: "First, they must fit our strategy to be a Performance/Market-Facing company with businesses that are truly high margin and value-add. Our four broad areas of focus are Human Health, Energy, Infrastructure & Transportation, and Electronics & Communications.
"Second, any acquisition we make must be accretive to earnings by the end of its second year of operation. And, third, we will measure any potential acquisition against the yardstick of a share buyback and the value that represents."
Mr. Liveris said: "With a dividend yield of 4.5 percent -- almost a full percent above the 10-year Treasury bond, I might point out -- we feel our stock is an exceptional value and an attractive option."
###
---
---

Dave Rogers




Dave Rogers is a former editorial writer for the Bay City Times and a widely read,
respected journalist/writer in and around Bay City.
(Contact Dave Via Email at carraroe@aol.com)

More from Dave Rogers
---
Send This Story to a Friend!
Letter to the editor
Link to this Story
Printer-Friendly Story View
---
--- Advertisments ---