Deadline for Digital Television: Feb. 18, 2009 -- Get Ready For New Age
WNEM-TV Channel 5 Chief Engineer Explains Technology, Guidelines
Last Weeks program - February 26
Deadline for Digital Television: Feb. 18, 2009 -- Get Ready For New Age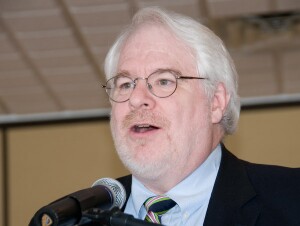 The Digital Television revolution is fast approaching, Mike Tamme, director of engineering and operations for WNEM-TV Channel 5 told Bay City Rotarians last Tuesday.
There are 220 million TV sets in the United States and an estimated 6 million households will suddenly see nothing but "snow" after midnight on Feb. 17, 2009. That will occur because those sets are not expected to be "digital ready," said Mr. Tamme.
The owners will have failed to do one of three things to prepare:
1-Buy a digital TV set;
2-Get a desktop converter box; or
3-Hookup on a digital cable or satellite service.
Mr. Tamme's presentation to Rotary was "part of a national effort to get people to understand what the change is going to be," he said.
An estimated 13 million households are currently unprepared for the changeover from analog to digital, he said.
It's not as though the government isn't offering any help; Congress has allocated $1.5 billion to help people get converter boxes, Mr. Tamme said.
The transition to digital is being managed by the National Telecommunications and Information Agency.
Why the change to digital TV? Mr. Tamme called it "the most significant advancement since color television."
Mr. Tamme explained that this will allow stations to open up other channels, and the technology provides a much clearer picture. Multiple channels may be viewed simultaneously, he said.
The cost of digital sets has gone down from about $800 to $400 in a year, he said.
Besides being a technician, Mr. Tamme had a career in politics, said Eric Jylha, programmer. He was on the advance team for President Richard Nixon for two years and traveled the country making arrangements for campaign rallies and other events, "before Watergate," he stressed. He also worked in the television department at Kent State University and at stations in Orlando, Minneapolis and St. Louis.
---
CLUB NEWS
Andreas and Tracy Teich have issued a $3,000 challenge for Polio Plus. They will match any donations by Rotarians up to $3,000 over three years as the international drive is stepped up to meet the $100 million challenge to Rotary by the Bill and Melinda Gates Foundation.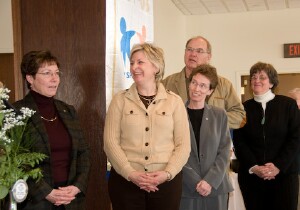 Rev. Teich inducted new members Bonnie Marsh, Brenda Rowley, Valerie Roof, Rod Sundstrom and Joy Butler. Sponsors were Rob Clark, Deb Lutz, Jerome Yantz, Dr. John Ley and Eric Jylha, respectively.
Brenda is vice president-operations of Rowley Wholesale; Joy is executive director of the Bay Arts Council; Rod is a retired executive of Donaldson Corporation air purification firm; Bonnie is account liaison for Heartland Home Health and Hospice and Valerie is executive director of the Saginaw Basin Land Conservancy.
A tribute to the late Don Anker was offered by Hratch Basmadjian: "He brought back respectability to the club presidency after my term was over," Mr. Basmadjian said.
Kathy Czerwinski awarded a Paul Harris Fellowship to Bob Adamowski
. Mike Stoner announced that the West African Group Study Exchange Team will be here April 13; the Austrian team will arrive the week before and will be working with the Pinconning-Standish club.
Cindy Luczak announced that she is seeking help with the Thesaurus Project in distributing the books to schools.
---
Upcoming Programs
(See the official schedule at
RotaryBayCity.org
)
March 4 First of two Vocation Days


March 11 Club Assembly to start planning next major project.


March 18 Second of two Vocation Days
---
CLUB ANNOUNCEMENTS
Vocational Days are right around the corner. 88 students are scheduled for March 4, and 158 are scheduled for March 18.


The club will host a dinner honoring the Women of Rotary at the Doubletree on March 28.


Rotary Concert: Lee and Molly Newton will be giving a concert with the Garber Band on Saturday May 10. Proceeds will benefit both Rotary and Garber.


A Club Assembly has been scheduled for the meeting of March 11 to take the first steps in selecting a new major project. These projects are the club's major funding focus and typically run for five years.


The International Night Theme as been named Rotary's Circle of Friends. The menu will feature foods of India, China, Greece and Italy.


---
Visit RotaryBayCity.org
---
---

Dave Rogers




Dave Rogers is a former editorial writer for the Bay City Times and a widely read,
respected journalist/writer in and around Bay City.
(Contact Dave Via Email at carraroe@aol.com)

More from Dave Rogers
---
Send This Story to a Friend!
Letter to the editor
Link to this Story
Printer-Friendly Story View
---
--- Advertisments ---