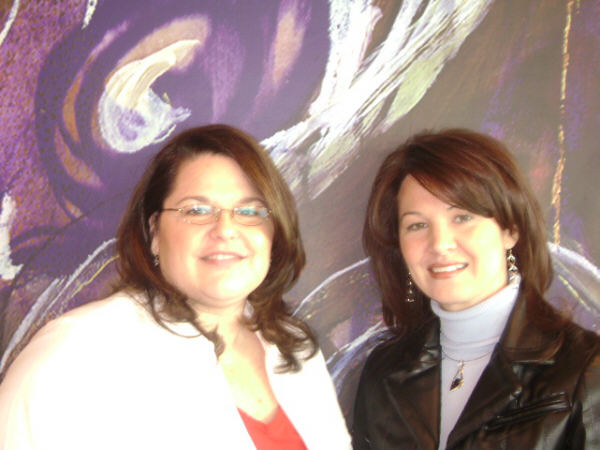 Pictured are sister's Lori and Marcee. Marcee Milletics is the owner of MNM Upholstery and the sole creator of these beautiful masterpieces.
---
MNM Upholstery Opens In Croswell Michigan!
MNM Upholstery Specializes In Limos, Planes, Vehicles, And More
March 7, 2008 Leave a Comment
By: MyBayCity Staff
Marcee Milletics from Croswell Michigan started her talented journey as a small child. Marcee's mother taught her and sister's Lori, Michelle and Rene to sew at 6 years of age. As a teenager, Marcee and sister's entered the "Make It Yourself With Wool Competition" in Saginaw, sponsored by the National Wool growers of America.
Talented Marcee won the competition and went on to District, State and National levels not once, but twice!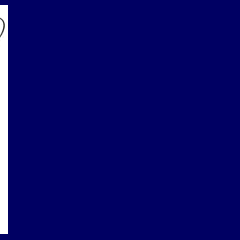 Marcee is not the only sister from this family to take the fruits of sewing, taught by their mother on to bigger and better things. Marcee's sister Rene is a Fashion Designer and attended the Center For Creative Studies in Detroit before being accepted to The Royal Academy of Arts located in London, England.
Marcee worked for her sister as a young adult and learned quite extensively how to utilize the equipment necessary for large scale design. She then went on to work for Great Lakes Limo in Port Sanilac as Head of Interior Design. "I knew the owner from the area and was asked to make his daughter a dress, which I did. He was so impressed, he hired me to do all of his interior designs for limo clientèle", says Marcee.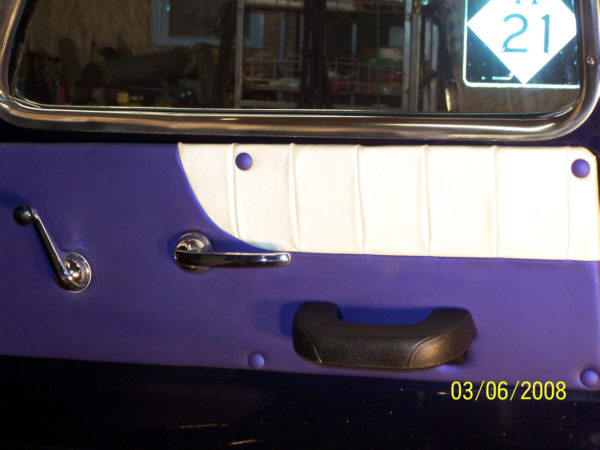 Door panels are just one of Marcee's specialties. This particular panel is from a 1950's Chevy truck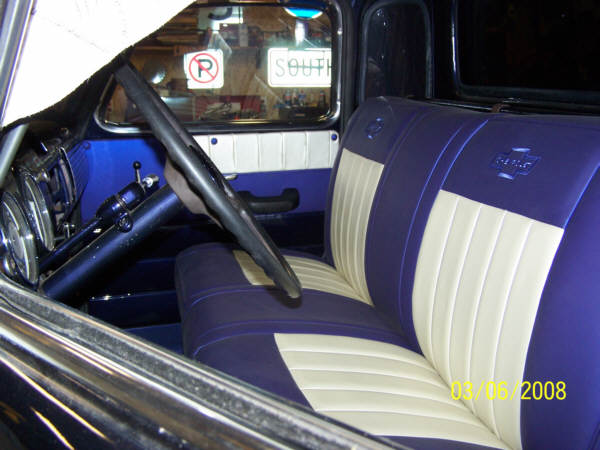 Marcee utilized a Metallic Vinyl in an Amethyst color to match the exterior of this 1950's Chevy truck
Marcee decided thereafter to take her talent's out on her own and MNM Upholstery was born. MNM Upholstery is approaching their first year anniversary this May. Marcee focuses on offering her clients a unique design, every time she creates a "masterpiece"!
"I can get my hands on any fabrics, from plain to the most exotic you can imagine. I even have suppliers that I can get original materials from decades ago to recreate original vehicle interiors", says Marcee.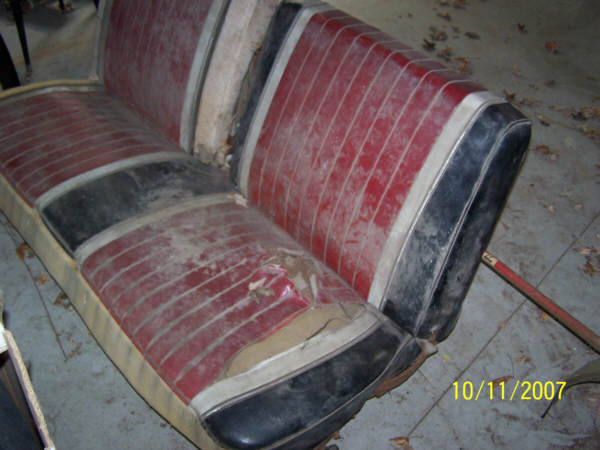 BEFORE: Picture of a bench seat from a 1962 Galaxy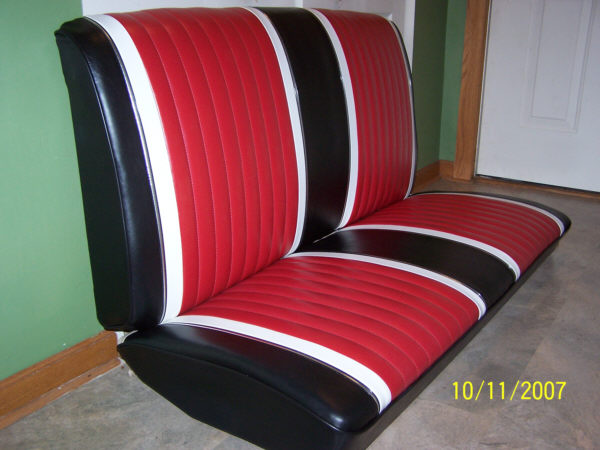 AFTER: Marcee re-created this 1962 back into the "gem" it once was. Paying attention to detail, Marcee even utilized the silver stitching and piping to make it as close to the original as possible!
MNM Upholstery employs some of the most talented seamstresses in the industry! They have plans to expand their business, already acquiring 20 acres of property, and build a brand new shop for designing their unique renditions of today and yesterday!
"I want to grow as BIG as I can. I just love working with people and seeing their dreams become a reality by creating exactly what they are looking for. I work with clients all over the country. All they have to do is send me the piece, pictures of what they envision and I will create it. I also fly on-site for clients all over the United States and work on their upholstery, including airplanes and automobiles!", said Marcee.
Marcee has been married to Curt Milletics for a decade and they have two children, a girl, Genevieve, age 7 and a boy Ryin 9 years old. This talented mom will be sure to pass on her traits to her children.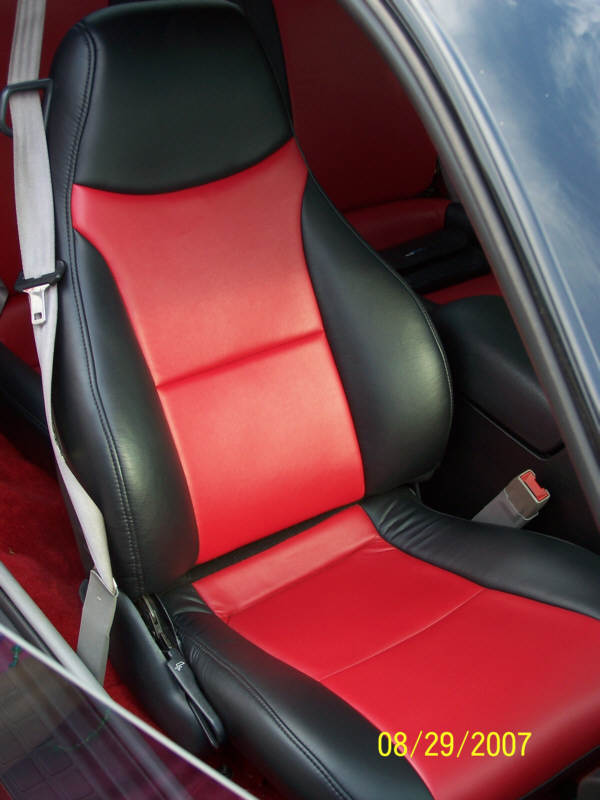 Pictured is the front seat of a 1995 Chevy Camaro that was re-upholstered by Marcee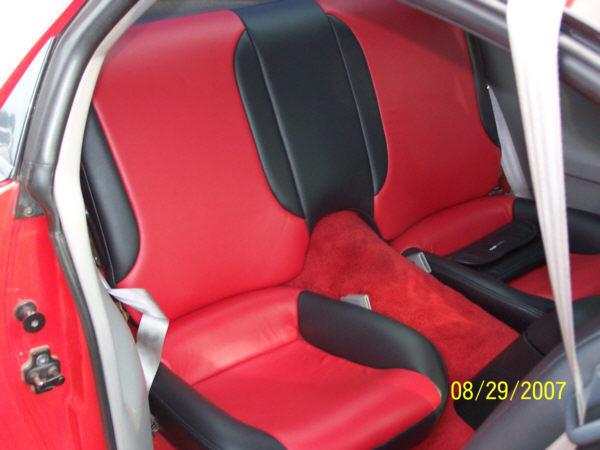 Chevy Camaro back seat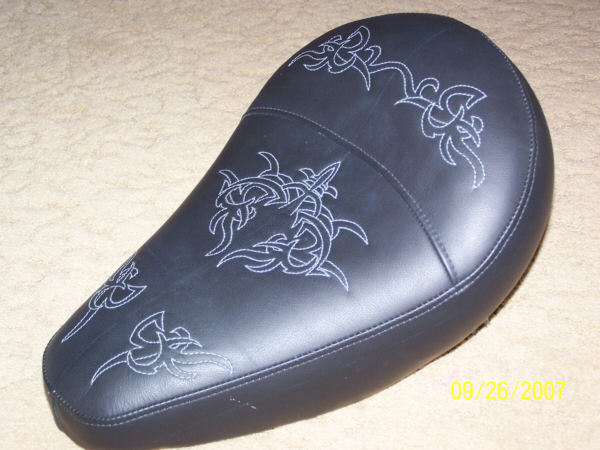 Marcee is a very talented artist when it comes to creating a stitch design for her clients. All of her work is done "freehand" so it is a one of a kind design!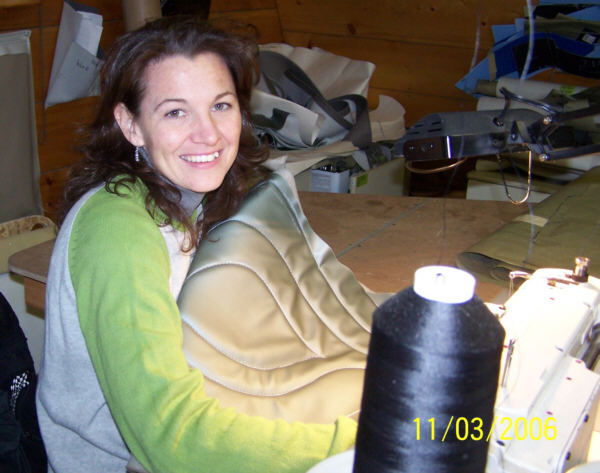 Marcee works at her client's, on-site for over 72 hours creating a unique airplane interior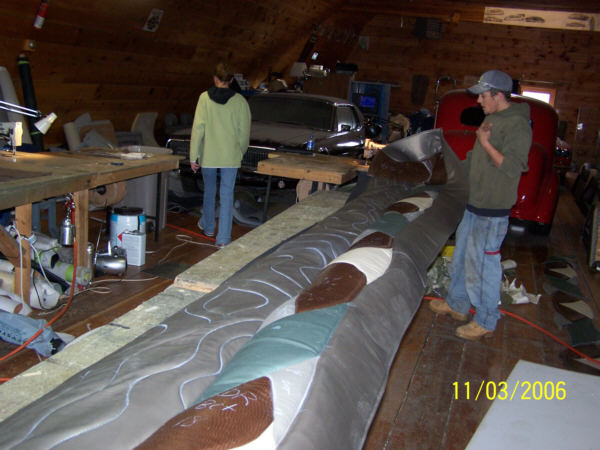 Marcee's team of professionals assemble one of her fantastic limousine creations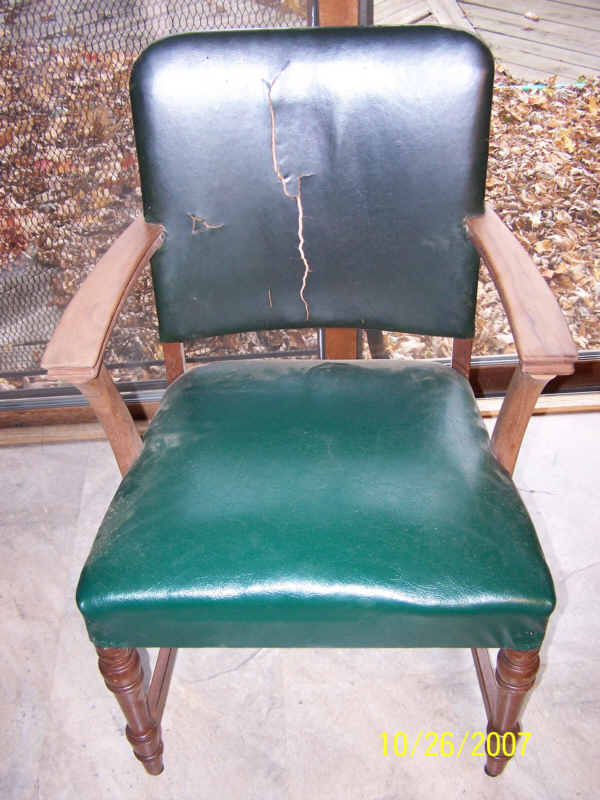 BEFORE: An antique upholstered chair in need of Marcee's assistance!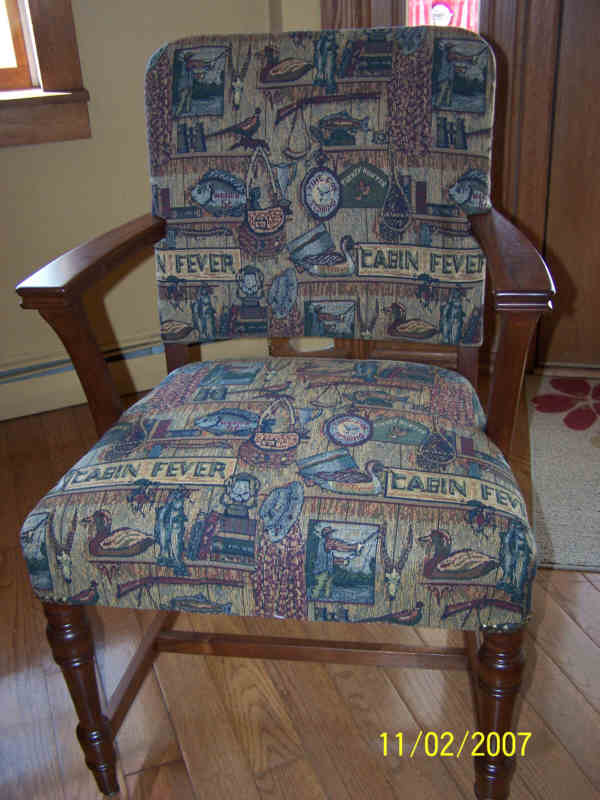 AFTER: Marcee will work with any design, pattern or material her client's request for re-upholstering furniture
Marcee works with Metallic Vinyls which are sheen and look like metals, similar to the shine of a "gem"! "They are great to work with, strong and durable, lasting a lifetime. They do not burn or scratch", says Marcee.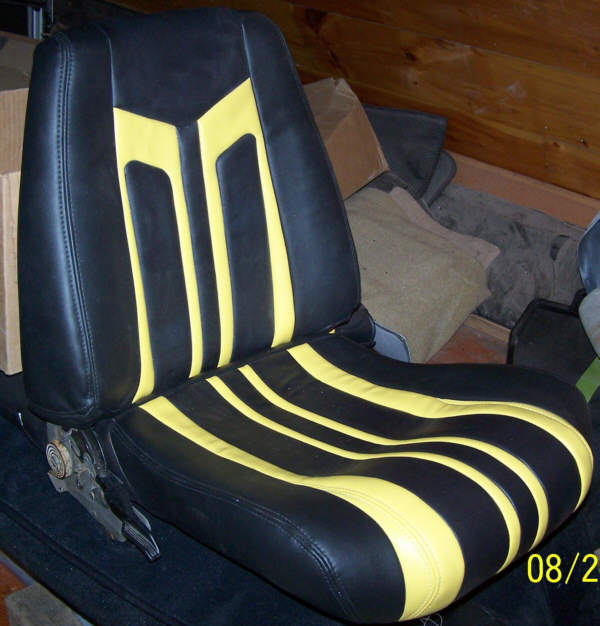 Pictured is a seat from a Model A vehicle that Marcee put her "magical touch" on to bring it back to it's original state.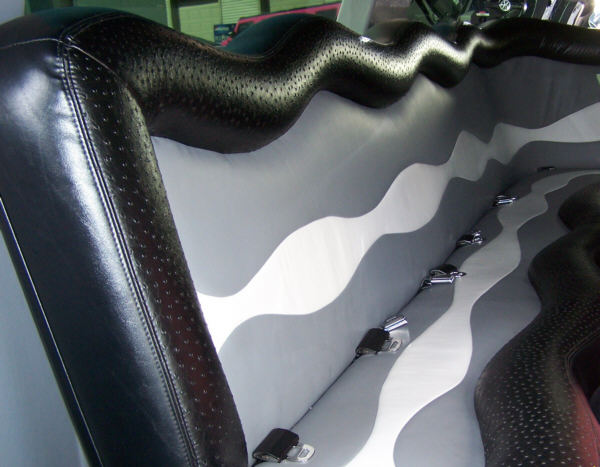 Silver Sand Limousine interior created by MNM Upholstery. "Marcee is a perfectionist like me, that is why I hire her to do all of my interior designs, including my Chrysler 300 and Hummer limos. She uses some of the most unique materials, such as this limo, it is Ostrich skin. I am so pleased with her work and would recommend her to anyone looking for original or unique designs, her creations are "top notch", says Ray Stack, Owner of Silver Sand Limousine in Bay City.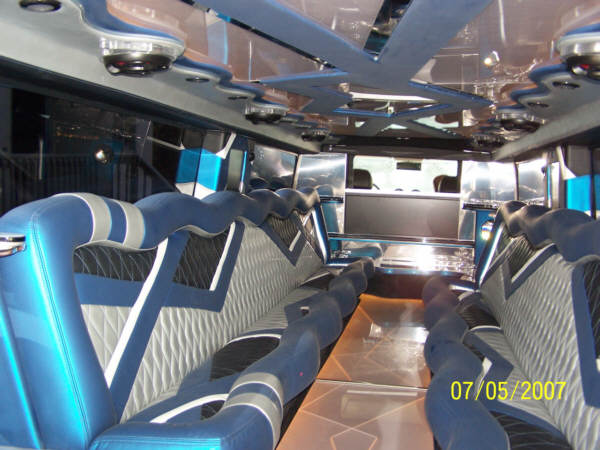 "Party Like A Rockstar" limousine from Chicago. Marcee even stitched their "star" logo into the seating for her client. She works with clients from all over the United States and will do so on-site, at their request!
MNM Upholstery is located in Croswell Michigan at 2626 Peck Road and can be reached directly at (810) 886-3002. MNM Upholstery will work with door panels, floor mats, headliners, and more as well as seating platforms!
For Information On How Your Business Can Get This Kind Of Exposure, Contact Julie TODAY At (989) 892-8501. Two Feature Articles With One Banner Ad!
---
---
---
Send This Story to a Friend!
Letter to the editor
Link to this Story
Printer-Friendly Story View
---
--- Advertisments ---