What Really Happened to Madonna's Key to Bay City? Ask The Doll!!!
Rock Band The Burdons Claims Honor, But Mike Buda Says Otherwise
March 13, 2008 Leave A Comment
By: Dave Rogers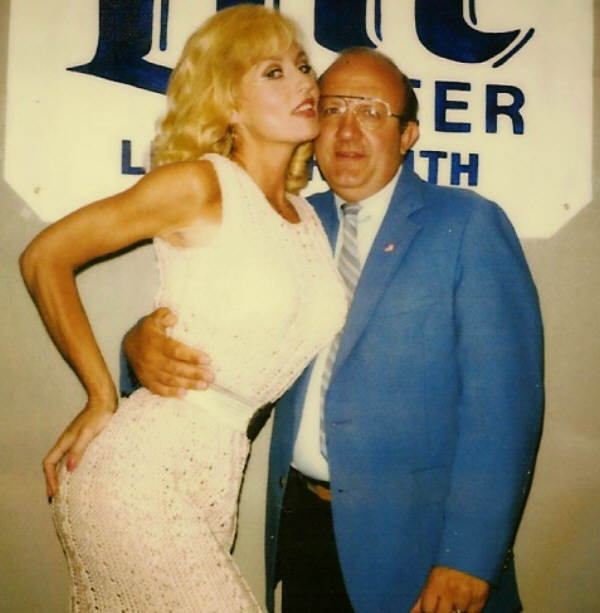 Lee Meredith, "The Doll," and former Mayor Mike Buda in 1991.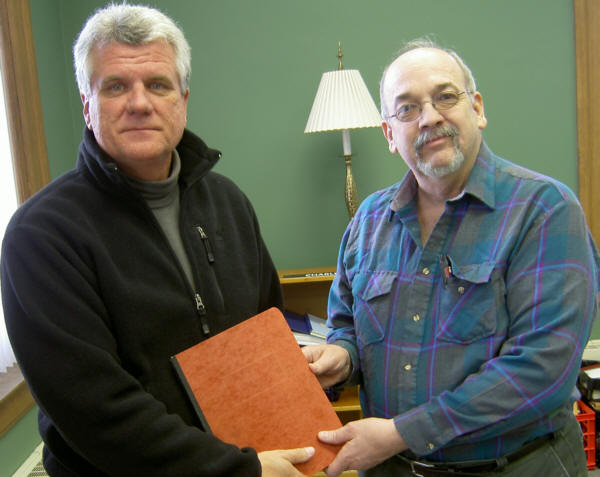 Alan Flood presents History of Bay City Mayors to Mayor Charles Brunner in his office in City Hall.
The infamous "Key to Bay City" that former Mayor Tim Sullivan refused to give to Madonna because of her dirty dancing is taking on a fame of its own.
And, by virtue of the publicity, the job of Mayor of Bay City has become much more widely known, in fact it is sailing around the world on MySpace, YouTube, and celebrity websites.
Pop culture, it seems, including the British rock group Bay City Rollers, that chose their name by throwing a dart at the map of the world and hitting Bay City, is spreading the word. For a town hoping to build a future in tourism, what could be better?
Stories about Madonna in The Bay City Times by Ryan Stanton have already editorialized up on the Madonna Tribe site posted by fans of the rock star, who was inducted this week into the Rock and Roll Hall of Fame.
The rock band, The Burdons,that started on the road to fame in Bay City, has a picture of the key to the city on its website and claims it was Madonna's key, given to them in 1985.
Former Mayor Mike Buda, however, recalls that the key was still kicking around city hall, with Madonna's name engraved on it, when he took office in 1991.
"Mickey Spillane and The Doll, Lee Meredith, had been here in July 1986 and were greeted at the band shell by Mayor Sullivan, Peggy Rowley and other community leaders," recalled Buda, who has a picture of the event.
"The Doll came back a few years later and we joked about Madonna's key, so I gave it to her. She had it on a chain around her neck."
Buda said he recalls the incident clearly and the fact that Madonna's name had been engraved on a flat spot on the key (Right). "I don't remember giving a key to that rock band, although we did give out some keys to entertainment groups, but the Burdons wasn't one of them," he said. "Perhaps the Burdons got their key from Mayor Sullivan because he was in office in 1985."
The Bay City band known as The Burdons, formed 27 years ago in the Spring of 1981, rocketed to fame on New Wave, Punk, and Rockabilly music. Band members were brothers David Davenport and bassist/songwriter/singer Jim Davenport, guitarist Paul Schultz and drummer Scott Causley. "The band is still intact - with only one personnel change - and spreading their gospel of unabashed joy and enlightenment from the discovery of up-tempo interplay to a second-generation of newfound fans," gushes a fan.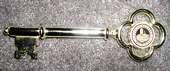 The history of the mayor's post has been compiled, sans Madonna key saga, by historian Alan Flood, who has presented the original document to Mayor Charles Brunner. Buda was given a copy.
Mr. Flood, a former Great Lakes seaman, has put together a thick 148 page compilation of information and news clippings about Bay City's mayors from Nathan B. Bradley in 1865 to Mayor Brunner today.
Notable in the list of mayors was James J. McCormick, 1869, who had made a small fortune in the California Gold Rush, and several mayors who served in Congress, including Thomas A.E. Weadock, 1883-84, and Elford A. Cederberg, 1949-51.
The first mayor, Nathan B. Bradley, headed the Village of Bay City in 1865, the year the Civil War ended. The first mayor of the consolidated West Bay City and Bay City, in 1905, was butcher and slaughterhouse owner Gustavus Hine, who served three terms.
A George Washington was the second mayor of West Bay City, that lasted from 1877 to 1904-05.
Most of the early mayors of Bay City were lumbermen or merchants, with a few lawyers and real estate men thrown in for good measure. Frank P.S. Kelton, 1915-17, ran the West Bay City Sugar Co. Robertr V. Mundy, 1917-21, was vice president of Berdan Bread Co. William H. Tomlinson, 1936-44, was a wholesale shoe dealer.
Biscuit salesman M. Raleigh Rabedioux served 1945-48. Several mayors later became judges, including Paul Harvey, 1953-55, Hamilton M. Wright, 1887-88 and 1895, who also had served in the state legislature.
Donald E. Powers, mayor 1961-62, left office because he was transferred by his employer, the Prudential Insurance Co. College history professor John R. Willertz served as mayor in 1974 and pipefitter Michael J. Campbell was a two-term 9th Ward city commissioner and mayor 1972-73.
Henry Pominville had been U.S. Attorney here and served as mayor 1969-71. Auto dealer M. Monte Wray was mayor 1963-66 and Realtor Ralph Camirand was mayor 1967-68. Automotive technician Robert J. Katt was the only mayor to die in office, succumbing at age 64 from cancer in 2006 and being succeeded by Mr. Buda, who had served as mayor 1991-97.
J. Harry Nelson has the distinction of being the only mayor to resign to accept appointment as city manager. He was mayor 1925-36 and was an engineering graduate of Michigan Agricultural College and had been superintendent of the Industrial Works.
George D. Jackson, mayor 1891-95, was the youngest mayor at age 29. John H. Wilkins, mayor 1879-81, had come to Bay City as manager of a store owned by David Bell Birney, later to become a famed Civil War general.
---
Community Article 2431
---

Dave Rogers




Dave Rogers is a former editorial writer for the Bay City Times and a widely read,
respected journalist/writer in and around Bay City.
(Contact Dave Via Email at carraroe@aol.com)

More from Dave Rogers
---
Send This Story to a Friend!
Letter to the editor
Link to this Story
Printer-Friendly Story View
---
--- Advertisments ---