Deal Reported on New Consumers Plant Here, Energy Plan Key to Local Growth
Report Says Deregulation Creates Artificial Power Shortages, Higher Costs
March 16, 2008 Leave A Comment
By: Dave Rogers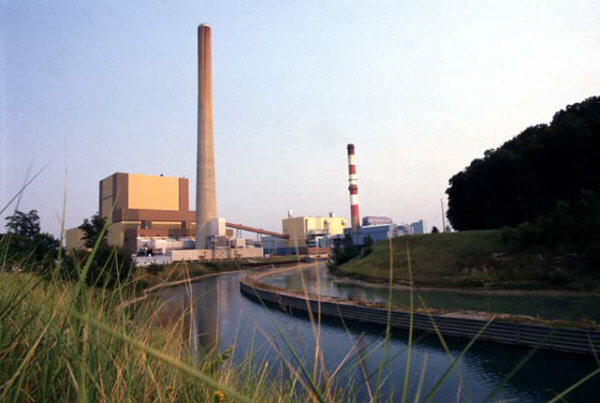 The City of Bay City is a part owner of the J.H. Campbell Generating Station No. 3 on Lake Michigan between Holland and Grand Haven.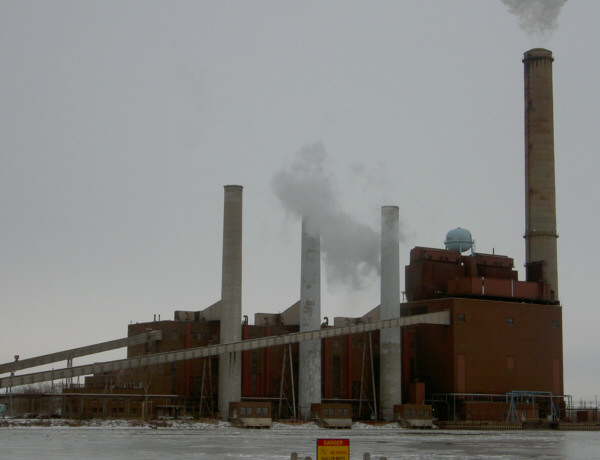 Proposed expansion of Consumers Energy's Karn-Weadock electric generating plant at river mouth of river could spark new economic boom in Bay area.
A deal is reportedly set that would jump start a new $2.3 billion Consumers Energy plant here adding thousands of much-needed jobs.
The legislature is expected to agree on a state energy plan by the Easter break and to adopt bills by summer.
Approval will trigger a start on the Consumers Energy addition to the Karn-Weadock plant at the mouth of the Saginaw River.
Construction of the new 800 megawatt clean coal plant would take seven years and power would begin to flow by 2015, Consumers officials estimate.
Consumers is already underway with installation of about $330 million in new environmental controls at Karn-Weadock aimed at reducing pollution and cutting mercury emissions by nearly 70 percent.
Bay City won out over many other potential sites because of the location of the plant at a deep water site on the Saginaw River that receives 1,000 foot super carriers bringing low sulfur coal from western sources.
Besides the investment in the plant, economic impact is estimated at $500 million in the tri-county area and $1.2 billion statewide. The tri-county area would get a $45 million boost each year.
Meanwhile, a huge power conglomerate, LS Power, is moving ahead with plans for new independent power plant in Midland believed to be aimed at grabbing much of the $50 million a year electric power market of the expanded Hemlock Semiconductor plant of Dow Corning Corp.
Consumers Energy recently purchased a gas-fired generating plant at Zeeland from LS Power. The 946 megawatt plant was acquired for about $517 million.
"The typical residential customer is using 8 percent more electricity than a decade ago and customer peak demand hit record levels four months last year," said John Russell, chief operating officer of Consumers. "We need to meet that growing customer demand for power with a balanced energy strategy."
If new baseload plants like that proposed for Karn-Weadock are not built, Michigan customers would likely pay $2 billion more for electricity, according to estimates in the state's 21st Century Energy Plan.
"State lawmakers are facing a very clear choice," said Russell. "They can act to clear the way for new plants to be built. If they act, Consumers Energy will be able to make significant investments in Michigan, create jobs, and be able to provide power to our customers at competitive prices for the long run. If they don't act, our customers will be exposed to higher and more volatile prices."
If the state energy deal is OK'd, it may come just in time. Wholesale electric prices for this summer already are forecast to be about 15 percent higher, sure to be passed on to homeowners and businesses.
The American Public Power Association (APPA) is out with a "white paper" warning of increasing peril for electricity consumers both in present costs and future reliable service, according to City Manager Robert V. Belleman.
The APPA policy paper appears to support Consumers Energy's plan to construct a $2.3 billion addition to the Karn-Weadock electric generating plant at the mouth of the Saginaw River.
Construction of that plant is considered a key to the city and county near-term economy, with an estimated 1,800 jobs for about seven years and 80 long term jobs expected. The project would boost local Consumers employment to 370.
Rumors of a deal in Lansing on modification or repeal of Public Act 141 seem to indicate a breakthrough may be near on Consumers' demand for re-regulation that the firm deems vital to secure financing for the plant.
The deal is tied to a proposed state energy plan that would require electric service providers to produce or purchase 10 percent of power through renewable energy sources by 2015.
That plan was approved in January by all members of the House Energy and Technology Committee except Rep. John Moolenaar, Midland Republican.
Renewable sources would include biomass, an interest area of Rep. Jeff Mayes, D-Bay City, geothermal, solar thermal, photo-voltaic cells and panels, industrial co-generation, existing incineration, wind, hydroelectric and landfill gas.
Most utilities and environmental groups in the state support the energy plan.
Adoption of the energy plan would help support the tri-city area's long term economic development goals that may be based on solar power related industries. Dow Corning is a world leader in polycrystalline silicon that is an essential element in solar panels and other devices. Local leaders are urging growth of spin-off related industries to replace the fading automotive sector.
Consumers officials have stated they would like to partner with the city's electric light and power department, and other power distribution agencies and customers, to make added supply available through the new plant.
The City of Bay City already is a partner with Consumers and nine other municipal electric agencies in the J.H. Campbell Generating Station No. 3 at West Olive near Holland. Other members through the Michigan Public Power Agency (MPPA) are Charlevoix, Chelsea, Harbor Springs, Hart, Holland, Lowell, Petoskey, Portland and Traverse City.
"To provide for the economical delivery of power from Campbell No. 3 to participating agencies, MPPA obtained ownership rights in Consumers Energy's electric transmission facilities," the agency states. "Campbell No. 3 produces the lowest-cost energy of any long-term resource available to MPPA and its members."
MPPA purchases power for Bay City and 12 other municipalities. MPPA has signed a letter of intent to purchase power from LS Power, as well as Consumers, Detroit Edison and other providers. But a change in the law would be required to make any deal with LS Power effective, according to Jim Weeks of the Michigan Municipal Electric Association.
The APPA paper continued: "Over the past 15 years, federal and state policymakers have fundamentally restructured wholesale electricity markets and retail electric service in many parts of the country," the APPA paper states.
"These changes were predicated on the promise that increased "competition" would spur efficiencies, promote innovation, ensure an adequate infrastructure and, most importantly, result in lower rates for consumers.
"But the opposite has occurred -- restructured markets are producing higher prices (and higher profits) than one would expect in a competitive market. Nor is new infrastructure being constructed. And the only "innovation" many consumers have seen is in the new and complex market mechanisms developed to extract more dollars from them for the same basic product -- retail electric service."
The APPA explains why prices have gone up and few new plants are being built to provide added supply.
"Federal Energy Regulatory Commission (FERC) changed its policy emphasis from ensuring non-discriminatory open access transmission service to implementing centralized wholesale electric markets run by regional transmission organizations (RTOs).
"The commission has limited its regulation of electric markets and allowed electricity generators to charge market-based rates. Many states in regions with RTOs implemented some form of retail electric utility restructuring, to allow retail consumers to choose their own power supplier.
"As part of the transition to these new retail restructuring regimes, many state-regulated incumbent electric utilities sold off their existing generation assets to unregulated third parties, including their own unregulated affiliates. All of these policy changes were made on the assumption that competition in wholesale and retail electric markets would develop. But the structural features of the electric utility industry (high capital costs, high barriers to entry, control by incumbents of generation sites, etc.) make it difficult for true competition to develop or flourish."
According to APPA, high costs and dysfunctional nature of RTO-run centralized markets. include:
"Lower-cost generators are paid the same price as those with higher operating costs, but these additional dollars have not spurred the entry of new competitors or induced substantial investment in new generation facilities.
"Prices for power sold under bilateral contracts (individual contracts between a buyer and a seller) have been substantially influenced by the high prices sellers can obtain in RTO centralized markets.
"RTO-run bid-based markets create incentives for generators to withhold capacity (to create artificial shortages that increase prices) and to refrain from building otherwise-needed new generation capacity (which could reduce prevailing market prices, thus reducing profits)."
###
---
Business Article 2442
---

Dave Rogers




Dave Rogers is a former editorial writer for the Bay City Times and a widely read,
respected journalist/writer in and around Bay City.
(Contact Dave Via Email at carraroe@aol.com)

More from Dave Rogers
---
Send This Story to a Friend!
Letter to the editor
Link to this Story
Printer-Friendly Story View
---
--- Advertisments ---