Only Way to Dodge Race War in Nation is for Dems to Draft Al Gore
Polarization Over Obama's Minister Jelling Into Dangerous Racial Divide
March 20, 2008 Leave A Comment
By: Dave Rogers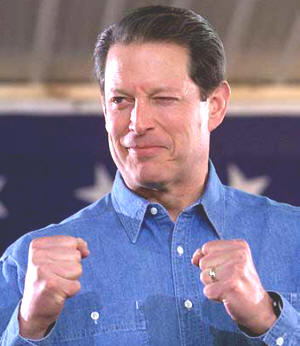 Al Gore
Michigan is not going to re-vote a Presidential primary.
Even if Hillary Clinton supporters pay for it, and that appears to be her desperation plan.
Most of the money promised to pay for the re-vote would come from Gov. John Corzine of New Jersey and wealthy Clinton supporters.
Plain old politics made worse by the racial divide is blocking any consideration of a re-vote that would have to be adopted today in the legislature in Lansing.
Florida is rejecting the idea of a re-vote, too.
We have written earlier that these are dangerous times, and they are getting even more dangerous.
The right wing campaign against Obama, using his pastor's admittedly inflammatory words, have shocked the white independent voters.
Obama is in a pickle, and a very sour one. Even if he totally disavows the pastor and leaves the church, the fact that he sat in the pews for 10 years and listened to those outrageous sermons has convicted him of racism against whites.
That is not sitting well with white independents and the lunch bucket crowd in Ohio, Pennsylvania and elsewhere. And those are the folks that will determine who is nominated and who is elected President.
While a week ago Obama was leading McCain by ten points, now he is behind by ten points.
Welcome to the wonderful world of 21st century communications!
And welcome back to the 19th century world of racial polarization.
Yes, it was a great speech Obama gave last week, and it made a lot of sense, but it didn't reverse deep-seated racial fears that are locked into our DNA.
The conflict might go away in time, and it should, but I doubt it. This past week is one for the history books.
With TV and radio talk show hosts re-invoking the Ku Klux Klan, as the pastor unfortunately did, and playing that pastor's rants over and over, we don't have a chance to bring order to the Presidential primary process.
The voters are not turning to Hillary, they are mainly deciding to support John McCain.
The biggest pitfalls are in the Hillary-Obama conflict.
If the Democratic super delegates snatch the nomination away from Obama, it will be confirmation that the Chicago pastor's comments about "rich white folks" were right on target.
Other radicals will pick up the mantra and that will be the signal for lots of angry folks in the big cities to take to the streets.
Denver will be first, at the convention, and it will spread quickly to Chicago, Detroit and, probably Cincinnati or Cleveland.
A nasty picture is developing, and, given America's proclivity for political and racial polarization, it will no doubt get much worse.
They're already marching in the streets to protest the five years of the Iraq war.
McCain appears to be primarily a war monger of the Dick Cheney class. But he and his supporters totally ignore two important facts about our national security:
1-We can't afford this war or any other. We can't afford to stay in Iraq for 100 years or even 100 days.
2-We are out of troops, unless the draft is re-instituted.
Our brave young men and women are not only tired, they are so depleted in numbers that if we needed the National Guard to help meet a natural disaster or riots in the cities we would be hard pressed to find anyone to put on boots.
If the economy tanks even more, and the skyrocketing price of gold is a good indication, we are headed not for a recession but for a real depression. Think 1929 scale. Think global depression.
Remember 1968?
Democrats do, and if they seriously want to avoid social turmoil they will think about who the candidate should be.
The battle between Clinton and Obama is threatening to push both of them out of the picture as realistic Presidential candidates.
The Democratic convention in Denver in August will have a real Hobson's Choice.
If they give it to Obama, the supporters of Hillary will be furious and may not vote or may vote for McCain.
If the nomination goes to Hillary, she stands a good chance of losing to McCain. But even worse, the Obama supporters will be so alienated that they may stay home or vote for McCain.
And, worse yet, riots may break out in protest of what many will perceive as unfair treatment of the only minority candidate in history who seemed to have a chance of winning the Presidency.
The Dems, desperate for a win after eight years of a disastrous W administration, really have only one choice.
AL GORE!
The guy who actually won the Presidency in 2000.
Even if a miracle happens, the convention is deadlocked and Gore is nominated and decides to accept, and I predict he will if given the chance, we will have a long haul in bringing the country back together.
In fact, it will be touch and go in saving the nation from an economic and social crisis the likes of which we haven't seen since the 1930s.
And, like Obama said, we can't solve our problems if we are divided.
Right now that's where we're at, unless we can think our way out of this quickly.###
---
Opinion Article 2453
---

Dave Rogers




Dave Rogers is a former editorial writer for the Bay City Times and a widely read,
respected journalist/writer in and around Bay City.
(Contact Dave Via Email at carraroe@aol.com)

More from Dave Rogers
---
Send This Story to a Friend!
Letter to the editor
Link to this Story
Printer-Friendly Story View
---
--- Advertisments ---