Mead is Fermented Honey
Riverview Beer Studies Explores Meads
March 20, 2008 Leave a Comment
By: Kevin Leahy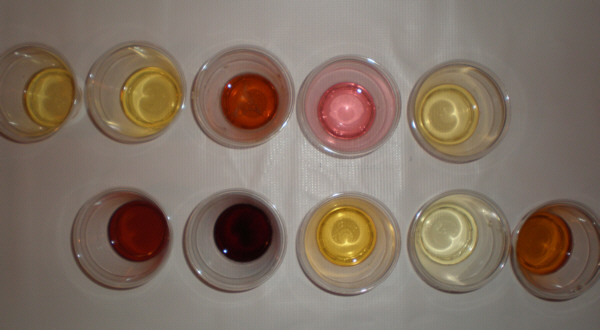 The assortment of meads were flowery, fruity, grainy and buckwheaty and good!
(MyBayCity Photo by Kevin Leahy)
Variety is the spice of life, and those in attendance at Riverview Complex's Beer Studies 501 (third Tuesday of every month) class found out; mead is the original variety of fermented beverage.
Simply enough, mead is honey, water and yeast.
It may seem strange to attend a beer studies event and sample meads but the event is hosted by Rex Halfpenny who is the publisher of The Michigan Beer Guide and is a fermentable specialist who champions local (Michigan) fermentable products.
Meads are the oldest known fermented beverage in the world but one of the newest commercial products on the Michigan scene.
As for the newest commercial producer in MI, that honor goes to Brad Dahlhofer of Ferndale who in his own words, "is completely hooked on meads."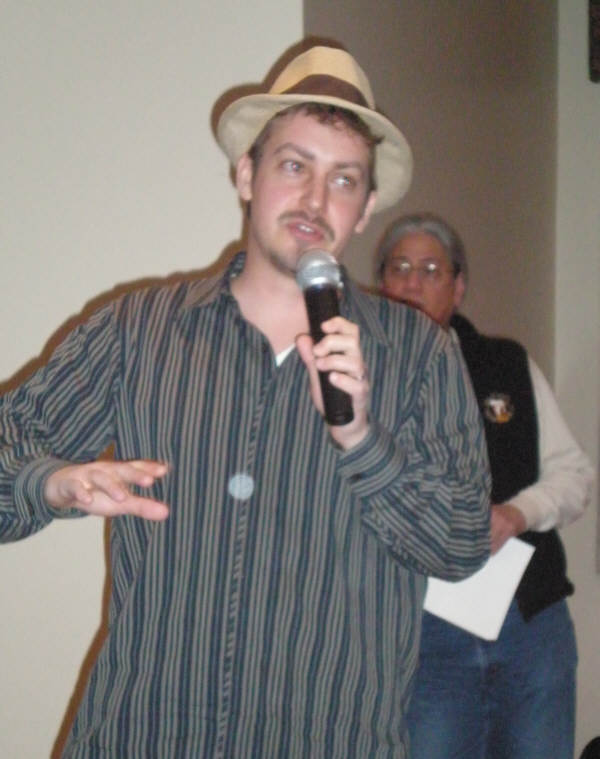 Brad Dahlhofer of B Nektar Meadery in Ferndale was in Bay City explaining the nuances of his meads while Rex Halfpenny of MI Beer Guide waits to tell the history and current state of meads and honey in MI.
(MyBayCity Photo by Kevin Leahy)
Dahlhofer who will be opening his B Nektar Meadery in Ferndale later this year was kind enough to provide four of his homemade specialties for the aficionados in attendance. Actually meads are so new in the marketplace, most beer aficionados in attendance were truly green when it came to sampling the ten honey infused concoctions that were provided.
Although inexperienced to the familiarity of honey based beverages, no one left disappointed. Meads are closer to wine than beer, according to Dahlhofer, "I use about three pounds of honey per gallon and most of my meads range from 12-15% alcohol."
The flavors of meads have a huge range as any fruit base can be fermented with honey. Dahlhofer's specialty offerings were pure meads made with wild flower honey, buckwheat honey, a wild berry pyment (grape based mead) and a vanilla methoglyn (mead with spices).
Rounding out the samples were a black raspberry, juniper berry and another wildflower mead from Redstone Meadery in Colorado, while the Kuhnhenn Brewing Company out of Warren provided a late harvest pyment and a grain based mead that did taste more like beer.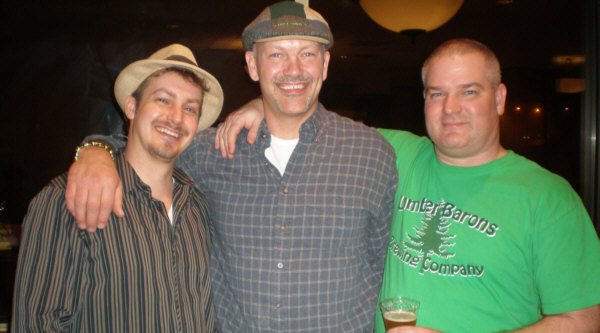 Brad Dahlhofer of B Nektar, Kevin Leahy (the writer) of MyBayCity.com, and brewer Marty Rapnicki of Riverview shared a laugh.
(MyBayCity Photo by Kevin Leahy)
Dahlhofer who is just 30, has a hippie rebellious air to him as he explained the process involved and troubles with attaining his small wine makers license from the state of MI.
He and his wife started the process in September of 2006, filed their application in April 2007 and expects to get full approvals by the end of next month.
One thing he was happily excited about was his ability to self distribute. His hippie was showing as he explained they would be delivering their meads in a 1984 Volkswagen Camper.
"I'm not doing this to get rich, I'm doing it because I love sharing my meads," added Dahlhofer. He graduated from Oakland Community College and Walsh College of Accountancy and Business Administration and his day job in support of his new profession is computer programming.
He loves making meads and with their flowery earthy taste he hopes the public will enjoy buying them.
His average price for a 750ml bottle will be $15.00. He has been a home brewer for ten years and figured it was time to share his craft.
So in support of Michigan apiaries and the small amount of meaderies in MI, ask your wine and beer merchants if they have any meads you can try, you won?t be disappointed.
And in honor of tax day in the USA, next month's tasting at the Riverview is April 15th and will be featuring, "Working man beers of England."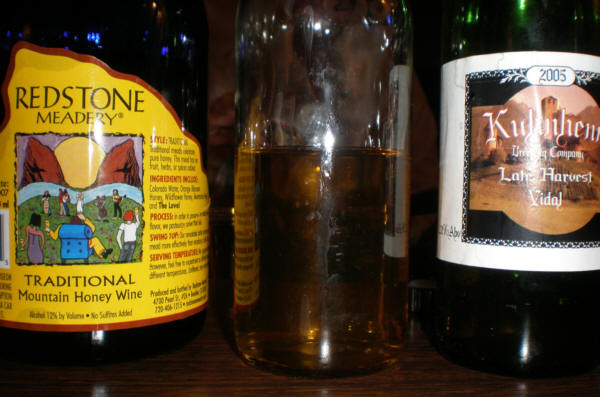 The meads and their honey come from the flora and fauna around the world
(MyBayCity Photo by Kevin Leahy)
Randy, Marty, Brad, Rex, Wayne Taylor, and Paul Piel show the beauty of enjoying meads in unison.
(MyBayCity Photo by Kevin Leahy)
---
---

Kevin Leahy




Kevin Leahy has an interest in all sports-related activities at the Local, State and National levels. Looking for the inside story? Leahy's got it . . .

More from Kevin Leahy
---
Send This Story to a Friend!
Letter to the editor
Link to this Story
Printer-Friendly Story View
---
--- Advertisments ---