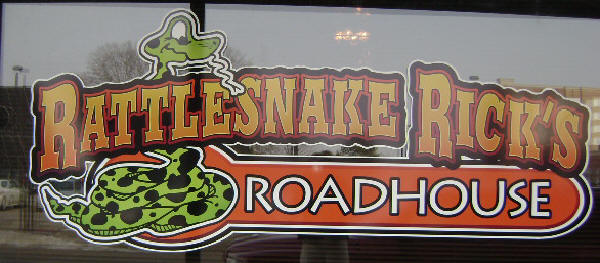 Rattlesnake Rick's Roadhouse is now OPEN for business!! Located at 708 Saginaw Street across from the Planetarium, Rick's is "Red Hot"!
---
Rattlesnake Rick's Roadhouse Is Rockin'!
Rattlesnake's Is The Place To Be If You Love BBQ, Wings And 20oz. Steaks!
March 23, 2008 Leave a Comment
By: MyBayCity Staff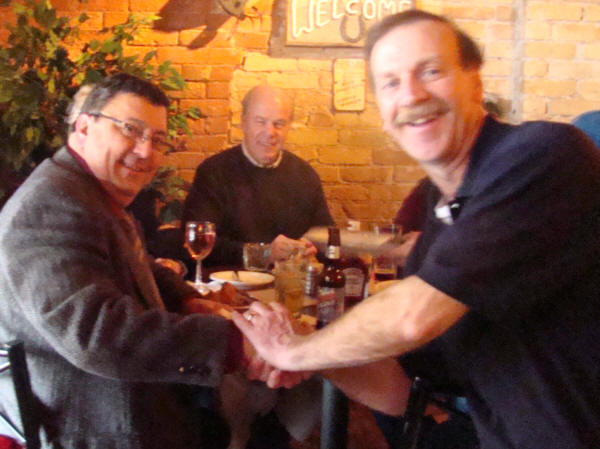 LOYAL CUSTOMERS - Owner Rick Revette (Right) shakes hands with Bill Herrera as Jerry Cole (Center) looks on. Herrera and Cole were on hand for the VIP Grand Opening Party held earlier in March.
(MyBayCity Staff Photo)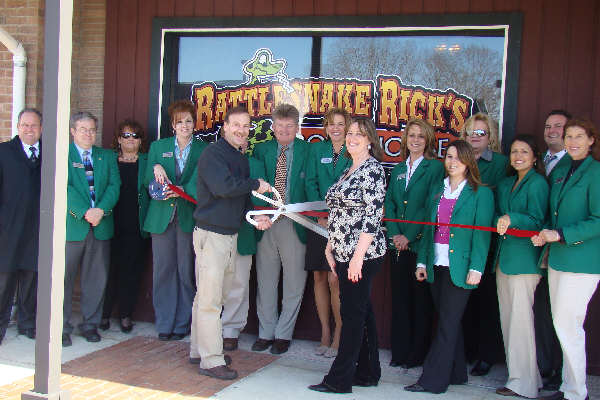 Thursday the Bay Area Chamber of Commerce welcomed Rick Revette's new BBQ to our beautiful city!
(MyBayCity Staff Photo)
Rattlesnake Rick's Roadhouse has opened their doors to the public and
WOW
, are the public "rollin' in"! Tuesday the Bay Area Chamber of Commerce welcomed Rattlesnake Rick's to our community with open arms!
"I was a little surprised at the large turnout for the ribbon cutting, the support is wonderful", says Owner Rick Revette.
Talk around town is that the wings are absolutely the best this city has ever seen! They are hand smoked and HUGE! The "secret" sauce is made by Rick's Certified Chef from "out West".
"The sauce very special, it is sweet yet tangy and a bit spicy, it's delicious", says Revette.
"Every person that tries the wings compliments them both on taste and the unique size. They tell us they are the best wing's they have ever had, which is reassuring", says Rick.
Another Rick's favorite is the 20oz. Porterhouse steak, talk about a "monster" piece of meat, this is it!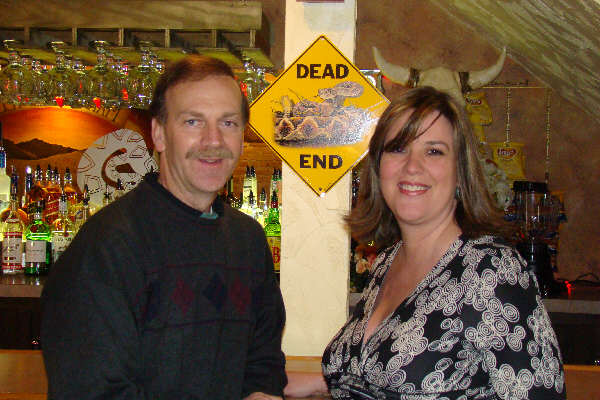 Owner Rick Revette and Manager Debbi Abeare-Jacobs are happy with the "talk about town" over their new establishment!
(MyBayCity Staff Photo)
Owner Rick Revette has owned the building since 1996. Prior to Revette's purchase, this "hot spot" was known as The Lion's Den. Revette opened it as Tuscon Jack's, a Mexican flavored menu. Recently, Revette decided that with the current saturation of Mexican restaurants in Bay City, he would try his hand at something else, something he felt was a need for Bay City.
"Every time I would drive by Famous Dave's, the parking lot was jammed and the place was packed! It was apparent that Bay City had a huge demand for authentic BBQ, it was a void that needed to be filled", said Revette.
Rick Revette knows all about taking an establishment and making it a successful staple to the community, he also owns Gatsby's and is co-owner of Mulligan's Pub in Bay City.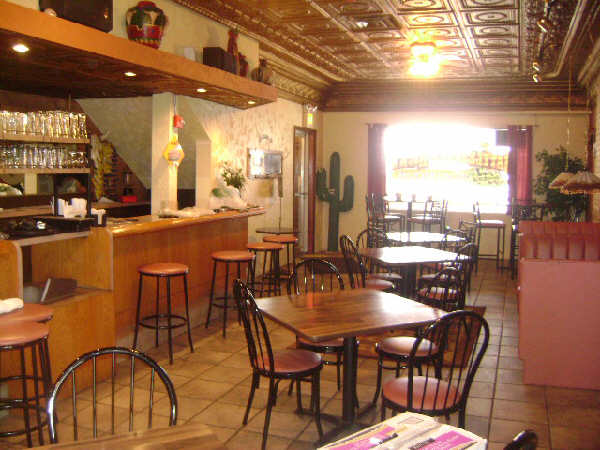 MyBayCity cameras were allowed inside for photos of the establishment just hours before their "soft opening" two weeks ago. The original tin ceilings are quite a "show stopper"!
(MyBayCity Staff Photo)
"We are thrilled with the outpouring of support thus far from the community. We have gotten nothing but positive feedback, which is rare when first opening an establishment, we are very pleased!", said Manager Debbi Abeare-Jacobs.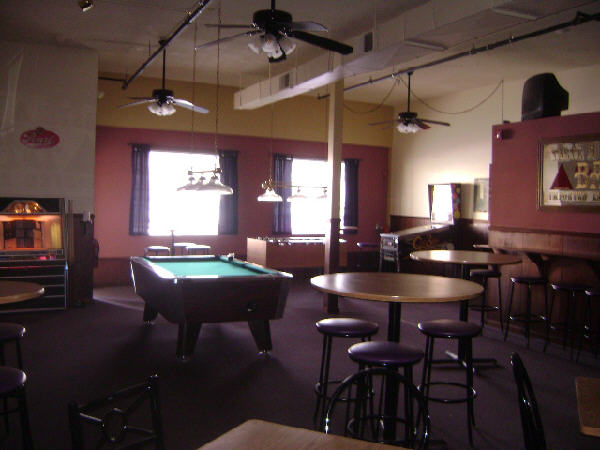 There is plenty of room on the other side of Rick's as well! This section offers a dance floor, pool tables, dart boards and more!
(MyBayCity Staff Photo)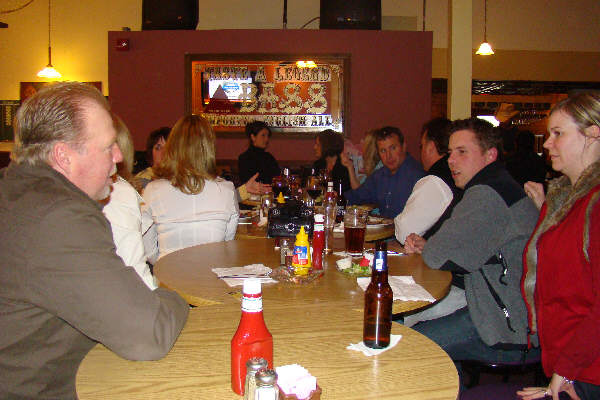 Patron's enjoying the Grand Opening two weeks ago
(MyBayCity Staff Photo)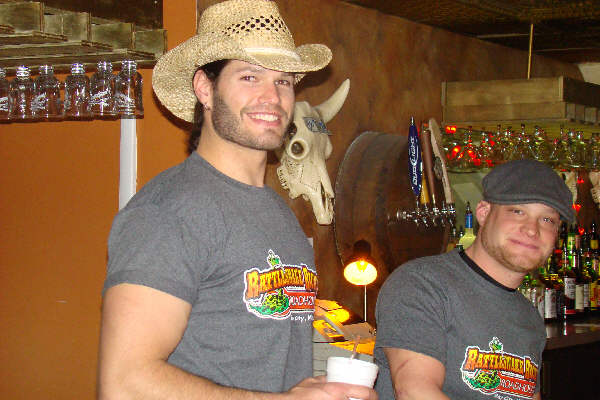 Rattlesnake Rick's Roadhouse offers a full alcohol assortment for your pleasure and taste!
(MyBayCity Staff Photo)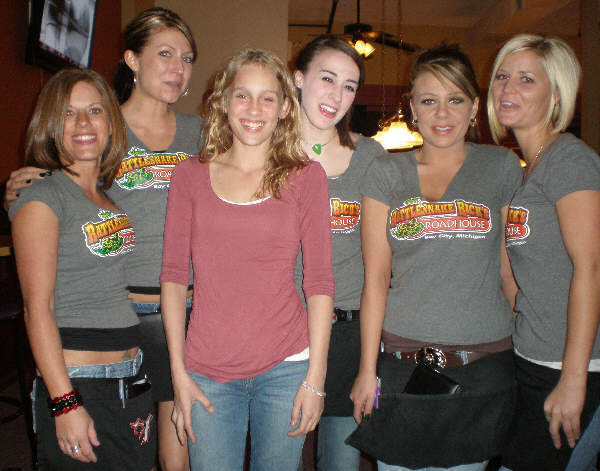 Patron Brenna Leahy poses with Rattlesnake Rick's Waitress staff!
(MyBayCity Staff Photo)
Hot menu items have been, of course, their Buffalo Wings and 20oz. steaks, however, other hot options take top honors as well.
The beef brisket, pulled pork sandwich, "smoked pork chop" and a large array of other "meat and potato" options along with a wide variety of specialty salads take center stage at Rattlesnake Rick's!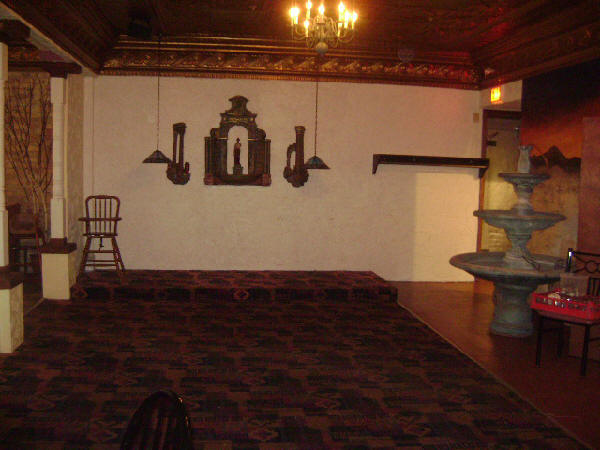 The entry to a back conference room boasts a beautiful waterfall and decor! The conference room is available for parties, meetings or a large family event!
(MyBayCity Staff Photo)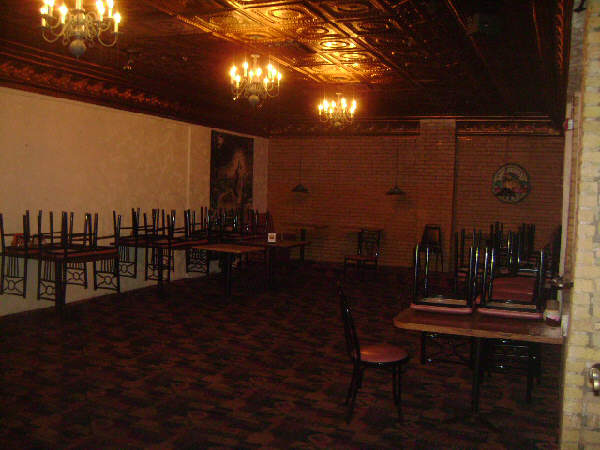 The warm ambiance and gorgeous tin ceilings are also featured in the conference area
(MyBayCity Staff Photo)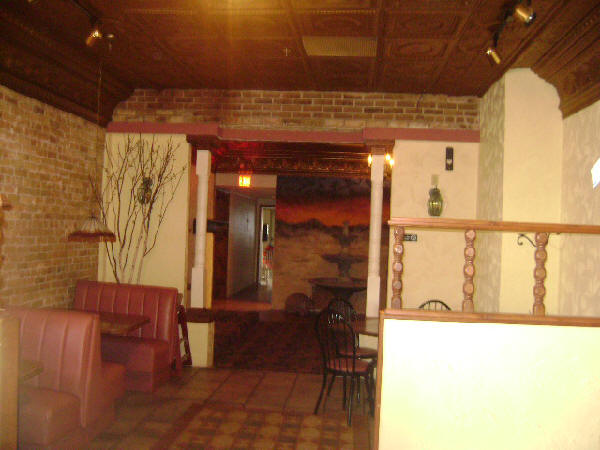 Ample seating is available for dinner parties!
(MyBayCity Staff Photo)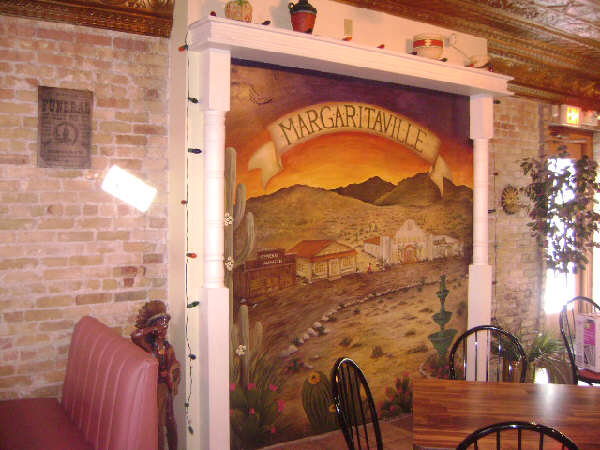 It's Margarita time at all times at Rattlesnake Rick's! "Go getcha some of them yummy wings or a big ole 20oz. piece of meat to sink your teeth into"
(MyBayCity Staff Photo)
Rattlesnake Rick's Roadhouse will also be hosting
LIVE ENTERTAINMENT
!! The Josh Ramses Band will be performing on Saturday April 5th from 9:00p.m.-1:00a.m.! Check out the The Josh Ramses Band at http://www.thejoshramsesband.com
To try out the menu options, sit back and relax, by making a visit to Rattlesnake Rick's Roadhouse at 708 Saginaw Street in Bay City across from the Planetarium or call (989) 391-9722! You won't regret it!
For Information On How Your Business Can Get This Exposure, Call Julie TODAY For Banner Advertising And Category Sponsorship Opportunity Pricing at (989) 892-8501 Or Email Julie@MyBayCity.com
---
---
---
Send This Story to a Friend!
Letter to the editor
Link to this Story
Printer-Friendly Story View
---
--- Advertisments ---