37 Years Ago Bay City's Foreign Correspondent Warned of Mid-East Trouble
Webb McKinley Covered World Hotspots, Penned Prophetic Book in 1972
March 23, 2008 Leave a Comment
By: Dave Rogers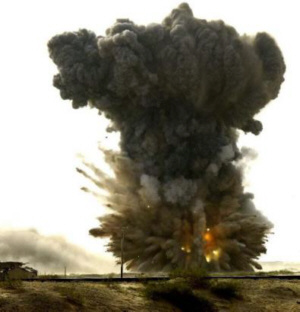 Not only did McKinley cover the world hotspots, he wrote a book published by Franklin Watts of New York in 1972 called "Trouble in the Middle East.
Douglas Webster "Webb" McKinley, Bay City born longtime Associated Press foreign correspondent, who died Feb. 21 at age 90, was a prophetic tribune of problems in the Middle East.
Not only did McKinley cover the world hotspots, he wrote a book published by Franklin Watts of New York in 1972 called "Trouble in the Middle East."
Ostensibly produced for children, the book laid out adult-scale warning signs that, if American diplomats had noticed, might have helped the nation avert some of the costly entanglements in the Mid-East region.
"McKinley has written with masterful insight into the historical problems of the Mid-East," one reviewer wrote.
In his 35-year career overseas, McKinley covered and interviewed powerful figures like Anwar Sadat of Egypt, King Faisal of Saudi Arabia, David Benb Gurion of Israel, Archbishop Makarios of Cyprus, King Hussein of Jordan and the ill-fated Shah of Iran.
His journalistic career in the Middle East began in 1957 when he was transferred from AP's Rome Bureau to Istanbul, Turkey. His wife, Martha, wrote a special article detailing how the family, including four children, was coping with life in a place called "the crossroads of history."
In 1959 he wrote about the turmoil in Cyprus caused by the Greek underground that kept the British Army's 30,000 troops occupied four years. That coverage took him to the dangerous streets of Nicosia to interview Cypriot youths the British called terrorists. Some of the actions appeared similar to fighting by al-Qaeda in Iraq today.
In 1963, McKinley wrote from Beirut, Lebanon: "This year saw three revolutions, a plan for Arab unity demolished and two little wars continue. Prospects for 1964 do not differ."
He continued: "Iraq, scene of two bloody coups in nine months, knows not where it is heading. Its government aims at a middle-of-the road role in Arab affairs. Strong forces tug at it from left and right and the present military regime will be fortunate to survive."
The epitome of the trench-coated, swashbuckling foreign correspondent, McKinley chummed with fellow "AP Michigan Mafia" member Stanley Swinton, editor of AP World Service.
The pair shared memories from Ann Arbor, where Swinton, two years younger, was city editor of the Michigan Daily and McKinley had worked for the Ann Arbor News. The pair also worked together for several years in the Detroit AP Bureau.
Swinton, whose father had been a professor at the University of Michigan, won fast promotion in AP because he knew personally many of the royal figures from Arab countries. Some of them had lived with his family while studying at U-M.
Some McKinley contemporaries who also went on to literary and other accomplishment included author Ed Jablonski, actor Tyler McVey and business tycoon Warren Avis, all of whom went to high school here. McKinley was a graduate of Cranbrook School, Bloomfield Hills, and the University of Massachusetts-Amherst.
He could write with authority about military matters, having joined the U.S. Army as a private in 1941 and rising to major by the war's end in 1945. He was part of the Normandy Invasion of 1944 and landed on Omaha Beach, the most hotly contested of all the invasion sites.
After the war he returned to a reporting job on the Ann Arbor News before joining AP in 1947 in Detroit.
After his retirement in 1982 as AP World Services news editor in New York, he was a consultant in Africa and the Middle East. He later moved to Jekyll Island, Georgia, where he died.
###
---
---

Dave Rogers




Dave Rogers is a former editorial writer for the Bay City Times and a widely read,
respected journalist/writer in and around Bay City.
(Contact Dave Via Email at carraroe@aol.com)

More from Dave Rogers
---
Send This Story to a Friend!
Letter to the editor
Link to this Story
Printer-Friendly Story View
---
--- Advertisments ---