Former Bay City Bartender Said Most Crooked Cop in Chicago History
Half Brother's Book Puts Bon Ton Booze Slinger in Literary Spotlight
March 23, 2008 Leave a Comment
By: Dave Rogers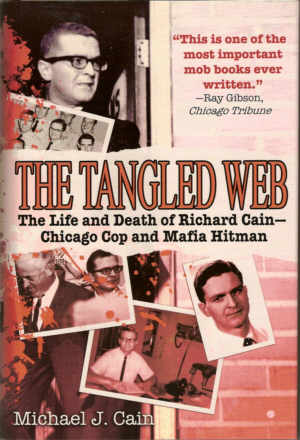 Michael J. Cain's book is lively tale of Chicagoland vice with links, family ties to Bay City.
(THE BOOK: "The Tangled Web: The Life and Death of Richard Cain -- Chicago Cop and Mafia Hitman." New York, Skyhorse Publishing, 2007.)
There are tantalizing hints of bone-jarring scandal in "The Tangled Web," a book Michael J. Cain wrote about his half brother Richard Cain:
Richard, who had been a bartender at the Bon Ton bar on Midland Street in Bay City for six months in 1953, had gone to Chicago and become a member of Sam Giancana's mob.
Richard Cain knew Cuban exiles in Chicago, may have met Lee Harvey Oswald and been involved in a plot to kill President John F. Kennedy in Chicago before Dallas in 1963.
Sen. Barry Goldwater met Dick Cain in Chicago in the 1964 campaign and was going to make him head of the Secret Service had he been elected President because he didn't trust anyone in the Lyndon Johnson Administration.
Dick Cain was working for the FBI when he was slain in 1973 by two gunmen in a sandwich shop and an FBI special agent called him "possibly the most corrupt police official in the history of Chicago."
Dr. Rita Munley Gallagher of Washington, D.C., a senior policy fellow with the American Nurses Association, recalls attending St. Joseph High School with Patrick and Michael Cain in the 1960s.
"I had heard rumors of their older half brother Dick but the information in this book is really startling," she said. "I had no idea that someone with ties to Bay City had such a violent life."
The story weaves in and out of Bay City and Owosso, where the family had a farm, and even mentions a reporter for The Bay City Times who had an anonymous, but integral, part in the story. (EDITOR'S NOTE: The reviewer was a reporter for The Times in that time frame but doesn't recall the Cain story or who the reporter might have been.)
Richard Skully Cain was born in 1931 in Chicago to Lydia and John Cain and in 1939, after the parents divorced, was sent to Owosso to live with his grandparents, William and Margaret Cain.
Dick attended St. Paul's Catholic School in Owosso but dropped out in the tenth grade and lit out for Chicago. After a brush with the law he joined the Army in 1947.
Cain came back to the states with a wife from the Virgin Islands and proceeded to pad his resume by adding seven years to his age and claims that he finished high school, had counter-intelligence training in the OSS and had studied criminal psychology at Loyola University. Of course none of those things were true.
He took a job with a private detective in Miami where he learned wiretapping, surveillance and Spanish. He made several trips into Cuba to monitor government activity for clients in Miami, including Fulgencio Batista, then living in self-imposed exile in Ft. Lauderdale.
Tired of Miami, on his way back to Chicago Dick stopped in Bay City and stayed six months behind the bar at the Bon Ton, 505 E. Midland St., now Indian Barry's but then a posh nightclub started by entrepreneur Neil MacNicol. The author describes the Bon Ton as "a neighborhood dive" but it was really an elegant place for the time frequented by the carriage trade.
Bay City also gets short shrift in the book, the author describing it as "a jerkwater town with a dead end past and a dead end future." It's not clear whether he's talking about future of the town or that of Dick Cain.
After his father urged him to move on rather than "spend your life pouring whiskey for bozos," he packed up his family and moved to Chicago.
As a UPS security officer Cain began double-dealing that would be his trademark, participating in burglaries and then solving them. A polygraph course that was mob boss Sam Giancana's idea got him into the Chicago Police Department.
The author observed: "Sam needed an inside guy, a bagman to make the payments he regularly gave to the department." Giancana matched his $9,000 a year salary, plus bonuses.
Dick was a vice cop and played the role to the hilt, the author writes. Then he was assigned to help the U.S. Attorney's office gather an income tax case against former mob boss Anthony "Tony Batters" Accardo.
During a fight with his wife, she reported to his boss at the Chicago Police Department that Dick often came home with large amounts of cash. She was assaulted outside her home by two men who suggested she "not talk so much."
Then, in 1959, six mysterious men who spoke Spanish came to live in Cain's garage for a time, apparently hiding out. Cain later told his daughter one of the men was Batista, the former president of Cuba.
A host of adventures with the department and the mob finally led to drug deals in Mexico, Spain and Colombia and adventures that would curl the hair of even a hard-bitten reporter.
Cain returned to Chicago for the last time in late 1973. Legally blind and dependent on his driver, Cain paid a visit to a former U.S. attorney before his fateful visit to the sandwich shop and his encounter with a man with a double-barrel shotgun on Dec. 20, 1973.
"Dick died a martyr; he was working for us." said FBI agent Bill Roemer.###
---
---

Dave Rogers




Dave Rogers is a former editorial writer for the Bay City Times and a widely read,
respected journalist/writer in and around Bay City.
(Contact Dave Via Email at carraroe@aol.com)

More from Dave Rogers
---
Send This Story to a Friend!
Letter to the editor
Link to this Story
Printer-Friendly Story View
---
--- Advertisments ---