Killer John List's Body Lies Unclaimed in New Jersey Morgue
Mysteries Persist About Bay City Born Murderer; Was He A War Hero?
March 27, 2008 Leave a Comment
By: Dave Rogers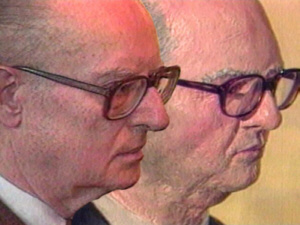 Bust of John List sculpted by Frank Bender for America's Most Wanted bore an amazing resemblance to the fugitive killer. Guess which one is the model and which is List.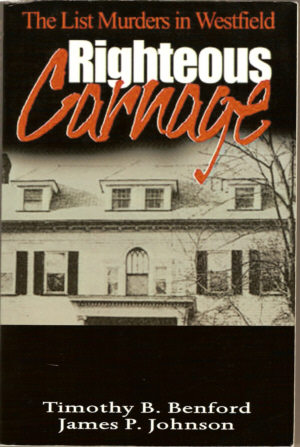 Photo of List's 19-room mansion that was the source of his distress but might have provided his salvation is on cover of book, "Righteous Carnage."
The list of conundrums about John E. List seem to be piling up like the accusations of townsfolk against the Salem Witches in colonial America.
They seemed to come from anywhere and nowhere and, though incongruous, were widely believed.
The body of List, Bible-spouting family slayer, lies unclaimed in the Mercer County Medical Examiner's office in Trenton, New Jersey.
No family member has come forward to claim the corpse, that lies, ironically, in the same lonesome morgue as another killer of five, so-called Monmouth, New Jersey, "thrill killer" Richard Biegenwald who died March 10.
If no one claims the body, List will be cremated and, after a year, the "cremains" will be placed in a concrete vault and buried in the state cemetery in Trenton.
The 82-year-old List died on Good Friday, 21 March 2008, from blood clots in his lungs. For a religious man, it was an ominous day on which to meet his maker.
Mysteries, rumors and stories often surround horror tales like that of John Emil List, one of the most notorious persons ever born in Bay City. (Note: For other notorious Bay Cityans, see Ghosts, Crimes and Urban Legends of Bay City, Michigan, published by Historical Press.)
Distraught over finances that threatened to leave his family impoverished and homeless, and his daughter's drift toward unholy activities, the religious fanatic somehow conjured up the idea that they would be better off dead.
But since he considered suicide a sin, he didn't join his mother, wife and three children in the netherworld. Apparently he thought he would somehow atone for the murders later.
So the unemployed accountant methodically shot all five family members, one by one, closed up their crumbling 19-room Georgian Colonial mansion in Westfield, New Jersey, and disappeared.
As a reporter for The Bay City Times, I covered the List case by telephone, talking to the New Jersey State Police, prosecutors and other officials.
In the hysteria of the time, we reporters fancied that List was perhaps working at a bank somewhere in The Thumb and we sometimes would con the managing editor into giving us a day to look for him.
Then, on 12 February 1972, that would have been the 85th birthday of his mother, Alma List, two reporters and a friend lurked near the grave of his mother at the St. Lorenz Cemetery in Frankenmuth. He never showed up as we fantasized on that snowy night as wind howled and barren trees waved eerily, every shadow filling us with apprehension.
After 18 years living a new life under the name Richard Clark, he finally was caught when America's Most Wanted published a photo of an artist's bust showing what List might look like.
A former neighbor of List/Clark in Denver saw the bust on AMW and notified police, who tracked him to his new home in Virginia.
As one story goes, if John List had looked to the heavens, up to the Lord, he might have been saved.
Supposedly the Tiffany glass skylight in the ballroom of his home was worth about a quarter million dollars.
Had he known that, and had it been true, he might have solved his financial problems -- and the reason he dementedly used for killing his entire family would have vanished.
We'll never know the true value of the Tiffany ceiling since the 19-room mansion was torched a few years after the murders, some say by cult members or devil worshipers.
The man who bought the property and sifted through the ashes of the house claimed he found parts of the ruined window, signed "Louis Comfort Tiffany."
At least two books have been written about the List murders, the best of which is "Righteous Carnage: The List Murders in Westfield," by Timothy B. Benford and James P. Johnson, self-published under the iUniverse.com label.
The well-researched book has considerable detail about List's early life in Bay City, including informed theories about the source of his dementedness.
List's mother, whose maiden name was Alma List, had married her cousin, John F. List, a Salzburg merchant 21 years her elder. "The boy," as his aloof father called him, was born 17 September 1925. "Jahn" was made to sleep in the hallway of the family home on South Wenona Avenue and was never allowed outside by the over-protective "Mumma."
List had joined the U.S. Army after graduation from Bay City Central High in 1942. As the war in Germany wound down following the Normandy Invasion, Private First Class List and his unit were captured by the Germans.
Because he could speak German fluently through his younger days growing up in Salzburg and attendance at Zion Lutheran Church, List was able to negotiate a deal with the German officer.
He was able to convince the German that the war was nearly over and that the enemy unit, instead of taking the Americans prisoner, should themselves surrender.
List apparently never was credited with bringing in a German unit that had outnumbered the Americans, but by some measure he should have been considered a hero.
One of the strangest ironies, back in List's old Salzburg neighborhood, German prisoners were being housed in a multi-story brick business building on Salzburg converted to a barracks. The prisoners were picked up every day and trucked to the Appold farm on Stone Island Road where they helped local farmers cultivate sugar beets.
According to Don Gies, longtime mechanic at Putz Hardware, 201 Salzburg Ave., machine gun towers loomed by the railroad tracks and at several points around the building where the German prisoners were housed.
And, on Sundays Gies recalls the Nazi prisoners being marched several blocks under guard to attend John List's church, Zion Lutheran, where services were still offered in the native language.
When captured, List had made another deal with the German commander: he swapped K-rations for a 9mm Steyr nine-shot pistol.
That Steyr pistol John List had gotten from the German officer was the weapon he used to kill his entire family on 9 November 1971.###
---
---

Dave Rogers




Dave Rogers is a former editorial writer for the Bay City Times and a widely read,
respected journalist/writer in and around Bay City.
(Contact Dave Via Email at carraroe@aol.com)

More from Dave Rogers
---
Send This Story to a Friend!
Letter to the editor
Link to this Story
Printer-Friendly Story View
---
--- Advertisments ---