Senator Stabenow Addresses Rotary
Club Celebrates 20 Years of Women Of Rotary
March 28, 2008 Leave a Comment
By: Stephen Kent
Last Weeks program - March 25
Women Of Rotary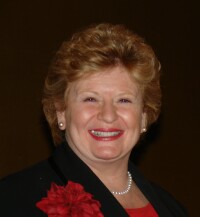 Today women are an integral part of most Rotary Clubs. That was not always the case. Until 20 years ago Rotary was an exclusively male organization.
The men of the Bay City Rotary recognized the contributions and influence of the Women of Rotary with a dinner and program at the Doubletree on Friday March 28.
Honored guest speaker for the evening was U.S. Senator Debbie Stabenow. Stabenow began her political career in her home town of Clare when she was elected a County Commissioner at age 24 in 1974. The Senator used her talk to highlight the remarkable advancements made by women in the last 40 years.
Stabenow said that of all the advancements two stand out. First was the passage of Title 9 Equal Opportunity Education Act on June 23, 1972. This act is known for opening the door to women's college athletics, but it had many more dramatic effects.
The senator noted that she graduated at the top of her high school class and was very good in math and science. At that time her counselor said her options were to be a nurse, a social worker, or a teacher. Today girls can be anything they aspire to, including a US Senator and even President.
When the Senator was in school the only way to participate in sports was as a cheerleader or a majorette. The only way for a girl to wear a letter sweater was if it was her boyfriend's. Today a third of college athletes are female.
Thirty years ago 7% of lawyers were female, today 45% are; 9% were doctors and today 40% are. Today there are 16 female US Senators and 73 female Representatives and a woman is one of the top three candidates for President.
The second important change is in the area of women's health research. Thirty years ago all medical research was done on male populations. Researchers tended to say that hormones got in the way when females were studied. Today women are well represented in medical research and it has lead to many great advances.
Following Stabenow's address Club President Rob Clark gave a talk on the history of Women in Rotary. He recounted that as far back as 1912 an effort was made to form a Women's Rotary. The move was soundly rejected by the all male organization. It was not until a federal suit was won in the mid 80's that Women were officially admitted to Rotary.
On January 7, 1989 the Bay City Times ran a story headlined "Two Women First to Join Rotary Club". Those women were Linda Heemstra, who is still a member, and Joy Gaasch. Today women make up 30% of the membership. Four women have served as club President and the next two Presidents will be women.
Special Rose pins were presented to all of the Women of Rotary who were in attendance. Nancy Cusick, wife of Chuck Cusick and a long time polio volunteer, was honored for her service to Rotary, as was District Governor Pam Harkema. Bobbie Anker, widow of past President Don Anker, was made an honorary member of the club.
A special award was created for this occasion and named the Rose Award. The first recipient was Cindy Chadwick, past President, Sargent at Arms, and very active member.
Cindy Chadwick Presented first Rose Award

Nancy Cusick presented with Rose Pin

Bobbie Anker made an honorary Rotarian

District Governor Pam Harkema Presented with Rose Pin

Women of Rotary Presented With Rose Pins
---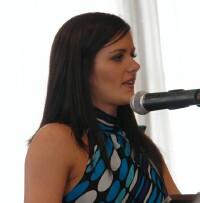 This past Tuesday Katie LaRoche, the reigning Miss Bay County, presented a talk on her trip to Africa and her work with the Maasi people as a member of a Partners of the Americas program. The talk was an abbreviated version of a program she presents in schools around the area.
LaRoche related through words and pictures the plight of people in the third world. She told how this impresses school kids who have so much in America.
To illustrate the differences with American life, LaRoche showed a letter from a young man she had befriended named Victor. He was able to get to a computer and e-mailed "Riots are still going on. The situation might remain the same till the justice is done. The rioting spread the whole country. Many people have been killed. We are in dilemma because we don't know who is next. We might be attacked too. Pray for us."
---
CLUB NEWS and ANNOUNCEMENTS
The District 6310 Conference is scheduled for April 24-26 at the Soaring Eagle Casino and Resort in Mt. Pleasant. The Bay City Rotary Club is one of 32 clubs in the district, which stretches from Owosso to Alpena, Mt. Pleasant to Harbor Beach. Visit the
District 6310
web site for more information.
The Love Bag Project, sponsored by the Rotary Club and the Lions Club, is now accepting duffel bags, back packs, suitcases, etc. for distribution to foster children. The goal of this project is to collect 500 duffel bags, back packs, and suitcases to be distributed to foster children by Lutheran Child and Family Services. Donations may be dropped off now through April 30 at a number of locations.
---
Upcoming Programs
(See the official schedule at
RotaryBayCity.org
)
April 1 Robert Heft, Designer of America's National Flag


April 8 Steve Rodgers, Senior Regional Victim Advocate for Central Michigan Chapter of MADD (Mothers Against Drunk Driving)


April 15 West African Group Study Exchange Team Visit.


April 22 William Ostler from Michigan Attorney General Office speaks on identity theft and how to protect yourself.


April 29 Clubs Review of Major Projects for 2008
---
Visit RotaryBayCity.org
---
---

Stephen Kent




Steve Kent and his family have lived in Bay City for 40 years. He is VP of Technical Services at MMCC which produces MyBayCity.Com. Kent is active in many Bay City civic organizations.

More from Stephen Kent
---
Send This Story to a Friend!
Letter to the editor
Link to this Story
Printer-Friendly Story View
---
--- Advertisments ---