Worst May Be Over for Auto Industry, Say Ann Arbor Analysts
GM's Ballew Absent from Tri-County Rostrum 1st Time in 20 Years
March 30, 2008 Leave a Comment
By: Dave Rogers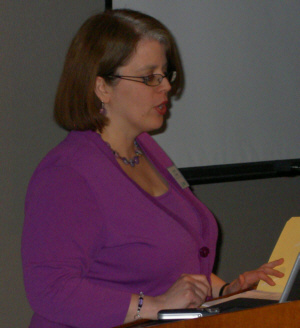 Kristin Dziczek.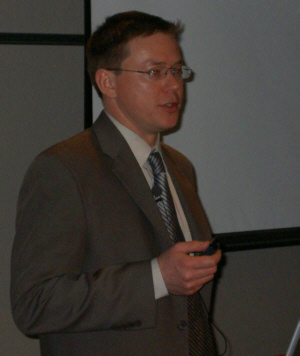 Bernard Swiecki.
Lots of things are changing in the auto industry.
The "Detroit Three" has replaced the "Big Three" as the nickname for General Motors, Ford and Chrysler.
GM is no longer the big dog in the fight, Toyota is.
And Paul Ballew has left GM so no longer makes the annual trip to Saginaw to speak to the Tri-County Economics Club.
Formerly a J.D. Power & Associates partner, senior director and economist, at GM Ballew was the economist responsible for forecasting global economic and industry trends, helping to develop strategy and reporting on GM's performance.
"He did so with integrity, class and seeming unflappability when confronted with the tough questions," commented Auto Observer, an industry publication.
Once a senior economist with the U.S. Federal Reserve System, Ballew is now with Nationwide Insurance in Columbus, Ohio.
The last speakers at TCEC from CAR, the Center for Automotive Research, of Ann Arbor, in 2003, informed us that auto jobs were moving South but that there was still a sliver of hope for the Midwest.
So far the hope has been audaciously hard to identify.
Last week two young analysts, Kristin Dziczek and Bernard Swiecki, of the Program for Automotive Labor and Education, brought a more technical message than the usual optimistic economic picture painted every year by Mr. Ballew.
The pair presented a report entitled: "Beyond the Big Leave: The Future of U.S. Automotive Human Resources." It was prepared by CAR for the C.S. Mott Foundation, the Mid-Michigan Innovation Team/U.S. Department of Labor, and Workforce Innovation for Regional Economic Development (WIRED).
As dozens of executives and entrepreneurs whose economic futures rest on the future of the auto industry perched on the edge of their chairs, the CAR analysts got their undivided attention with the question: "Will the bleeding ever stop?"
Michigan automotive employment is projected to level off by 2011 but labor costs must match Toyota by 2016, said Ms. Dziczek.
"But the worst may be over," she said, dropping the other shoe, "for now. Two central conclusions of our 2007-2016 forecast are: there will be considerable hiring in the U.S. and Michigan automotive industries and total U.S. automaker employment will not decrease."
With about 56,000 Michigan auto employees retiring soon, many will be replaced by entry level workers at $14 to $16 an hour. Although the new employees have an opportunity to move up to $28 an hour jobs, their benefits will not be up to present standards, she said, adding:
"Historically high wages and generous benefits have attracted many workers to this industry; without them, the Detroit Three may face challenges finding enough people willing to work in their plants."
In fact, predictions are the industry may only be able to hire 40 percent of needed workers from the local labor force, she said. Shortages are especially critical in electricians.
Outside the door of the meeting was a representative of the Michigan Manufacturers Association, distributing information about jobs in manufacturing geared to attract high school students. That program is described on www.MakingItInMichigan.com.
Under the latest United Autoworkers union contract, "When a non-core worker moves into a higher wage job, he or she will earn the traditional wage, but will retain the second tier benefits package."
Any skills gaps between workers in the U.S. and around the world are closing quickly, said Swiecki.
Even if Michigan voters pass a so-called "right to work" law, it will make little difference to the auto industry, said Ms. Dziczek. Detroit Three plants would not likely decertify union representation, she said. She noted that non-union plants in Indiana pay UAW level wages to keep the unions out.
The complete CAR report is available at www.cargroups.org.###
---
---

Dave Rogers




Dave Rogers is a former editorial writer for the Bay City Times and a widely read,
respected journalist/writer in and around Bay City.
(Contact Dave Via Email at carraroe@aol.com)

More from Dave Rogers
---
Send This Story to a Friend!
Letter to the editor
Link to this Story
Printer-Friendly Story View
---
--- Advertisments ---