Tummy Ache Candy Store Is
A "Candy Land" For Children Of All Ages!
Easter Marked 7 Years For This Sweet Palace
April 4, 2008 Leave a Comment
By: MyBayCity Staff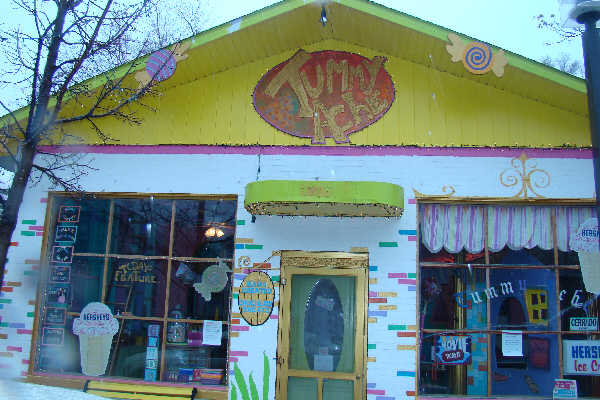 Tummy Ache is located at 1116 N. Johnson and if you have children, I'm not telling you anything you don't already know!
(MyBayCity Staff Photo)
For the past 7 years, Tummy Ache Candy Store has been tempting our tummy's and taking us back in time, to a place you dreamed of as a small child, a place much like "Wonka Land".
Owner Starr Henning and husband Michael have truly built a "candy empire" to say the least. You will find some of the most creative and innovative hand crafted items inside this imaginative penny candy store, it is a true life experience and not one that you'll soon forget! Visiting this candy store with the child in your life will make memories you will cherish and endure forever.
For 13 years, Starr has been making children smile with her Ice Cream truck, Star Shine. It is a well known "Yellow" staple to the community. Starr wanted to do something that she could do with her children while they were younger but still make money, the truck was the answer. "That's how I made my funny money", says Starr. The truck is famous for its handmade Ice Cream treats and continues to grace the street of Bay City!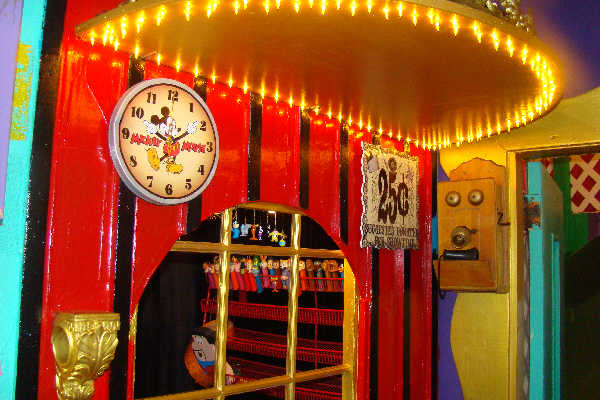 It's Showtime!
(MyBayCity Staff Photo)
"She draws it, I build it", says Michael Henning. Starr and her husband have made mountains out of mole hills by literally taking household products and turning them into a magical wonderland!
This "wonderland" consists of a village which she and her husband created. The experience begins in the candy store where you will find "oldies but goodies" such as Teaberry Gum and candy rocks to handmade delectables such as edible flowers, toys and jewelry! You can then visit each village store. There is a jewelry store, a bank where children can purchase Tummy Ache dollars and even a movie theatre!
"The Tummy Ache dollars are truly to help children with their math skills and it works because it's fun for them", says Starr. Tummy Ache dollars are also available for gift purchase and work well as a reward system and incentive program.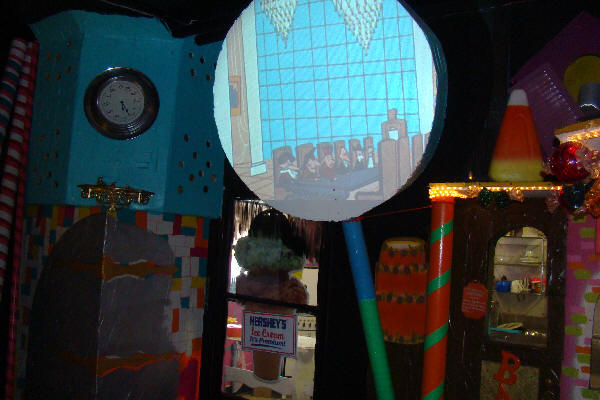 Hand crafted movie screen and old fashioned movie reel are an amazing sight to see
(MyBayCity Staff Photo)
Click The Screen (Above) To See Birthday Video Demo
Come see the "The Magic Carpet"! It is truly an experience. Children are seated for available Birthday parties and the the magic table appears out of thin air and comes down with giant forks and plates! The children then participate in glass bead jewelry making on the magic carpet table before taking a trip through the village!
Birthday parties are available by reservation and include handmade invitations, party hats and a individual birthday cake for each invited guest from the village bakery! Birthday party rental is $100 for room rental and $13.00 per guest, the birthday child is FREE!
"We live by music through the entire Birthday party!", says Starr.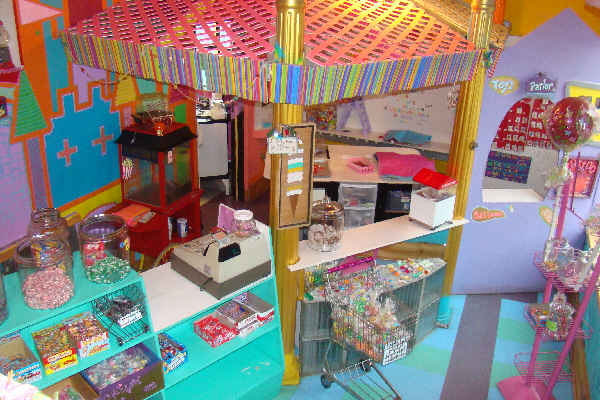 This penny candy store has it all!
(MyBayCity Staff Photo)
Times have not always been fun and games for this creative couple. In fact, times have been so tough, two years ago they sold all of their household belongings and a vehicle to keep Tummy Ache alive and just last year, they lost their family home to foreclosure.
"We put an ad in the newspaper for the sale and so many well wishers and wonderful people came out to support Tummy Ache, we raised $1,800.00 and bought some additional time to keep our dream alive", said Starr.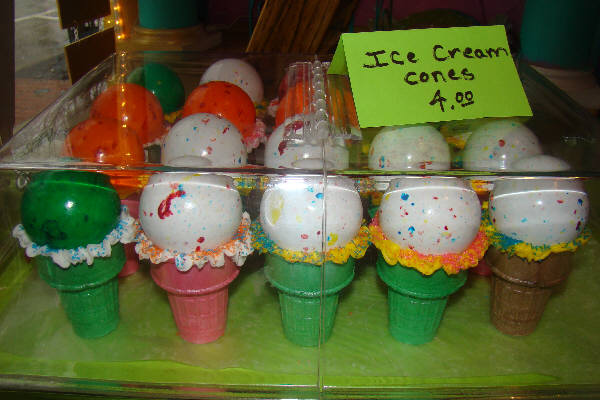 Homemade ice cream cones created with HUGE jawbreakers!
(MyBayCity Staff Photo)
Starr has many dreams that with a little help, will become a reality. She would like to utilize the backyard and turn it into a "sweet" atmosphere with colored bunnies that the children can feed from penny "bunny candy" machines, an outdoor movie theatre showing nostalgic shows such as The Munsters, Casper and Shirley Temple. She is already working on logs for the children to sit on and small vendor booths that will offer specialties such as carving and lunch plates!
Starr also envisions "BEEP BEEP" which would include bicycle pedal four seater cars with colorful awnings and coolers in the back filled with handmade ice creams and old fashioned soda pop that would tour Bay City, "Tummy Ache Tours"!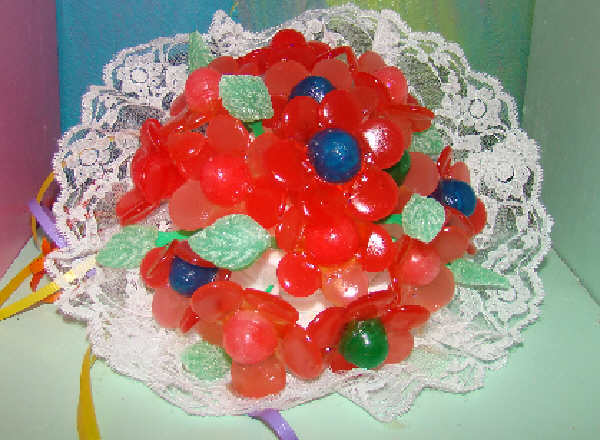 Edible flower bouquets are available by special order and can be made to suit your color scheme!
(MyBayCity Staff Photo)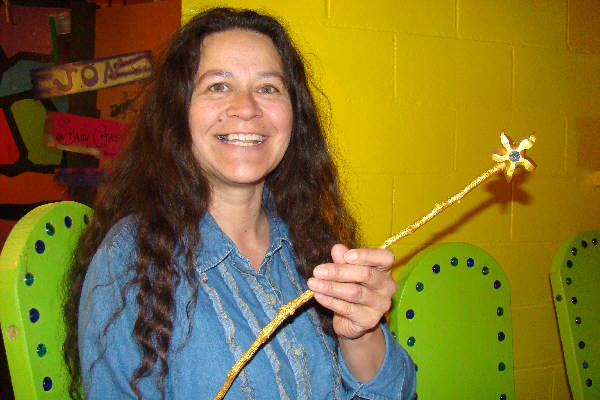 Owner Starr Henning poses with yet another of her handmade creations from stick and a wood block
(MyBayCity Staff Photo)
Call Tummy Ache TODAY for your special event or order! If you can "Dream" it, Starr can make it! They can be reached at (989) 891-7669 and are located at 1116 N. Johnson in Bay City.
For Information On How Your Product Or Business Can Get This Exposure, Call Julie For Advertising Details AT (989) 892-8501
---
---
---
Send This Story to a Friend!
Letter to the editor
Link to this Story
Printer-Friendly Story View
---
--- Advertisments ---