Mr. CHRISTmas, Icon To The Frankenmuth Community
Laid To Rest
Wally Bronner, Received Into The Christ Of Christmas's Heavenly Kingdom
April 7, 2008 Leave a Comment
By: MyBayCity Staff
Wallace - Wally - Bronner - Mr. CHRISTmas
March 09, 1927 - April 01, 2008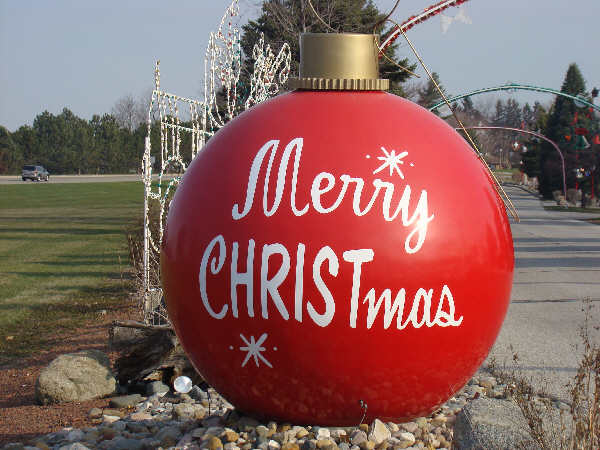 Mr. CHRISTmas will live on forever in the Frankenmuth community, to him, everyday was CHRISTmas
(MyBayCity Photo)
On Easter Sunday, Wally Bronner, founder of BRONNER'S CHRISTmas WONDERLAND sent a letter to all employees stating "Our loving savior, the Christ of Christmas is ready to receive (him) into his Heavenly Kingdom where all believers in the creator God will be with Him forever and ever." This statement stunned the community. Many were unaware that he had been diagnosed with inoperable cancer just last month and that they were about to lose an icon.
On Tuesday, April 01, 2008, employees arrived at work to find a letter from the family announcing that Wally Bronner had passed on into the hands of his Christ of Christmas at his Frankenmuth home.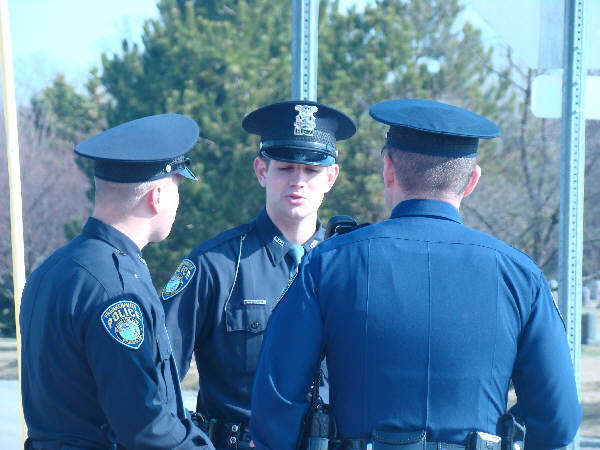 Frankenmuth police were present not only to protect the enormous crowd but to show their gratitude and sympathy for a man that meant so much to their community
(MyBayCity Photo)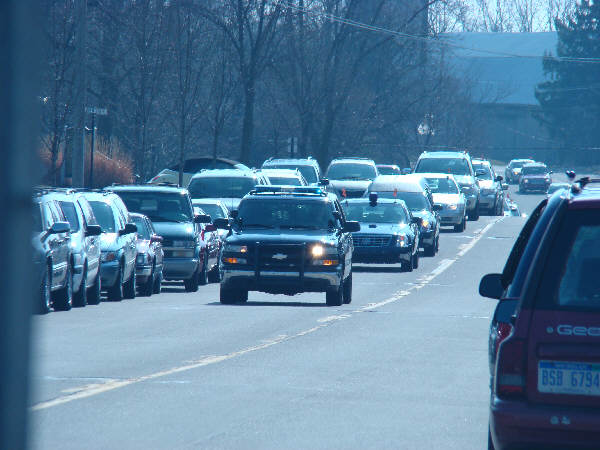 The procession went on for miles approaching Wally Bronner's final resting place
(MyBayCity Photo)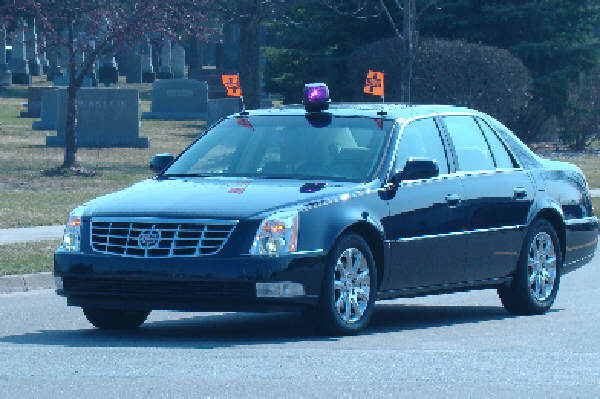 Mid-Michigan mourns the loss of a man who spread CHRISTmas cheer, around the world
(MyBayCity Photo)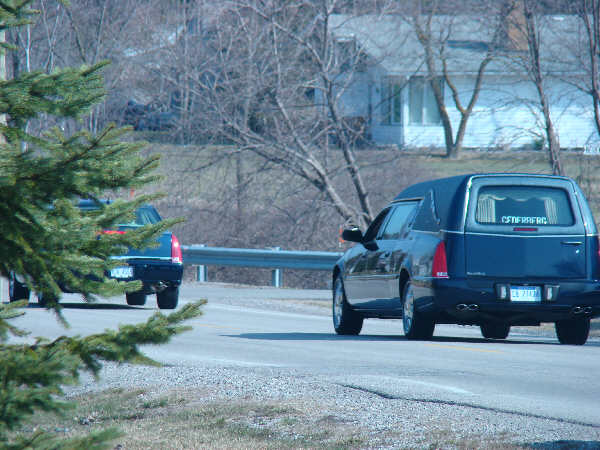 Wally will never be forgotten and will rest in peace at St. Lorenz Lutheran Cemetery
(MyBayCity Photo)
At age 16, Wally created professional-looking signs, a talent that eventually built an empire. He had an amazing gift of connecting with people on numerous levels, he was a natural communicator in every facet.
He learned the principals of connecting with people and satisfying customers when he was just 12 years old, working as a clerk in his Aunt Hattie Hubinger's grocery story at Tuscola and Main in Frankenmuth.
The year 1945 was a "good year" for Wally, it was also the same year he met Irene Pretzer, his beautiful and loving wife.
"It was at a Walther League Field Day at St. Lorenz Church Grove in Frankenmuth, and we were playing various games with about 1,000 in attendance, and somehow, she was the one," Bronner said.
Pretzer was a school teacher and Bronner courted her for six years. In 1951, he married Pretzer, and four years later, they built their first permanent building for Bronner's.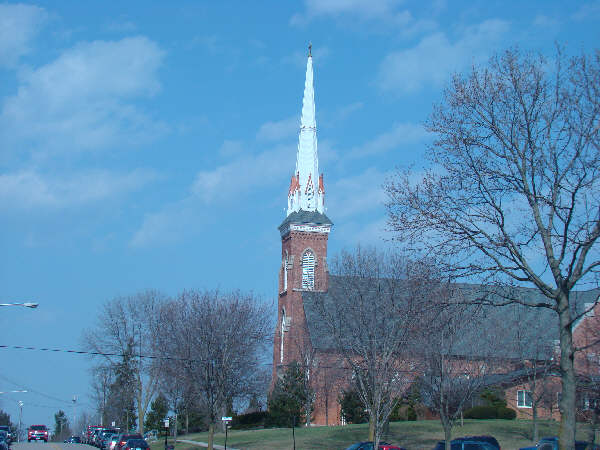 St. Lorenz Lutheran Church is the largest Lutheran church in the state of Michigan. With over 5,000 members, Wally Bronner will not be forgotten as one of them
(MyBayCity Photo)
Wally found his niche for painting signs and decorating window displays for many businesses throughout the Tri-Cities including the Jennison Hardware in Bay City. One afternoon in 1951, while working on Jennison Hardware's window display, several customers from Clare, MI walked in and requested Christmas displays for their city lamppost's. Jennison Hardware had none. However, Wally overhearing the conversation, spoke up in his usual outgoing self and stated that he could make them what they were looking for, which marked the beginning of selling Christmas decorations and the rest....is history.
After years of continued growth, Bronner, with the help of his father, built the empire it is today on 45 acres at the south end of Frankenmuth. Now managed by several of his children, this empire has had many expansions over the years and continues to grow.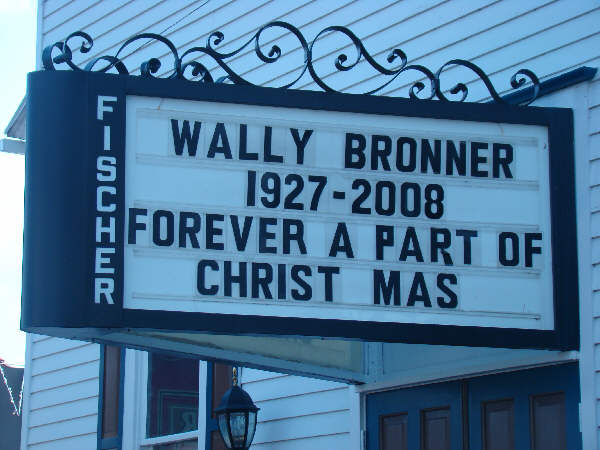 Fishcer Hall in Frankenmuth says it all.....
(MyBayCity Photo)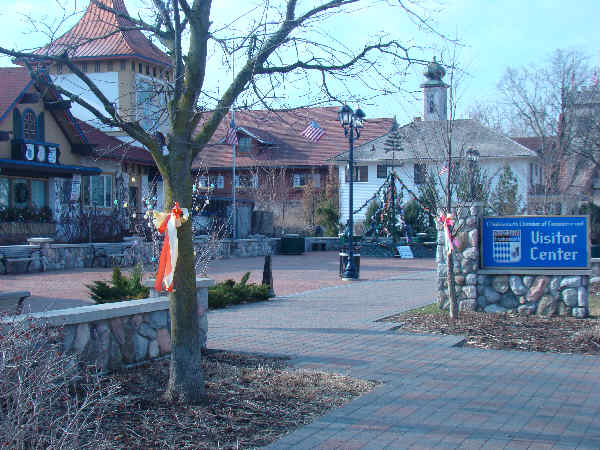 Thousands of well wishers converged on the town of Frankenmuth to say their final "goodbye" to a man that meant so much to the community
(MyBayCity Photo)
Bronner has always referred to the business his hobby, focusing on the Christ of Christmas. Bronner was always visible to folks who visited his CHRISTmas World, from "around the world". He interacted on the showroom floor with pride and joy for this special holiday, which to him, was 365 days per year!
"A bell is not a bell until it's rung, and a song is not a song until it's sung. Love is not love until it's shared," Bronner once said, in reference to the Wallace and Irene Bronner and Family Performing Arts Center located at Frankenmuth High School which was dedicated in 2002. The Bronner family donated $1 million dollars to the center.
Bronner absolutely had a zest for life, whether it was leading his annual Christmas sing-alongs at the store with Irene on the piano, building a replica of Austria's Silent Night chapel, or helping to beautify Frankenmuth in many ways, such as picking weeds on Main street at 2:00 in the morning!
As an active member of St. Lorenz Lutheran Church and many community and charitable organizations, Bronner will definitely be missed by family and those who knew him as well as those whose lives he touched from around the world.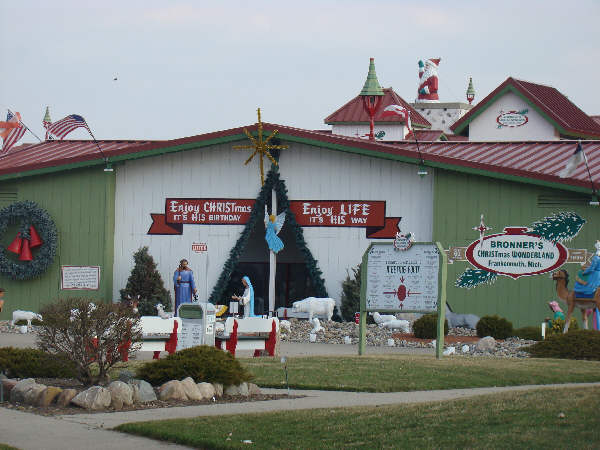 Located at 25 Christmas Lane, Bronner's will always carry a part of Wally within. His motto was: "Enjoy CHRISTmas, It's HIS birthday; Enjoy Life, It's HIS way."
(MyBayCity Photo)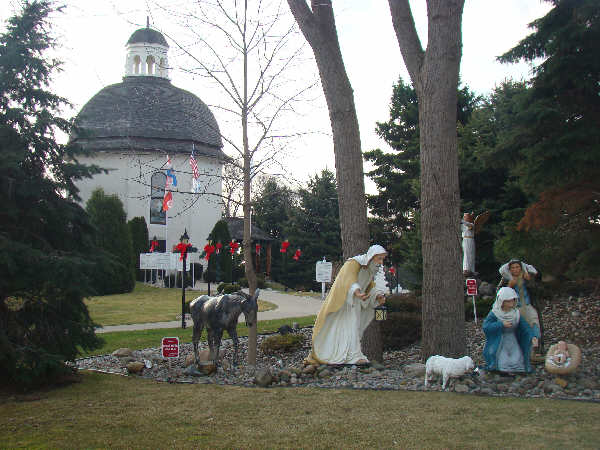 Wm. Bronner & Son, general contractor, began construction of the Bronner's Silent Night Chapel replica in May 1992. The octagonal 28' x 28' x 56' tall building was dedicated on November 20, 1992. Oberndorf's mayor from 1967-1992, Dr. Raimund Traintinger, and Volker and Norbert Wratschko from Graz, Austria, participated in the dedication ceremonies
(MyBayCity Photo)
"Wally will be sorely missed by this community. He was our #1 cheerleader and supporter and sang our (Frankenmuth) praises throughout the world", said Al Zehnder, CEO of Zehnders of Frankenmuth.
The Frankenmuth community showed their compassion and appreciation for Innovator, Wally Bronner by lighting at least one CHRISTmas light in their windows and wore red and green ribbons throughout the weekend and funeral.
Bronner's was closed Monday, April 7 from 9:00am-12:30pm in observance of Originator Wally Bronner's funeral.
Wally Bronner leaves behind his wife, Irene; son Wayne and his wife Lorene; daughter Carla and her husband Bob; son Randy; daughter Maria Sutorik and her husband Christopher; and five grandsons: Dietrich and Garrett Bronner; and Ryan, Paul and Greg Spletzer.
---
---
---
Send This Story to a Friend!
Letter to the editor
Link to this Story
Printer-Friendly Story View
---
--- Advertisments ---