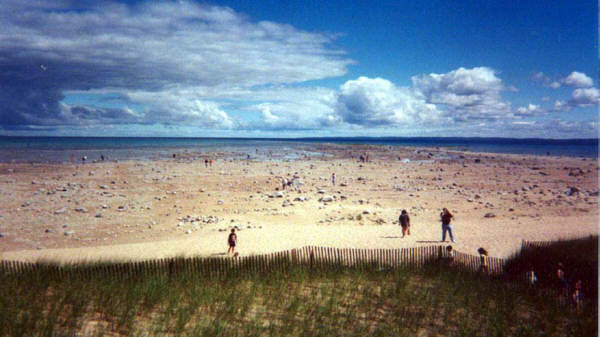 Photo showing low water impact on recreation is posted with the University of Michigan students' water level review.
---
Poor Quality Drinking Water May be Caused by Lower Water Levels: U-M Study
International Upper Great Lakes Study Public Meeting April 28 in Bay City
April 20, 2008 Leave A Comment
By: Dave Rogers
A bi-national study of Great Lakes water levels will be reviewed at three public meetings in Michigan this spring.
Meanwhile, an analysis of research by four University of Michigan students theorizes that poor quality drinking water may be the result of low water levels. Their paper, posted on the web at sitemaker.umich.edu is summarized below.
The International Upper Great Lakes Study Public Meeting in Bay City will be held on Monday, April 28, 7-9 p.m. at City Hall, 301 Washington Ave.
Meetings also will be held in Port Huron and Muskegon.
At these meetings, experts from the International Upper Great Lakes Study (IUGLS) will present the latest scientific findings and provide current information about water levels.
They will also briefly outline the structure and purpose of the study and review a history of water level regulation in the Great Lakes.
The presentation will stress the importance of public input to the Study process and the need for interested individuals and organizations from throughout the basin to participate. Attendees will have an extensive opportunity to present their views and ask questions.
The initial focus of IUGLS is whether possible physical changes in the St. Clair River are contributing to near record low levels in the upper Great Lakes.
More broadly, the Study is examining whether regulation of outflows from Lake Superior might be improved to take into consideration changing climate and evolving interests of property owners, the environment, local governments, the shipping sector, and the recreation/tourism industry.
IUGLS was launched by the International Joint Commission of the U.S. and Canada in March of 2007. While the overall project has a five year timeline, a final report regarding the St. Clair River question is due in June of 2009.
UNIVERSITY OF MICHIGAN WATER LEVEL IMPACT REVIEW - Global Change II Final Project, Human Impacts on and Responses to Great Lakes Water Levels, by Christina Carson, Sara Kiel, Erin Lemire, Laura Raubacher.
Four students at the University of Michigan have posted a paper on the impact of Great Lakes water levels on the Internet. A summary of their research and analysis follows:
Water levels are a profound determinant of economic and environmental conditions of coastal regions, including the Great Lakes. Similarly, lake levels are themselves affected by the external input processes: weather-climate, and human intervention. The latter effects occur primarily through lake level regulation and indirectly through human effects on climatic change" (Williams, 1995). In other words, lake levels fluctuate naturally, but also are affected by human-impacted climate change. Such changes in the water's rhythmic cycle have extreme effects on their region's environment and people, some which appear irreversible.
In terms of climate change, the Great Lakes region will face degrading changes in many future scenarios. For example, one scenario predicts that "mean annual water depths will decline to below historic levels because of increased evaporation and evapotranspiration in the Great Lakes region".
Although fluctuating water levels are an, "important natural phenomena of the Great Lakes", and they will continue to fluctuate in the future, this will probably occur around lower mean water levels.
Lower water levels will exert some of the most significant impacts on terrestrial and aquatic coastal ecosystems. For example, reduced water levels will modify or eliminate wetlands that function to maintain shoreline integrity, reduce erosion, filter contaminants, absorb excess storm water, and provide fish and wildlife habitat, because coastal wetlands function as important staging, breeding, and wintering habitat for waterfowl and breeding and nursery areas for many fish.
In fact, lake level effects are the most important natural cause in determining the expansion and contraction of wetland classes. These fluctuations would "change the position of the water line along the shore and therefore change the shape of the zone that wetland vegetation would inhabit".
Further, although some wetlands that directly border the Great Lakes shores might be able to shift toward the low water levels, some enclosed wetlands would eventually dry up and transform into another ecosystem over time. (Taylor, 2006).
In this future scenario, not only will water levels decrease, but also the region will experience increased algal growth and concentration of pollutants due to a potential reduction of wetlands and an increased average temperature, which would make lake water more susceptible to pollutants. These factors would cause "supply, odor, and taste problems in communities with shallow water intakes or pipelines designed for historical water levels", and an overall reduction in water quality.
In other words, future, relatively low water levels will impact the consumption of water from the Great Lakes region. Low water levels will also impact future energy sources and recreational/economic activity. Specifically, low water levels will reduce the ability of existing hydroelectric stations to generate power because they will have less water from which to harness power. This inaccessible alternative energy source will limit our move toward a sustainable future.
Low water levels will also inhibit access to existing docks and facilities for commercial and recreational use, causing shipping companies to be driven out of business and the closure of recreational marinas. This decrease in accessibility will have profound economic impacts because trade and movement of goods and services between ports will become increasingly limited. (Taylor, 2006).
Case Study: Sturgeon Bay, Lake Huron
Sturgeon Bay is located along the Georgian Bay coast. It is connected to Lake Huron by a long, narrow channel and is impacted by supplied with its water through a relatively small watershed and seiche effects in Georgian Bay. The mean July water level from 1969-1999 was 177.0 m, and from 2000-2004 dropped to 176.2 m, which eliminated 25-30% of water volume in Sturgeon Bay.
"A reduction of this magnitude significantly reduces the capacity of Sturgeon Bay to dilute introduced nutrients and other materials and flush them into Lake Huron. If water levels continue to drop beyond historical levels, eutrophication (increase of chemical nutrients) impacts will increase." Climate change will significantly alter oxygen levels in Sturgeon Bay because the volume of warm surface waters increase and thereby reduce the volume of the hypolimnion B the bottom and most dense layer of water B and the dissolved oxygen reservoir within it. This depletion of oxygen has already resulted in the extinction of cold water species from the Sturgeon Bay and other bays along the Lake Huron coast.
In addition to oxygen depletion, invasive species are also responsible for changes in the fish population of Sturgeon Bay and the Great Lakes ecosystem. Climate change "exacerbates the invasive species problem because many invasive species prefer more temperature, eutrophic habitats than historically found in most of the Great Lakes."
Hence, many shallow water habitats in the Great Lakes are becoming more suited for invasive species, which could prove harmful to the future fish population and food chain of the Great Lakes. (Taylor, 2006).
With these future scenarios of the Great Lakes water levels, we can see the necessity of conservation and preservation of this natural, freshwater resource. ###
---
Outdoors Article 2499
---

Dave Rogers




Dave Rogers is a former editorial writer for the Bay City Times and a widely read,
respected journalist/writer in and around Bay City.
(Contact Dave Via Email at carraroe@aol.com)

More from Dave Rogers
---
Send This Story to a Friend!
Letter to the editor
Link to this Story
Printer-Friendly Story View
---
--- Advertisments ---