Saginaw Sting vs. New Jersey Revolution!
Indoor Arena Football, If You Haven't Experienced It Yet, You Should!
April 7, 2008 Leave a Comment
By: MyBayCity Staff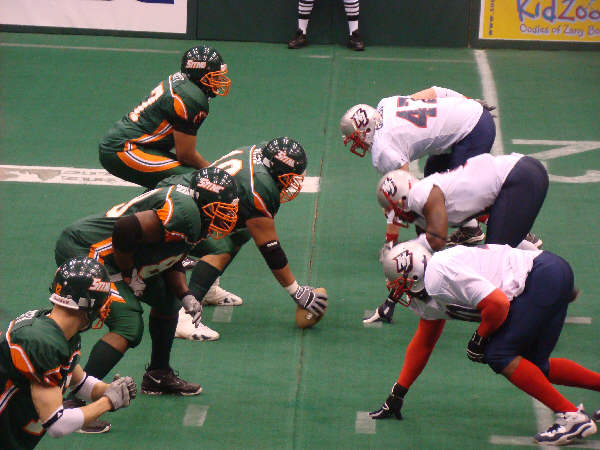 Located at the Dow Event Center, viewing a Sting Indoor Arena Football game makes you feel as if your right down on the field!
(MyBayCity Photo)
The Saginaw Sting is a part of the only 7 vs. 7 Continental Indoor Football in the world and we are fortunate enough to have it right here in the Tri-Cities to enjoy! The team plays 12 games per season, 6 of which are home games located at the Dow Event Center in Saginaw.
This team is undefeated and outstanding entertainment! If you have not yet visited the Dow Event Center for a Saginaw Sting game, you should. Visit the team website for tickets at http://www.saginawsting.com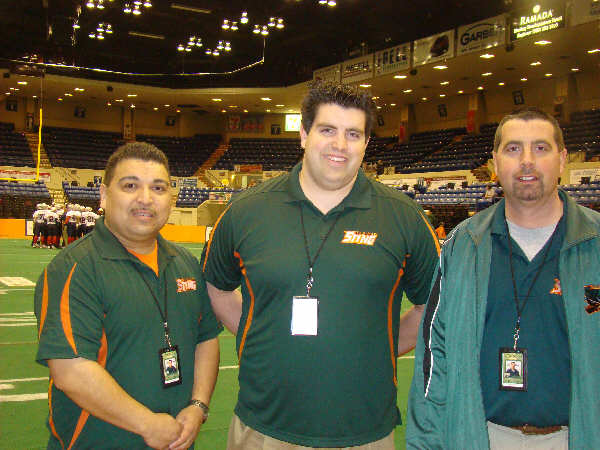 The Saginaw Sting is owned by (L/R) Esteban Rivera, Mike Johnson and Mike Trumbull all natives of Battle Creek Michigan
(MyBayCity Photo)
With early season outstanding receiver Nick Body, and running back Nate Collings not dressing up for the game due to minor injuries, how the Saginaw Sting team would come out against the New Jersey Revolution was anybody's guess.
Anybody's but head coach Karl Featherstone's that is. "We just knew that our running game was going to have to step up." And with the running game living up to Featherstone's expectations, Damon Dowdell took care of the rest, finding receivers left and right for touchdowns.
The final score read 48 Saginaw, 24 New Jersey and the Saginaw Sting remained undefeated with 4 victories and 0 defeats.
Owner Mike Johnson likes what he is starting to see on the field from his team, "Everything is coming together, these guys are really developing a great sense of chemistry on the field, and the fans are coming out to support us, we are excited."
But the Saginaw Sting are far from satisfied. When asked what the undefeated record four games into the 12 game regular season means, coach Featherstone quickly responded "It means we have four victories and zero defeats. That's all it means." He adds, "We are not going to be satisfied until we win a championship."
Mike Johnson shares the same mentality, "We all have the same goal and it is to establish a championship caliber team right here in the city of Saginaw that people can be proud of."
The Sting are set for a rematch with the Flint Phantoms, Friday, April 11th, at 7:30PM at the Dow Event Center.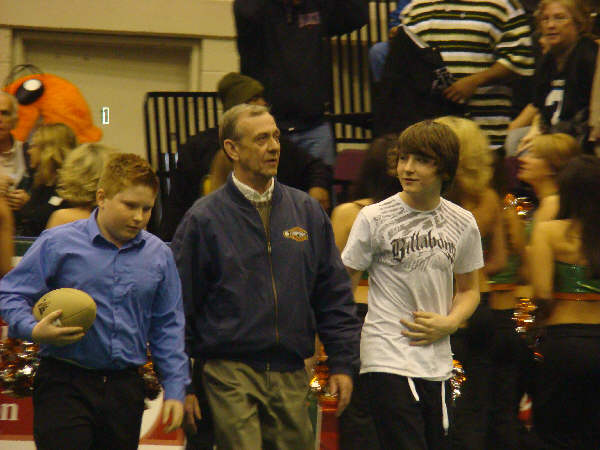 Kenneth "Pep" Peplinski, Sales Manager for Muehlenbeck Distributing in Saginaw walks onto the field with grandson's Caleb & Logan Pijaszek to present the Miller Chill play ball for the game!
(MyBayCity Photo)
Along with owners Esteban Rivera, Mike Johnson and Mike Trumbull, many others are an integral part of making this team a success such as Bill Wheeler, VP of Football Operations and Sergey Kalnish, Media Relations Director. Let's not forget the coaching staff, Karl Featherstone, Head Coach, Steve Haskell, Offensive Coordinator, Rick Desotell, Defensive Coordinator, Vince Leveille, Defensive Assistant and Jason Lovelock, Defensive/Offensive Line Coach. This hard working group makes sure the team performs at a top notch level!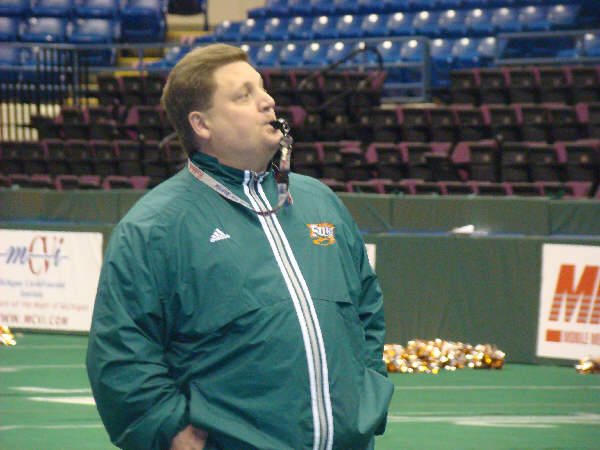 Offensive Coordinator Steve Haskell warms up the team before "game time"!
(MyBayCity Photo)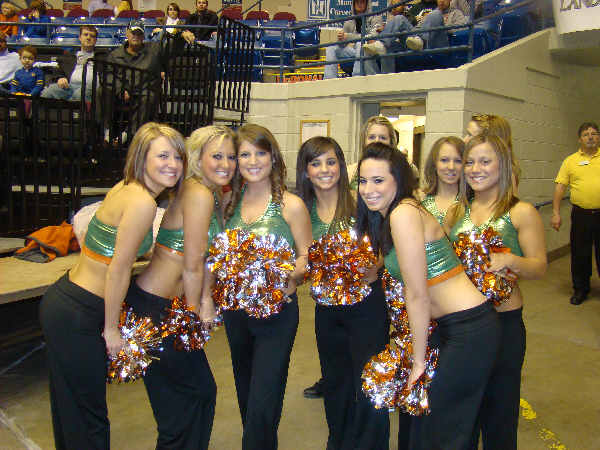 The Sting Dance Team pose for MyBayCity camera. The team is coached by Chelsea Feltch
(MyBayCity Photo)
There is plenty of entertainment throughout Saginaw Sting game! From the Miller Chill balls being thrown to the crowd, to the half time show to the game itself. Visiting a game will be one highlight in your life you will not soon forget!
Sting Junior Dance Team Camp NOW REGISTERING!
Saginaw, MI - The Saginaw Sting dance team will be holding a Junior Dance Camp at the Dow Event Center, on June 5th, from 4PM to 8PM.
HOME GAME SCHEDULE:All home games begin at 7:30p.m. at the Dow Event Center in Saginaw
April 11: Flint Phantoms
April 30: Milwaukee Bonecrushers
May 24: Chicago Slaughter
June 06: Muskegon Thunder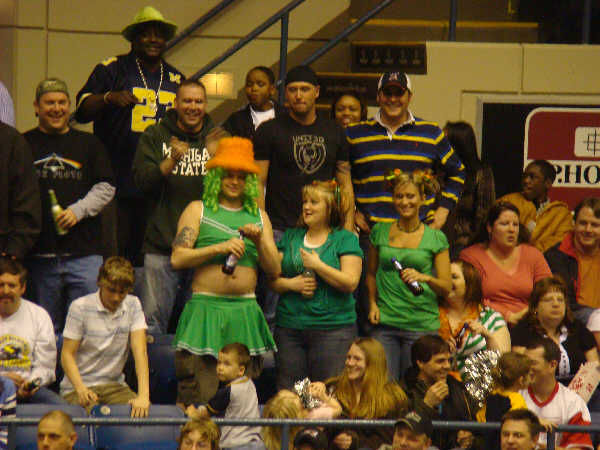 Crowds of all shapes and colors turn out for the home games to cheer on the Saginaw Sting team!
(MyBayCity Photo)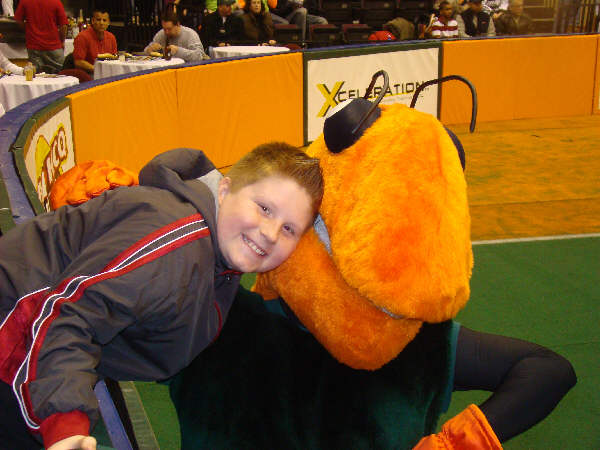 Caleb Pijaszek and Sting's own "Stanley Stinger" share a smile during the half time entertainment!
(MyBayCity Photo)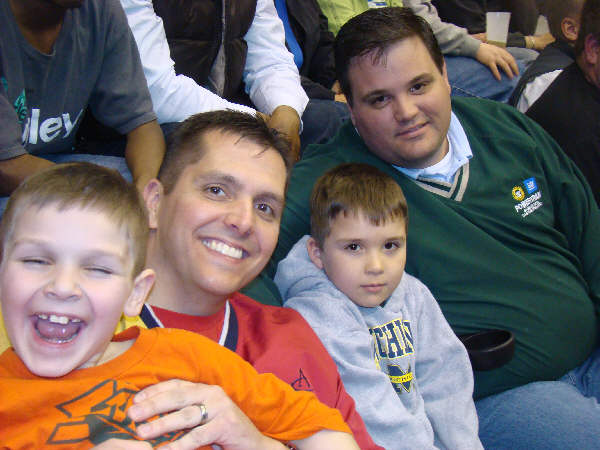 Gavin Goetz, External Affairs Director for AT&T who was recently selected to participate in the 2008 Leadership Michigan Program poses for MyBayCity camera with his children and pal Jeff Huskins from Bay City
(MyBayCity Photo)
Make sure to visit a home game soon at the Dow Event Center in Saginaw! The season continues through June 06, 2008!
For Information On How Your Team Or Business Can Get This Exposure, Call Julie @ (989) 892-8501.
---
---
---
Send This Story to a Friend!
Letter to the editor
Link to this Story
Printer-Friendly Story View
---
--- Advertisments ---