McGillivray was Heart and Soul of Bay City for More Than Seven Decades
Longtime City Engineer-Planner Focused Education on Major Project: Bay City
April 10, 2008 Leave a Comment
By: Dave Rogers
The plaudits of his contemporaries and lavish funerary obsequies can scarcely provide enough tribute to Ronald K. McGillivray for his towering contributions to Bay City.
Mr. McGillivray was 95 when he died Monday, April 7 in Bay Regional Medical Center. He was born July 18, 1912 in Ann Arbor and was retired as city engineer and planner of Bay City.
The late Ronald K. McGillivray (1912-2008) is pictured (Right) as a young engineering student at the University of Michigan.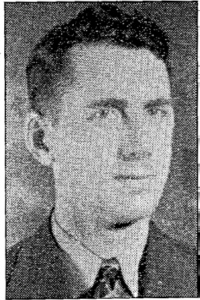 "Mac" was the heart and soul of Bay City for more than seven decades, much of his work accomplishments stemming from his 1937 master's thesis at the University of Michigan that:
Laid out a master plan for city streets;
Recommended development of parks and playgrounds; and
Projected visionary ideas for revamping the Saginaw River waterfront for recreation and tourism.
Phalanxes of "city fathers" through the years have followed Mr. McGillivray's visions and have helped develop a veritable waterfront Garden of Eden that attracts thousands of residents and visitors every year.
Wenonah Park and Veterans Memorial Park have been developed and improved on a gradual basis over the years along the lines of McGillivray's plan of 1937. Much of Vets Park was a hobo jungle and city dump in the 1940s and 1950s until his development kicked in.
Generations of Bay City and area residents have benefited from the engineering plans of the past from the mind and foresight of Mr. McGillivray.
In recent years Mr. McGillivray added to his considerable contributions to the community as engineer for the Bay County Growth Alliance and its Valley Center Technology Park, the most successful economic development project in the mid-Michigan area with more than 20 industries providing about 1,000 jobs. His personal friend and partner in that effort was Clifford Van Dyke, former bank president, who still heads the agency.
He continued to go daily to the office and to development meetings in the area until just weeks before his death.
When he drew his plans for the riverfront as a university student in the 1930s, a traveler up the river would have seen silt-choked mud-banks, water-filled swamps and a panoply of rotting wooden pilings, abandoned docks and ice houses, half-sunken hulls of formerly-proud sailing ships and steamers and the hulks of once thriving lumber mills.
His ideas that the Port of Bay City would be one of the most important on the Great Lakes have been minimized by global transportation and economic trends as well as by low water levels.
Mac's perceptive judgment that the mouth of the river should have an industrial focus antedated the location of the Consumers Energy Karn-Weadock electrical generating plant by several years.
One notable failing by local officials was Mac's recommendation that a port commission be appointed to govern its development. Local officials and maritime business leaders, however, have recently initiated talks to explore the idea of a port authority.
Creation of such an entity is considered by some leaders to be critical to take advantage of the economies provided by water transportation. The growing cost of trucking, exacerbated by high fuel costs and crowded highways, seem to be adding urgency to that plan.
In 2006, MyBayCity.com commented on Mac's career: "During a long career as planning engineer with the City of Bay City, McGillivray was able to oversee development of the riverfront, parks and street system, most of his extensive plan done as a grad student.
"The riverfront, dotted with squatters shacks from Depression days and used as a dump, is the most outstanding result of McGillivray's planning. He never got the new bridge north of Clements Airport from Skull Island to Brooks that he and the state highway department suggested but streets and parks were improved and expanded under his leadership. And he got the industrial area he suggested in the northeast part of the city, Marquette Industrial Park.
"An attempt was made at promotion of the port during the early 1960s, in the wake of the euphoria over opening of the St. Lawrence Seaway in 1959.
"The effort quickly faded when the large ports like New York and Montreal began containerization, handling shipments in large, easily stacked steel containers.
"Foreign ship traffic gradually shrank from a fairly busy trade to what it is today: one foreign ship in the past six years coming to the Saginaw River."
It would seem that the finest tribute to the late Ronald K. McGillivray would be for local leaders to follow up on the vision of economic vibrancy he sketched so vividly for them more than 70 years ago.###
---
---

Dave Rogers




Dave Rogers is a former editorial writer for the Bay City Times and a widely read,
respected journalist/writer in and around Bay City.
(Contact Dave Via Email at carraroe@aol.com)

More from Dave Rogers
---
Send This Story to a Friend!
Letter to the editor
Link to this Story
Printer-Friendly Story View
---
--- Advertisments ---