Home Made Ice Cream Empresario Now Offers Over 100 Flavors
Jamie Lupo Dipping Into New Business Niche; Aims to Start Chain of Stores
August 7, 2003 Leave a Comment
By: Dave Rogers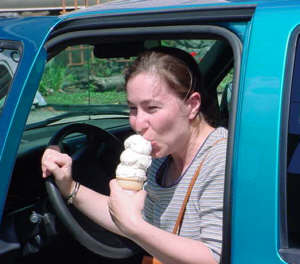 Renell Howay stops enroute to her job at a local party store to lick away at a scrumptious three scooper from Mama Lupo's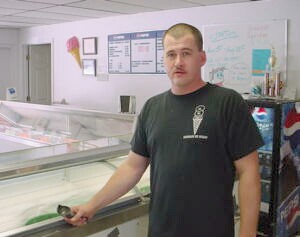 Jamie Lupo, 31, has his scoop at the ready at Mama Lupo's Ice Cream, Henry and Vermont streets. Lupo has been 'the maker' for four years and has his flavor list up over 100.
It's a hot day in Bay City. Over 80 degrees. What to do?
Why not ice cream? Renell Howay is walking out of Mama Lupo's with a lucious looking "single," which in Mama Lupo parlance is three scoops.
Whatcha got there, Renell? "Two bananasand a pear," she exclaims between licks as she carefully balances the cone while edging into her car. "It's great!"
It's enough to tempt an ice cream loving reporter into risking an overdose of cholesterol just to try a waffle cone.
Jamie Lupo, 31-year-old ice cream entrepreneur, is presiding today over his paradise of flavors. "We have about 35 different kinds out at any one time, but we now make over 100 flavors," he enthuses.
Lupo and his sister Allyun run the store, which is owned by their parents, Ricke and Linda Lupo.
The Lupos acquired the building, which had housed a tobacco retailer and before that was the Union Pharmacy, in 1997.
They handled Mooney's ice cream for several years until June, 2000 when they acquired the freezer and ice cream maker and began mixing up their own tasty concoctions.
"Tropical sunrise, banana with real bananas, pear, kiwi, creme brulee," Lupo recites, "and we have our own special chocolate from a chocolate factory. It's a secret recipe and we beat in our own cream."
The young entrepreneur explains that this is his first real job, and he loves it. "Any plans for the future?" he is asked. "Yup, I want to start my own chain of ice cream stores."
The little store is selling about 300 gallons a week, he says, explaining that the secret to their success is no doubt the homemade factor, the variety of flavors and the taste, bolstered by a product that is 15 percent butterfat. "I don't know anybodywith 35 flavors at one time," says Lupo with a smile.
Or perhaps the secret to Mama Lupo's is the fact that there a single dip is three dips and a double dip is five dips. "Everyone thinks that when they order a single that they'll get just one dip -- suprise!" says the ice cream king.
The store sells half gallons for $8.25, gallons for $16 and pints for $3.25. "Supermarket ice cream is about 7 percent butterfat," said Lupo. "Ours is 15 percent; that makes a big difference."His dad, Ricke (pronounced Rick) Lupo, took a short course on ice cream at Penn State University, Jamie explained. Then the building came available and we opened. He showed me how to make the ice cream and I fell in love with it."
"We had just three flavors, vanilla, blue moon and strawberry, when we started," he said. "The more flavors we put out the more people want. If I had more room I would put in another dipping cabinet."Lupo is a 1990 graduate of Bangor Township's John Glenn High. He never really caught on with any job or college until this opportunity came along. It was a real dipsy-doodle and it looks like he has a career as well as a booming business.
---
---

Dave Rogers




Dave Rogers is a former editorial writer for the Bay City Times and a widely read,
respected journalist/writer in and around Bay City.
(Contact Dave Via Email at carraroe@aol.com)

More from Dave Rogers
---
Send This Story to a Friend!
Letter to the editor
Link to this Story
Printer-Friendly Story View
---
--- Advertisments ---