Detroit Lions VS. Rim Rockers Held At Bay City Central High School!
Proceeds From The Fundraiser To Benefit Camp Fish Tales
April 25, 2008 Leave a Comment
By: MyBayCity Staff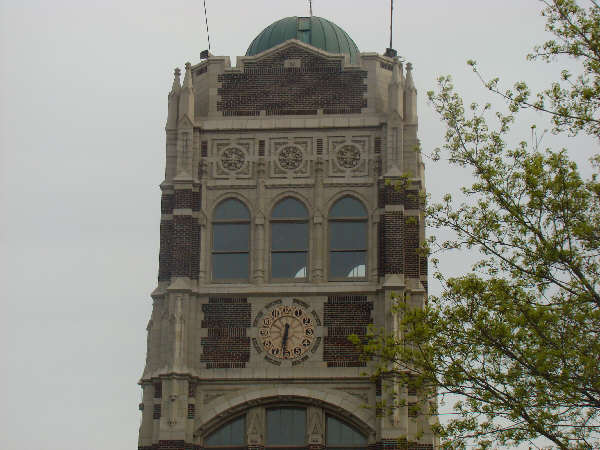 Bay City Central High School was the setting for the annual Rim Rocker event held for Camp Fish Tales!
(MyBayCity Staff Photo)
For the past 14 years, Camp Fish Tales has been holding a fundraiser known as "Rim Rocker". Each year this wondrous event brings in celebrity players from professional teams as well as local "sports heroes" from around Mid-Michigan.
This year a select few of the Detroit Lions were in Bay City to play against the girl's basketball team from Nouvell and Saginaw Valley State University. Brad Redford, "Mr. Basketball" from Frankenmuth was also "in the house" playing for the Rim Rockers!
The Detroit Lion players interacted with children present from Camp Fish Tales and before long, had them right down on the court playing what? Basketball right? WRONG! Football of course! It was a fabulous evening had by all!
CAMP FISH TALES PHILOSOPHY
:
We, Camp Fish Tales in unity, will empower each other to achieve the highest level of self esteem. Through encouragement, we will continue to grow in mind, body and spirit. We will recognize and meet each others' needs. We will carry this team spirit into our homes, our communities and preserve it for posterity.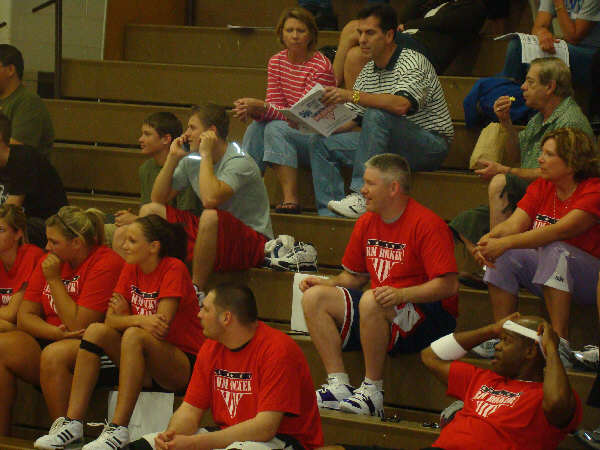 Many spectators came to see the action and action they saw! From throwing of shoes to football on the basketball court, it was an action packed night at Bay City Central High School!
(MyBayCity Staff Photo)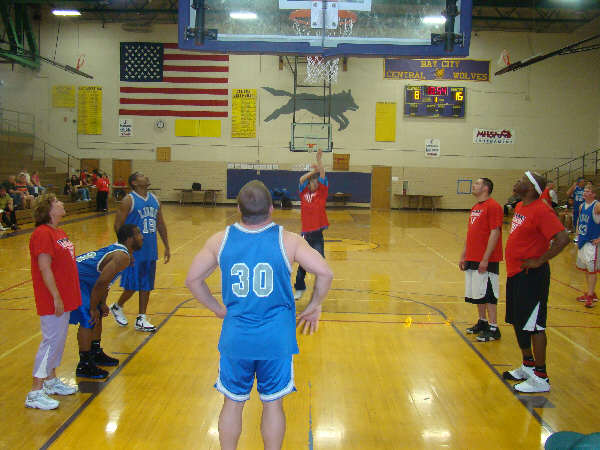 The court was "hot"! The entertainment was "hotter"!
(MyBayCity Staff Photo)
Camp Fish Tales is located at 2177 E. Erickson Rd in Pinconning. Visit their website at http://www.campfishtales.org/summer.htm
The benefits of sending a camper to Camp Fish Tales are huge! As soon as you get to experience the Camp Fish Tales program you will notice how much more confidence and independence your camper will have. It is a proven benefit that all campers receive. Lets not forget about the opportunity to interact with other kids, develop friendships, and build relationships. It is amazing how much positive role modeling adults will help your camper become a better person!
Special needs camps also give children and adults the opportunity to be around other campers, who are just like them, an opportunity they may never have. Independence is another benefit camp can provide. For example, an overnight camp like Camp Fish Tales can give a special-needs child or adult the chance to be without parents, doctors, or physical therapists for a week.
In addition, camp provides the physical benefits of increased activity as well. Many people with disabilities or chronic illnesses are sedentary and don't often participate in the sports or recreational activities that their peers do. Here at Camp Fish Tales Summer Camp, they will learn to be active and assertive in problem-solving and communicating needs!
The lodge has a large dining/recreation area, two large meeting areas, kitchen and nursing facilities. The lodge is heated and air-conditioned for year round comfort. There are two large cabins for housing campers and attending staff. Other facilities include a covered chapel, two pavilions, archery and air gun ranges. The camp has a 5,000 foot nature trail (wheel chair accessible) that leads to an amphitheater and fire pit area.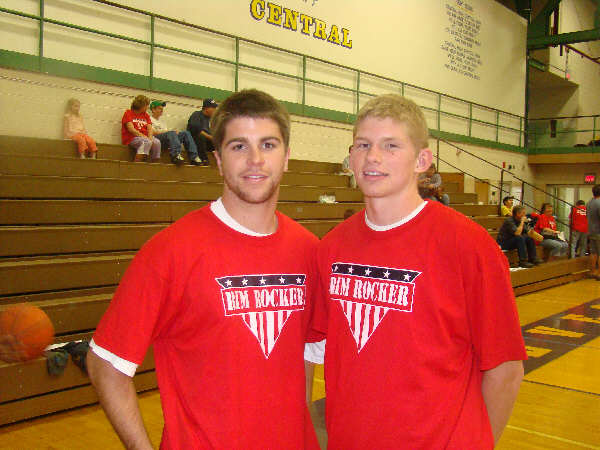 Kyle from Nouvelle and "Mr. Basketball", Brad Redford from Frankenmuth took time away from the action for MyBayCity's camera!
(MyBayCity Staff Photo)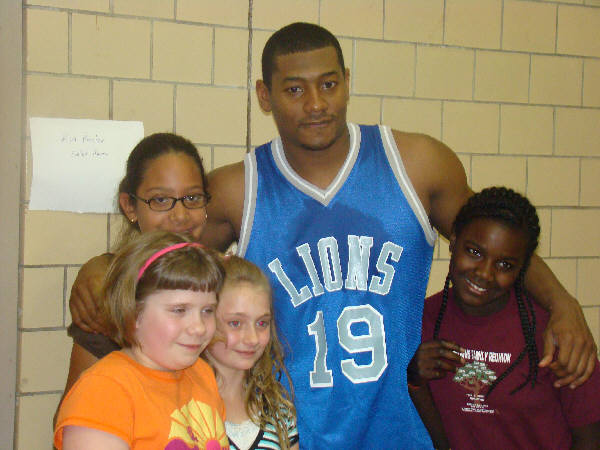 Detroit Lion's own Ron Bellamy poses with enamored children!
(MyBayCity Staff Photo)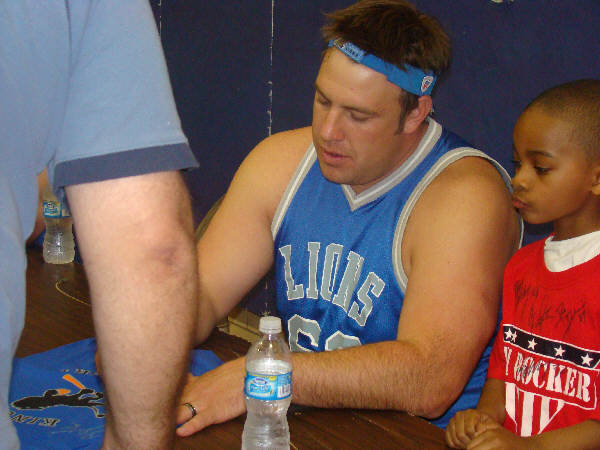 Players took time to sign autographs on everything from balls to shirts to skin!
(MyBayCity Staff Photo)
It`s that time of year again for Bubba`s & Camp Fish Tales Raffle bike giveaway. The bike this year is an nice down to earth Bobber. Fresh off the Michigan Custom Bike Show. Where it won the Bikers Build Off. Tickets are only $5.00 each and the bike is being given away on May 27. All proceeds go to Camp Fish Tales. Our local camp for special people !
Visit Bubba's website at http://www.bubbastricitycycle.com or just stop in at his store located at 804 S. Huron (M-13)- 6 miles north of Bay City or 1/5 miles south of Linwood's light on M-13. He has everything from apparel to parts. A Little something for the biker in all of us!
Detroit Lion, #82, Casey Fitzsimmons TE poses with Bay City teen, Logan Pijaszek
(MyBayCity Staff Photo)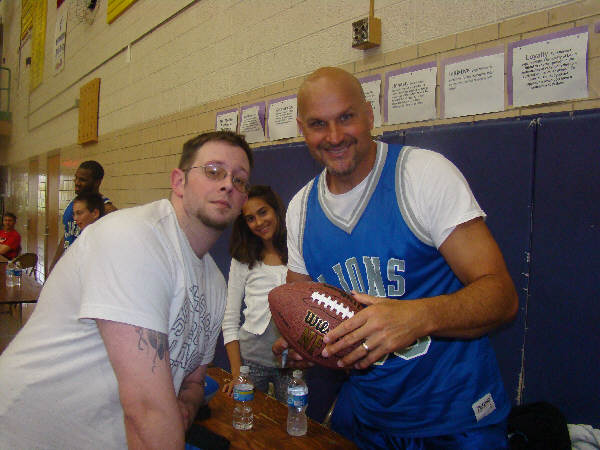 Children of all ages, from 1-92 stood in line to get an autograph from the players!
(MyBayCity Staff Photo)
Contact Camp Fish Tales today at (989) 879-5199 or (989) 239-6388.
For More Information On How Your Event Or Business Can Get This Exposure, Call Julie Today For Advertising Details At (989) 8982-8501
---
---
---
Send This Story to a Friend!
Letter to the editor
Link to this Story
Printer-Friendly Story View
---
--- Advertisments ---