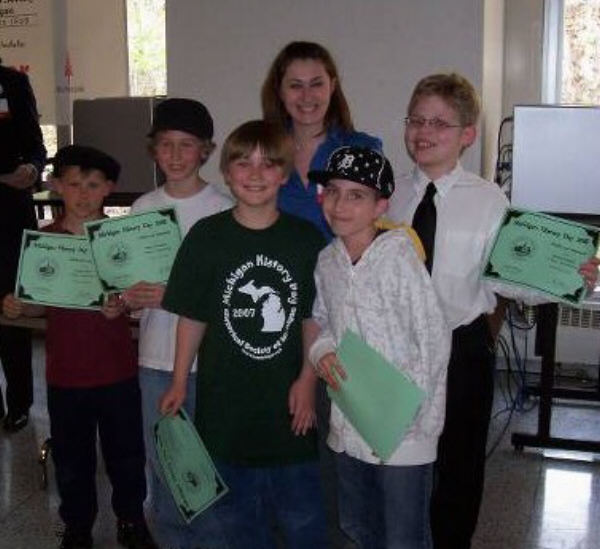 Winners, from left, Logan Post, Drew Pomeroy, Vincent Perz, Jesse Cleary, and Devin Causley, pose with one of the contest officials.
---
Bay County Students Among Honorees at Michigan History Day
Bay County Public School Academy Has 10 Student Winners
April 28, 2008 Leave a Comment
By: Dave Rogers
Bay County and Michigan students received honors at the Michigan History Day (National History Day in Michigan) State Finals on Saturday, April 26th in Mount Pleasant at Bovee University Center at Central Michigan University.
Among the winners were 10 students from the Bay County Public School Academy, two from McAlear-Sawden Elementary and one from Midland Dow High.
This year an estimated 5,500 students competed in the History Day program statewide in Michigan. After competing in ten regional districts statewide in March, over 260 of these students reached the state finals representing schools from all across the state.
Winning Best Youth Division Entry in Labor History for "The Conflict and Compromise of the UAW" were Devon Causley, Jesse Cleary, Vincent Perz, Drew Pomeroy and Logan Post from the Bay County PSA. That same group took second in the youth division individual performance for "The UAW Strike of 1936."
In Individual Documentary, youth division, Autumn Alexander of the Bay County PSA took first place with "The Great Depression in Michigan."
---
--- Advertisements ---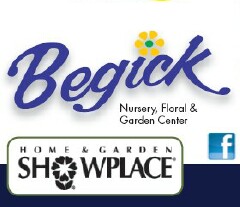 ---
Second place went to Cristian Chapa, with "Michigan and the Underground Railroad," and third by Victor Kuhl for "African Americans in Sports." Both also are from the Bay County PSA.
Third place in group documentary was won by Kaitlyn Lecodet and Miranda Schatzer of the Bay County PSA for "The Orphan Train."
McAlear-Sawden students Paige McKenzie and Allysen Yurgaites took second and third in historical paper for "The Shot Heard Around the World" and "King George the Terrible," respectively. They won Best Entry in Transportation History with the same presentation.
Samuel Tzou of Midland Dow High won the senior division in labor history for "The Ludlow Massacre."
Finalists chosen at the state finals in the Junior and Senior categories now head to College Park, Maryland in June to compete in National History Day with their peers from the other forty-nine states and several US territories.
Michigan History Day is an educational program of the Historical Society of Michigan and hosted this year by the Henry Ford. Lead sponsors of History Day include Meijer Inc., the Cook Charitable Foundation, the Richard and Helen DeVos Foundation, the Historical Society of Michigan and Alticor, Inc. Additional support was also provided by the Holland Area Historical Society and the Michigan Chapter of the Society for the War of 1812.
Special award prizes were also given to students and sponsored by the Friends of Michigan History, the Michigan Women's Studies Association, the Michigan Roundtable of the Lexington Group in Transportation, the Michigan Archival Association, the Michigan Oral History Association, the Michigan Genealogical Council and the Association for Great Lakes Maritime History.
"The students had an outstanding experience this year," commented Larry J. Wagenaar, Executive Director of the Historical Society of Michigan. "Students are the experts for the day and share what they have learned. They actively engaged our judges. History Day is hands-on education with students gaining phenomenal new skills."
Winners at the National History Day Michigan State Finals included students from Ada, Ann Arbor, Bay County, Beverly Hills, Bloomfield Hills, Canton, Comstock Park, Eaton Raids, Farmington, Grand Haven, Grand Rapids, Grant, Hancock, Hastings, Holland, Houghton, Howell, Kalamazoo, Marquette, Midland, Muskegon, Painesdale, Plymouth, South Haven, and Whitehall.
Entries were one of seven categories. They included Research Papers (individuals only), Individual or Group exhibit, Individual or Group performance, Individual or Group documentary, and Websites. Groups may be from 2 to 5 students. Students compete in one of three age divisions: Youth (grades 4-5), Junior (grades 6-8), and Senior (grades 9-12). Junior and Senior entrants are eligible to proceed to the national finals at National History Day in College Park Maryland in mid-June. Each category in a division is judged separately.
All entries in the competition were tied in some way to the National History Day theme for 2008, Conflict and Compromise in History.
A full list of winners plus photographs from the state finals competition can be found at the Michigan History Day website (http://www.hsmichigan.org/mhd.php) or by calling the Historical Society of Michigan at (800) 692-1828, e-mail at hsm@hsmichigan.org.
Michigan History Day is an educational program of the Historical Society of Michigan, the state's oldest cultural organization, founded in 1828. For more information contact the Society at 1305 Abbott Rd., East Lansing, MI 48823 (517) 324-1828 or visit www.hsmichigan.org.
###
---
---

Dave Rogers




Dave Rogers is a former editorial writer for the Bay City Times and a widely read,
respected journalist/writer in and around Bay City.
(Contact Dave Via Email at carraroe@aol.com)

More from Dave Rogers
---
Send This Story to a Friend!
Letter to the editor
Link to this Story
Printer-Friendly Story View
---
--- Advertisments ---