Michigan Moves Closer to Smoking Ban in Workplaces, Bars, Restaurants
Senator Argues That Exemption Would Favor Indian Casinos Over Hometown Bars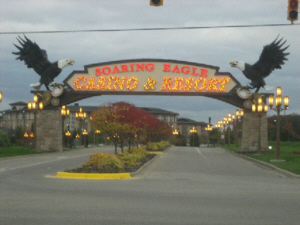 Soaring Eagle Casino in Mt. Pleasant: Advantage over bars, restaurants in town that must ban smoking?
Michigan will soon probably be smoke free almost everywhere except in Indian gambling casinos that are on federal territory.
The State Senate on Thursday, with Senator Jim Barcia of Bay City dissenting, approved a ban on smoking in workplaces, bars and restaurants on a 25-12 vote.
The Senate eliminated all of the exceptions in the House bill, including one for Detroit casinos, that passed in December 56-46.
Sen. Alan Cropsey, R-DeWitt, majority floor leader, said because of its status on federal trust land, the Soaring Eagle Casino, Mt. Pleasant, would have an unfair advantage over restaurants and bars in the city.
Any business place that is also a residence would also be exempt from the ban. No smoking signs would have to be clearly posted and employees instructed about the anti-smoking law.
The Republican leader in the Senate, Mike Bishop, of Rochester, who had blocked passage of the ban, said: "This is a blatant overreach by government into the individual freedoms of the people. We have to draw the line somewhere. I'm concerned about the slow creep of government into our lives."
Sen. Bruce Patterson, R-Canton, a previous opponent, supported the measure on grounds it would provide safety and health benefits. Sen. Patterson said the evidence of the potential danger of second-hand smoke was "incontrovertible."
Sen. Jason Allen, R-Traverse City, questioned if the state would also look at controlling fast food or overall calorie intake, a similarly controversial health issue that has arisen recently.
But Sen. Ray Basham, D-Taylor, leader of the effort for the ban, praised the Senate passage as "major victory" for the health of Michigan residents.
"Their action sends a strong message across Michigan - and the nation - that we place a high priority on the health of our citizens," said Gov. Jennifer Granholm.
Lance Binoniemi, of the Michigan Licensed Beverage Association, criticized the Senate for yielding "to the pressure of pop-politics and an aggressive, well-funded anti-smoking lobby, ignoring the impact a smoking ban will have on many businesses."
Senators squelched attempts to amend the bill calling for negotiation with tribal casinos to ban smoking, with several legislators saying that would clash with tribal sovereignty rights.
Senate vote rollcall:
REPUBLICANS FOR (9): Birkholz, Brown, Cassis, George, Jelinek, Kahn, McManus, Pappageorge, Patterson.
DEMOCRATS FOR (16): Anderson, Basham, Brater, Cherry, Clark-Coleman, Clarke, Gleason, Hunter, Jacobs, Olshove, Prusi, Schauer, Scott, Switalski, Thomas, Whitmer.
REPUBLICANS OPPOSED (11): Allen, Bishop, Cropsey, Garcia, Gilbert, Jansen, Kuipers, Richardville, Sanborn, Stamas, Van Woerkom.
DEMOCRATS OPPOSED (1): Barcia.
Sen. Bill Hardiman, Kentwood Republican, was absent.
---
---

Dave Rogers




Dave Rogers is a former editorial writer for the Bay City Times and a widely read,
respected journalist/writer in and around Bay City.
(Contact Dave Via Email at carraroe@aol.com)

More from Dave Rogers
---
Send This Story to a Friend!
Letter to the editor
Link to this Story
Printer-Friendly Story View
---
--- Advertisments ---