'Take The City' Having CD Release Concert at State Theatre - Bay City
Mark Your Calendars for Friday, May 30, 2008
May 18, 2008 Leave a Comment
By: Mike Bacigalupo - State Theatre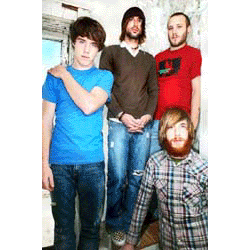 'Take The City' CD Release Concert
Friday, May 30, 2008 State Theatre, Bay City
'Take The City' is Having a CD Release Concert at State Theatre - Downtown Bay City on Friday, May 30, 2008, starting at 7:00 PM.
Vince Dynamic creates a unique blend of thirst-quenching indie pop and a rather uplifting modern jazz. Playing a total of nearly 200 performances around the nation, this five-piece band plans to continue this trend and extend its welcome to many acquaintances with full potential.
After forming in late 2004 with Pete Badour, Chris Tanner, Cody Osterhout, Adam Simmons, and Crystal "Danger" Brown, the group evolved a vintage synth rock into what people know now as indie/pop. Along the way, Crystal had moved to succeed in a higher education.
Without a female vocalist for nearly a year and one full length CD later, the band picked up the lovely Kalen Hebner. Until March of 2006, the band devoted several late nights to performing around Michigan and Chicago.
At this point, Vince Dynamic decided it was time they could no longer go any further as a band. Not four months later, Pete, Kalen, and Chris decided to try to reform the music group.
Percussion major of SVSU, Drew Parent and long-time friend, classmate and fellow musician, Terese Mauch filled the mold in creating the eclectic band known as Vince Dynamic. Restarting from their first show in February of 2007, the band has since recorded a five song E.P. and journeyed on a 40-day, nation-wide tour only with help from their best friends, fans, and family.
Your Best Friend is a band comprised of Steve Sochanek, Nick Edler, Dale Brown, and John Bonham. Based in Saginaw, MI, the band finds home elsewhere. With five self-booked tours and hundreds of shows under their second-degree black belt, Your Best Friend has plans to sleep on your floor and eat your food.
Take The City, formed in June 2005, was the result of an acoustic band comprised of Matt Ferranti and Ken Lange turning into a full band. Matt and Ken have been in bands since eighth grade and ultimately brought Take The City and the band's mission into conception.
The band's members lived in Bay City, and though drummers and bassists were constantly changing, Matt and Ken remained a consistent, fundamental part of the band. Despite countless member changes and other trials and tribulations, Take The City remains and strives to succeed in spreading their music and message of hope and inspiration all over the world.
In August 2006, Matt left for the New Life School of Worship in Colorado Springs, CO and Ken began school at Saginaw Valley State University in University Center, MI. Determined to resume the band when Matt returned, the two were in constant contact throughout the year and even played a show over Christmas break when Matt returned home. It was in Colorado Springs that Matt met fellow student Brandon Taets, who eventually moved to Michigan to play drums for Take The City.
After graduating from the ten-month internship at New Life, Matt moved back to Michigan and worked out a job for Taets, who moved to Montrose, Michigan at the end of summer 2007.
When Ken, Matt, and Brandon began playing together, it was clear that Brandon was the type of drummer they had been waiting for. Ken and Matt taught the songs to Brandon and wrote a little new material. Brandon was a great fit with the band and offered his own songwriting experience to the writing process. To complete the line-up, Matt and Ken contacted a good friend and former band-mate, Jacob Bunting to play bass guitar. Then, the four guys went to work and began treating the band as a professional entity.
Practicing months before playing their first show, the four guys now play around five to ten shows monthly and have an eighteen day, fourteen show tour to Colorado Springs under their belt. Take The City has recently finished recording an eight-track EP, set for release this summer, with new merchandise also on the way.
Captivating audiences all over with an incredible live show and catchy pop choruses, the band has developed a growing fan base in Michigan and other areas of the Midwest. Equipping their audience with a message of hope and encouragement, Take The City's motives have always been to keep God first in all that they do.
After all, without Him, the members of Take The City would not have the opportunity to do what they enjoy most. The members of Take The City do not claim to be perfect, to have all the answers, or to be better than anyone else. They do call themselves sons of God and are happy to pursue the calling that He has placed on their lives: to reach others and glorify Him through their music.
Tickets are $5.00 Click Here To Purchase Tickets On-Line
---
---
---
Send This Story to a Friend!
Letter to the editor
Link to this Story
Printer-Friendly Story View
---
--- Advertisments ---