Bay Area Chamber Ambassador
Announces Bid For Monitor Twp. Treasurer
"Reel In A Winner" - Vote For Sue Pike!
May 18, 2008 Leave a Comment
By: MyBayCity Staff

Sue Pike from Monitor Township is running for Treasurer. This will be Pike's first attempt to be appointed as an elected official and she is more than prepared to take this on!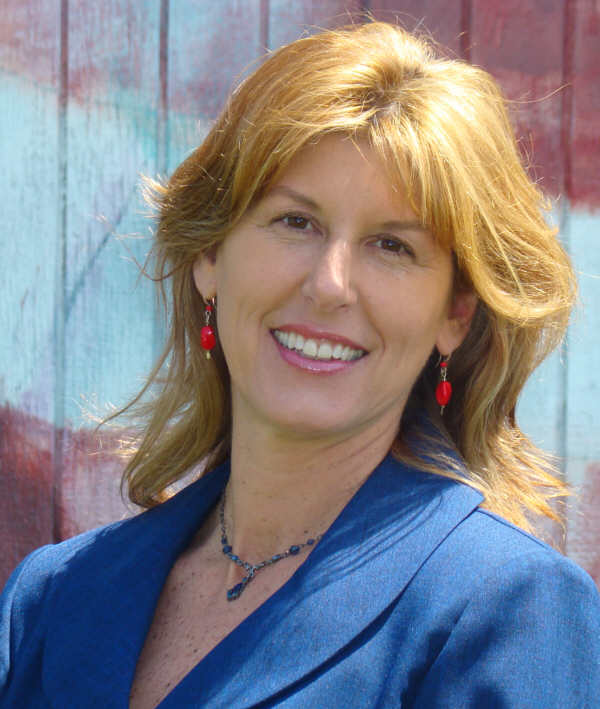 Pike is very passionate about public service and Monitor Township
(MyBayCity Photo)
Pike's interest in running for Monitor Township comes from a desire to provide a more aggressive advocacy for the people of the township.
After working several years as Director of the Downtown Development Authority in Monitor Township (Valley Center Technology Park), she has been able to clearly see the needs and envision future goals for improvements and efficient governmental operations. Pike holds a degree in Technical Accounting and has managed and balanced the budget of the Monitor Township DDA funds, proving to be an asset to the growth of the community.
Pike feels strongly about the growth of her community and states, "I believe we need to preserve our farmlands "urban sprawl" yet expand our Industrial Park that has been designed for growth and high tech paying jobs in the community."
Pike hopes to address the needs of township residents and give back to her own community. She believes in this community...she resides in this community! Pike is an extremely capable, personable, energetic and passionate person.
"I believe I have finally found my niche, as a public servant. I love my community and will fight to see that everyone's voice will be heard", said Pike.
Pike has a daughter who is now grown and successful in Dental Hygiene. She is able to devote the time and sweat equity that this position entails.
Pike is also a Bay Area Chamber Ambassador and takes working with the public very seriously. She is truly passionate about what her community needs and wants.
Make no bones about it.... Pike is "in it to win it"!
Pike's first priority as Monitor Township Treasurer, should she be fortunate enough to be elected, is to provide the community with competent, accurate control of township funds. She will be available by working regular and diligent office hours and beyond if necessary and attending all necessary meetings with a collaborative approach to represent the best interests of the people of the township.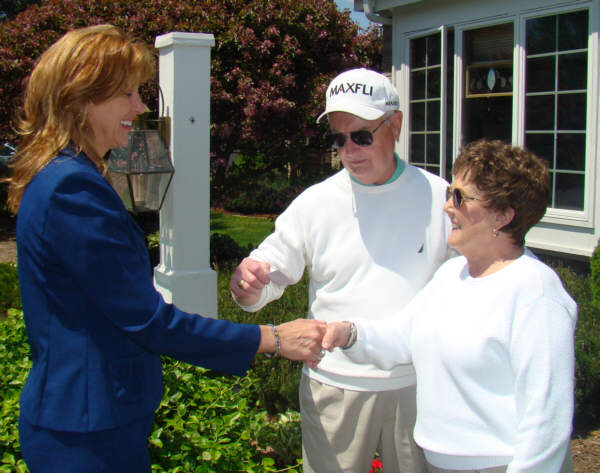 MyBayCity cameras follow Sue Pike as she "meets and greets" members of the community this weekend...Pictured are Pat and Jerry Kren, residents of Appletree Farms in Monitor Twp.
(MyBayCity Photo)
However, the basics of the job must be expanded and Pike believes the Treasurer, as an officer of the township should have the overall economic welfare of the township and its people in mind. Her belief is that expansion of the tax base in the industrial and commercial areas will in the long run keep taxes on residential properties down. With additional tax revenues on the commercial and industrial side, the burden of paying for infrastructure improvements, water and sewer, fire and public safety services, will not fall mainly on a resident's home's property taxes.
Therefore, in cooperation with the Supervisor and the Township Board, as Treasurer Pike will be working collaboratively to build on the past record of good government in Monitor and the gains of the recent past in terms of economic development and infrastructure improvements as well as in the day-to-day operations of the township.
Another priority Pike is focusing on is to working to find ways to resurface roads in the township in a fiscally responsible, ongoing program. Good relations are needed with the Bay County Board of Commissioners, Bay County Road Commission and the State Highway Department to maximize the assistance of those agencies in improving and maintaining roads in Monitor Township.
Pike is attempting to build on relationships she has formed as DDA director to bring more state, federal and county funds to Monitor Township.
Collaboration among units of government is vital to keeping costs down and providing the best service possible as Township Treasurer. Pike continues to form partnerships that will benefit Monitor Township.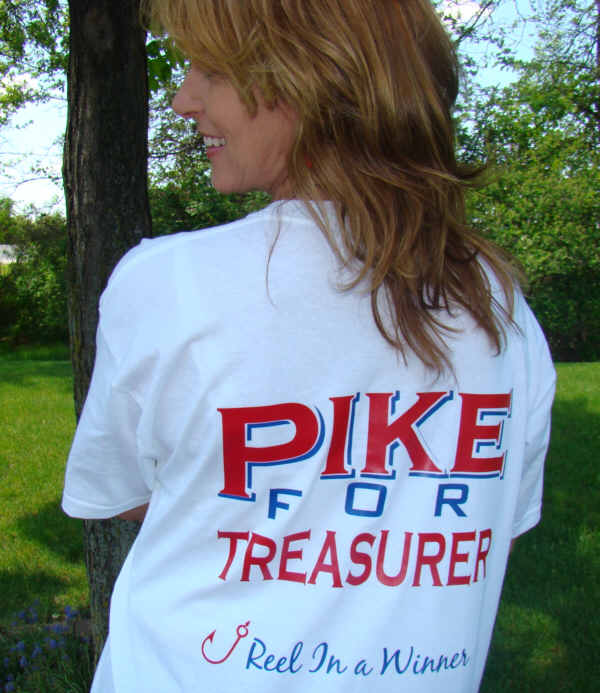 Sue Pike says, "Reel In A Winner" and "cast" your vote for Pike for Monitor Township Treasurer!
(MyBayCity Photo)
When speaking about the outcome of this election, Pike went on to say, "Ten thousand residents will be interviewing me on August 5th. Ultimately, they will pick who will preside over the community."
Ms. Pike welcomes any new ideas and is eager to have continual input from the voting public on any aspect of Monitor township.
Please feel free to contact Sue Pike at (989) 684-4642 with any thoughts, suggestions or concerns she should know about.
Pike says she looks forward to working with Monitor Township residents for a better future for voters, their families and Monitor Township.
For Information On How You Can Obtain This Exposure, Contact 892-8501
---
---
---
Send This Story to a Friend!
Letter to the editor
Link to this Story
Printer-Friendly Story View
---
--- Advertisments ---