Local Firm Is Sure They're Really Moving This Time
Not a Chance!! - Says Family Members
April 24, 2002 Leave a Comment
By: Chris Cunningham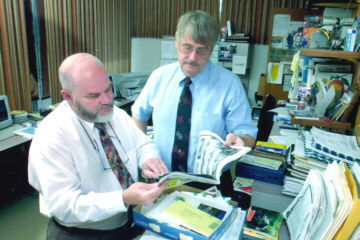 O. J. Cunningham and Stephen Kent (Vice-President in charge of Letterhead) admire their work.
Local business geek, O. J. Cunningham, owner/ceo of Bay City's O. J. Advertising, Inc., is scheduled (again) to move to his new location at 509 Center Avenue on May 11.
Cunningham's firm was originally scheduled for a "January" location change. Eventually an early February move was considered. Then complications pushed the move back to March. March passed and a date of "late April" was envisioned. But now that date has passed as well. According to Cunningham, the date of May 11 has been "set in stone".
"I know we've been scheduled to move for the last few months, but this time, I'm sure it will happen. After all, check out this cool letterhead!" Cunningham told MyBayCity.com reporter Chris Cunningham, who coincidentally has the samelast name as his dad.
As Cunningham stated, new letterhead has truly been produced for the move, as the company's address will change from 509 Morton Street; Bay City, MI 48706 to 509 Center Avenue; Bay City, MI 48708.
Cunningham expressed "deep regret" that the address change was so boring and that his address even has the exact same number of letters it had before.
"This really is sort of anticlimactic, isn't it," Cunningham admitted.
When interviewing Cunningham's family, we asked Jessica Cunningham, 15, and Donna Cunningham, 39, what they thought of the new move.
"Not going to happen," the Cunninghams said (in chorus) of Cunningham's move. "I know this trick. [Cunningham]'s not going anywhere."
In response, Cunningham declared that this time, he meant it. "[Cunningham] doesn't know what [Cunningham]'s talking about.
This time, we're definitely moving out and moving on up to downtown."
"We have to move now," Cunningham continued, "the workers made the moving company bring boxes . . . and they've started packing."
"I think they would move without me," Cunningham said.
509 Morton For Sale - Click Here
---
---

Chris Cunningham




Chris Cunningham is a graduate of the University of Michigan - He majored in Mathematics and now teaches in New York

More from Chris Cunningham
---
Send This Story to a Friend!
Letter to the editor
Link to this Story
Printer-Friendly Story View
---
--- Advertisments ---