Jim Baker: Remembered for His Personality, Talents as Trial Lawyer
Last of Legendary Line of Lawyers Baker Buried in Elm Lawn Cemetery
August 18, 2003 Leave a Comment
By: Dave Rogers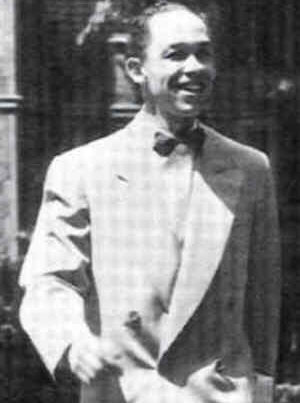 Jim Baker cut a dashing, if somewhat zoot-suit image, on graduation from the University of Michigan Law School in June, 1951
The passing of James W. Baker Sr. deserves more than a small obituary in the local newspaper.
The 79-year-old attorney was not only one of the most talented trial managers ever to practice in the Saginaw Valley, he was a personality without parallel and the last of the line of legendary attorneys Baker.
The eulogies given by Saginaw District Judge M.T. Thompson, former Bay City Times editor Tom Fallon, Saginaw attorney Eugene Mossner, former Saginaw mayor Henry Marsh and State Sen. James Barcia were magnificent tributes to the man, James Weldon Baker. But they will never be published and may be soon forgotten by the crowd of relatives and close friends who gathered Saturday, August 16, 2003, in the Bethel A.M.E. Church in Saginaw.
Only a handful of associates can appreciate the impact of Jim Baker's death because they witnessed the impact of his life on the law, on his friends, on his clients, on his community, his state, nation and fellow human beings.
Few except somefellow attorneys know the importance of the Arthur Von Briesen Award that Jim won in 1969. It is a national level award received by only 60 persons since its inception in 1961. The first awardees included Charles Evans Hughes, former Supreme Court Justice, and William Howard Taft, former President of the United States and Chief Justice of the U.S. Supreme Court.
The Von Briesen Award honors a private attorney who has made substantial volunteer contributions in support of the delivery of legal services and/or indigent defense representation. The award celebrates the achievements of the first president of the National Legal Aid Defense Association, Arthur Von Briesen.
Von Briesen came to the U.S. from Germany in 1858, was elected president of the Legal Aid Society in New York in 1890 and vastly expanded the legal aid network across the nation.
The vast majority of the work that Jim Baker did in helping the unrepresented achieve legal equity will never be known. He was tireless and unrelenting in his efforts and traveled across the state on behalf of people no one else would assist.
Jim kept alive the memory of his father, Oscar W. Baker Sr., who at age 11 lost his leg when run over by a railroad train on 11th Street in Bay City and still earned a law degree. "One of his first acts as a lawyer was to sue the railroad," said Henry Marsh, himself a distinguished attorney. The suit set a national legal precedent that provided for a trust to be set up by a court for aminor who had been injured.
The story of the Bakers would take a book to tell. It is said the first local Baker, James H., was advised by the Civil War officer he had served to come to Michigan. He did so in 1865, became a politician of statewide repute and an early advocate for civil rights. James' son, Oscar W. Baker, headed the Michigan Freedmen's Progress Commission in 1915 and established the Baker Law Firm as one of the most successful in the state. His son, Oscar W. Baker Jr., headed the first branch of the National Association for the Advancement of Colored People here in 1956, and was a highly successful trial attorney in his own right. Jim Baker was the first African American president of the Michigan Trial Lawyers Association and in 1981 became the first African American elected to the International Society of Barristers.
Jim and his gracious wife, Joy Brown Baker, a retired school principal, hosted numerous fund-raisers for the United Negro College Fund and he was a strong member of the state and national organization.
Jim was attorney for The Bay City Times and became a local expert on libel law, trying several important cases. In recent years he worked with Prosecuting Attorney Joseph Sheeran in an "of counsel" capacity, advising on strategies and trial management. A knee operation several years ago set him back and limited his mobility, contributing to health problems.
We could go on about Jim Baker, about his wartime service as a 20-year-old soldier in the Normandy invasion, about his wit, humor and facility with juries in countless courtrooms, his legion of friends across the nation, his pride in the U-M Wolverine football teams, etc., etc.,. One story in particular bears recounting to those who didn'tknow Jim, and illustrates his unusual sense of humor.
Jim and one of his high school friends had an annual ritual. They would travel to a location in the state selected by one member unbeknownst to the other. There the one member would tell the most amazing story about the other that he could to the people in charge. The game was to achieve some degree of hilarity at the expense of the unsuspecting other pal. The biracial team of jokers traveled the state pulling their stunts. Once Jim told of going to an exclusive housing compound where he reported to a real estate salesperson that his friend was an eccentric millionaire and wished to buy an expensive piece of property but would not be around long since he had a terminal illness. The plan was to get a favorable price or a concession on the deal because of the other guy's terminal illness. This charade went on for years, with many varied stories, some too raucous to tell here. The high school pal was among the honorary pallbearers at Jim's funeral, no doubt chuckling respectfully as he watched his longtime comrade's and fellow conspirator's casket pass by.
But we won't. We will, however, tell about the most amazing trial we have ever witnessed, in which the defense was orchestrated by the incomparable Jim Baker. What he did during this long, difficult trial during a long, hot summer, in a courtroom without air conditioning, was truly amazing to this observer. Jim Baker required all participants, and their wives, to attend the trial andlunch together every single day. He asked them to be on hand at least two hours before court was to be in session and to stay for an hour afterward. Then he worked the group for their opinions, asked everyone what they thought of the previous day's events: what about Juror Number 4, Number 12, Number 6? What do you think is affecting them? How do you feel about it? How do you think they will vote? What do you see here that others might not see?
It was a legal tour de force. The outcome of the trial was a foregone conclusion. By marshaling the collective opinions of the entire "family" of defendants, the wily trial lawyer brought to bear a powerful factor not possible using only the brain of an attorney or two. He used the power of human resources, of collective interaction, of shared decision making that is now the part and parcel of the most effective political campaigns, of industrial operations and marketing. Jim Baker during that trial became a titan. We never saw it before and any lawyer who knows how he did it might be well served to copy his technique. It is the most powerful force known to man -- human cooperation.
Jim Baker, born March 12, 1924 in Bay City, died August 8, 2003, at his home. He was buried in Elm Lawn Cemetery, Bay City. He will be missed, and long mourned by his relatives and friends. So long, Jim. Thanks for all you did for humanity.
---
---

Dave Rogers




Dave Rogers is a former editorial writer for the Bay City Times and a widely read,
respected journalist/writer in and around Bay City.
(Contact Dave Via Email at carraroe@aol.com)

More from Dave Rogers
---
Send This Story to a Friend!
Letter to the editor
Link to this Story
Printer-Friendly Story View
---
--- Advertisments ---