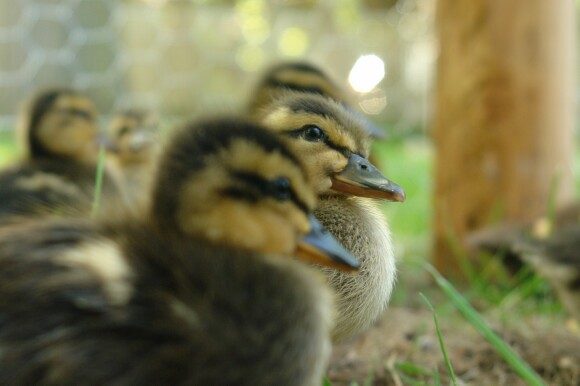 Quack! Quack! Operation Duck Rescue Is Successful
Sometimes You Can Beat Fate
The frantic call came in at 10:50... during the last 10 minutes of LOST.
"DAD! Mother Duck is not on the nest. I think she may have been killed. There's something out in the road and I think it's her".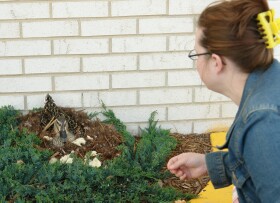 The call was from my daughter Emily, who is a teller at Chemical Bank on Midland St. Last year a mallard hen had raised a brood of 8 ducklings and this year she had returned to nest in the low shrubs beside the driveway. For the last 6 weeks the bank staff had watched, watered, and fed "Mother Duck" waiting for this year's brood to hatch.
Knowing that the time was near, everyone would drive by whenever they could to check the progress. That Thursday night Emily was coming home from a ball game and made her usual check. She found the nest empty and then saw the pile of feathers in the middle of the street. That's when she made her frantic call.
Punching record on the VCR (can't miss LOST even for a duck emergency), I waited for Emily to get home then we rushed back to check it out.
There was no question as we drove past the mass of feathers. Mother Duck had left the nest and tangled with a passing vehicle. We turned into the driveway to check the nest. Lifting the mass of down and landscaping mulch we found that the clutch of 16 eggs were still very warm. Emily was insistent. We had to save the babies!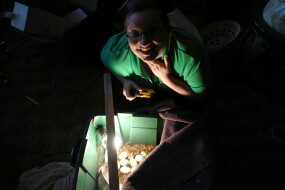 Very carefully we scooped up the entire nest and put it in a large plastic tub then rushed home. We set up a lamp to keep the nest warm and put a towel over the tub to keep the heat in. Then we hit the Internet.
You can find anything on the net. There was a wealth of information on ducks. We learned that mallards are relatively easy to hatch. You can even purchase eggs by mail. Following instructions from an egg vendor, we improved our incubator, inspected the eggs and waited.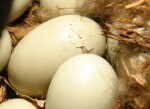 By the next evening it was obvious that the eggs were viable. There were tiny cracks on the sides and we could even hear the babies peeping inside their shells. The whole family gathered around the tub to watch as the vigil started. Within thirty minutes we were rewarded when "Des" began to break out. It took about thirty minutes for the little thing to clear the shell. Our research had said to resist the urge to help. Getting out on its own is an important part of natural selection.
Shortly after "Des" led the way, other eggs started hatching quickly. Within a couple of hours there were five little ducklings and the action seemed over. We shut the door and all went to bed.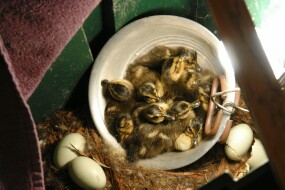 The first 13.
By the next morning it was a whole different story. Of the 16 eggs, 13 had hatched and the now dry and fluffy ducklings were huddled together in the discarded reflector that we had used to hold the warming lamp. The three final eggs had been rolled out of the way and we assumed they were not viable.
Ducks, chickens, quail, geese and similar birds hatch ready to go. They do not require the parents to feed them. The morning before the eggs hatched I went to the farm store and purchased a bag of "duck starter crumbles". This feed and an ample supply of water is all baby ducklings need to thrive.
And thrive these ducklings have. To our surprise, the day after the thirteen eggs hatched, two of the remaining three hatched. The last to arrive picked up the name "Jack". We used a piece of orange yarn around his neck as an identifier, although he is obviously the smallest of the brood.
Our own little flock is a week old and it's time to get them out of the spare room of the house. (Baby ducks are cute but far from clean!) Fortunately there is help right here in the person of Sandy Miner of Essexville, a member of the Tri-County Wildlife Support Team.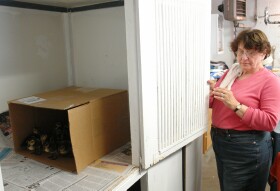 Ducklings move in with Sandy
Sandy is well-known. Emily made a number of calls looking for advice and everyone said to call Sandy. For nearly 30 years Miner has been taking in orphan, injured and abandoned birds and rehabilitating them for release back to the wild.
Sandy said she was raised on a farm and it was a natural fit to work with animals and birds. She became a high school science teacher, which just reinforces her interest. She currently teaches Environmental Science at the Bay-Arenac Alternative High School.
Last year the team took in about a hundred birds. With the season just starting she already has two red tail hawks, an eagle, a great horned owl and a tiny baby screech owl, and now 15 ducklings. The garage of her Essexville home is set up with brood boxes. A smaller room contains two old hospital infant incubators. The large backyard has a small pond and a large flight training pen where birds can get outdoors and learn the basics.
As we looked around Kelley noticed a bucket with unusual contents. "Are those rats?" she asked. "Oh yes, the freezer is full of rats and mice. Those are white mice thawing in that other tub." Birds of prey are one of Sandy's specialties and a steady supply of natural food is essential. As she says "They're always hungry."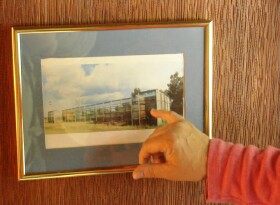 Large Bird Pens
Birds start out at Sandy's house but as soon as possible they are moved to the Consumers Power property on Saginaw Bay. "We have access to about a thousand acres in a restricted area. That's where we have our large bird flight pens."
Taking in wild birds is not for just anyone. Sandy holds state and federal permits and is certified to handle endangered species. Before we left we had to fill out paperwork to comply with the regulations. "It's not like is once was" said Sandy. "There are many rules now."
It was great to rescue this brood of ducklings. But it's important to understand that most baby animals you find should be left alone. Wild animal babies are not constantly watched by their parents. They are left alone for extended periods of time. Unless the babies are in obvious danger, or you know the parents are dead or injured, just leave the babies alone.
Sandy said "it's just sort of an expensive hobby". But talking to her it was very obvious that Sandy Miner loves wildlife and takes her work rescuing birds very seriously. Thanks Sandy! We're glad we found you!

Des attends the hatching of Number Two

Top Duck!

Posing for The Bay City Times

Des and Jack

Des and Jack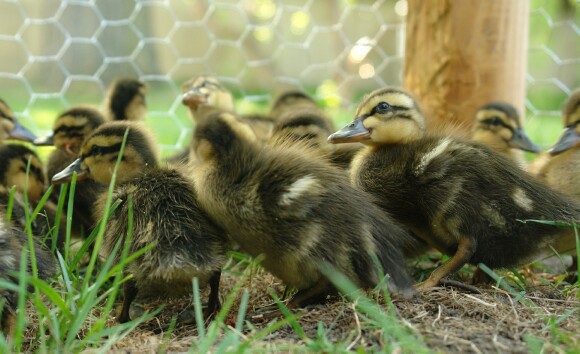 First Time Outside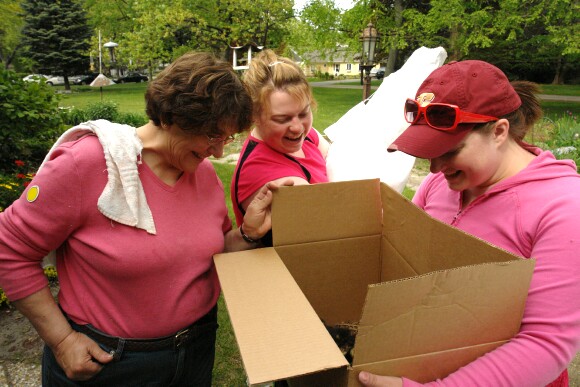 Arrival at the Tri-County Wildlife Support Team
Sandy Miner, Kelley Kent, Emily Kent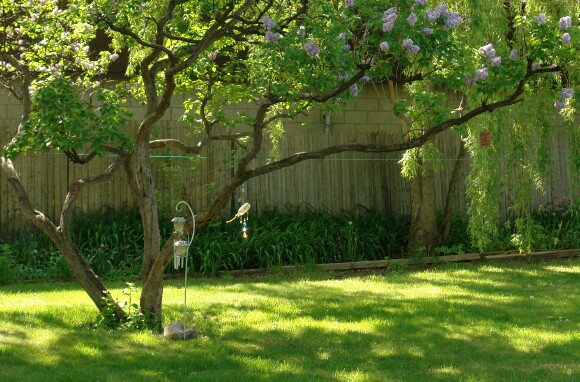 Mother Duck's final resting place under the lilac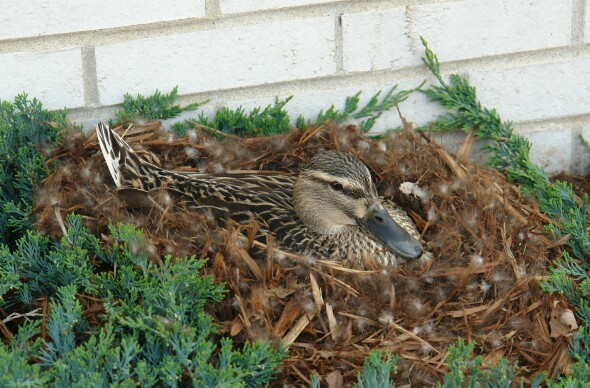 Mother Duck in her prime
---
Outdoors Article 2642
---

Stephen Kent




Steve Kent and his family have lived in Bay City for 30 years. He is VP of Technical Services at MMCC which produces MyBayCity.Com. Kent is active in many Bay City civic organizations.

More from Stephen Kent
---
Send This Story to a Friend!
Letter to the editor
Link to this Story
Printer-Friendly Story View
---
--- Advertisments ---