'Hello Dave' with special guests 'Pinky Lee' and 'Maybe August'
Concert at The State Theatre on Thursday, June 12, 2008
June 1, 2008 Leave a Comment
By: Mike Bacigalupo - State Theatre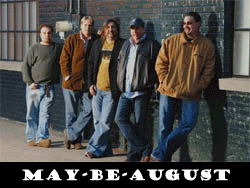 Three Bands in Concert at the
Bay City State Theater June 12, 2008
'Hello Dave' with special guests 'Pinky Lee' and 'Maybe August' will be at the Bay City State Theatre, Thursday, June 12, 2008. Showtime starts at 7:00 PM.
The Band "
Hello Dave
" is spending almost a decade developing and redefining their place as one of the best bands to come out of Chicago, Hello Dave continues to spread their sound to fans across the country.
Beginning in college, at Eastern Illinois University, playing at Fraternity parties Hello Dave has grown into an internationally touring band, playing throughout the U.S. and overseas in Europe and Southeast Asia.
The band's ability to involve and connect with their audience during every performance has caused them to form an intensely devoted fan base with a great love and enthusiasm for the band.
With a sound uniquely there own, Hello Dave combines the sounds of classic and southern rock with pop, country and rhythm & blues. It is this combination of different genres that give Hello Dave such a great appeal to many different types of music lovers. Hello Dave gives audiences a feel good vibe with genuine emotion and integrity.
The driving force behind Hello Dave from the very beginning has been lead vocalist, songwriter and rhythm guitarist Mike Himebaugh. While growing up in Michigan, Mike traveled with his mother and stepfather who were heavily involved in Barber shopping or singing in four-part harmony and this laid the seed for Mike's love of music. He remembers spending many hours behind his closed bedroom door singing along to his tape recorder, until college, were he began to write his own songs and took up music seriously. Since then he hasn't looked back. Now he says he is lucky enough to travel around most of the country and half the world singing his songs.
Also growing up in a musical family, bassist Allen Wetzel learned to play guitar at an early age and music became such a large part of his life that after majoring in music in college he moved to Hollywood to pursue his dream. After a couple years of partying and starvation, he became disenchanted with the industry and moved back to Chicago. Soon realizing that he could not give up music Al started to play with several bands before joining Hello Dave, this being one of his favorite bands he had no problem quitting his day job to join them for a life on the road. Since then Al says he has had some of the best years in his life.
Lead Guitarist Mike 'Magoo' McGohan joined Hello Dave after playing an acoustic set with Al at an all night party. He was later asked to play a few shows with Hello Dave and a few shows turned into four years. Mike had been playing guitar since college and was no stranger to music as he had been in several bands, worked making amplifiers and as a DJ all before joining the ranks of Hello Dave. Mike brings an energy to the band that is infectious and his blues influenced style is something that the audience can really get behind.
When percussionist Bryan Resendiz joined Hello Dave just after returning from Drummers Collective in Manhattan in 1995, his solid yet versatile drumming style and dedication added a talent that helped to elevate the band's playing quality to the next level. Answering an ad Hello Dave had placed for a new drummer, Bryan was quickly added as a member to the band.
With his personal musical influences being wide-ranging he introduced several new and different elements to Hello Dave?s own unique rock & roll sound while confidently moving the band forward. Becoming the 5th member of Hello Dave, keyboardist Tony Orant has brought a finishing touch to the already rich blend of sounds.
Tony was addicted to music early and prides himself on probably being the only kid in America that actually asked for piano lessons. Through out High School and College he played in several bands, some for a few weeks and others for many years, all during which he developed his talent and his ability to play in many different genres. While playing in a band called Gertrude that opened for Hello Dave, Tony began sitting in with them as a guest and has just never left. Now as a full member of the band Tony helps to pull it all together into the fun and original sound that Hello Dave has become known for.
It is amazing to see how many different music lovers from all genres and generations find common ground at Hello Dave shows. People of all interests and walks of life can relate to the music. It seems this is all the band has ever wanted.Fans often tell the band that there's always a Hello Dave CD in the stereo at their family reunions, and everybody young and old sings along. It is this universal appeal that makes Hello Dave an instant favorite. As for the future, Hello Dave would like to continue to maintain and entertain on their way to rock'n'roll stardom.
The band, "
Maybe August
" was founded by Mid-Michigan area music scene veterans primarily to write & perform original music. We are 5 guys that have played music together for a few years and wanted to for several. We all have lives, families, joy, sorrow, love, anger and hope for tomorrow. We write songs about our own little worlds...personal challenges ...social consciousness... with a sense of pure fun and the joy of music. We like to laugh...a lot...and we do it often while we're playing. Our influences range from raw blues through James Taylor all the way to newer artists like John Mayer & Ben Harper. Our love of music is exceeded only by our optimism. We are hoping a few hundred Mid-Michigan folks will pay $10 on a Thursday night in June to see 3 great original bands at a gorgeously restored theater in vibrant Downtown Bay City.
The band, "
Pinky Lee
" Jenny Bousquet and Holly Keller have been playing music together in the Petoskey area for the past year of 2007 as Pinky Lee. They write songs about family, love, and seasons with a folky, soulful, individual style. Both girls play guitar and mandolin while singing unique vocal harmonies, and recently participated as a finalist in NPR's popular 'Prairie Home Companion' music contest. Josh Hall has been a singer/songwriter performing on the local scene of Northern Michigan for 11 years, as well as playing in a full jam band with his guitar, harmonica, and mandolin. He was one of the first seven people to graduate from MSU with a degree in creative writing. His musical style has been largely influenced by artists like Bob Dylan and Nick Drake. Greg Mastin is an established player of multiple instruments, originally from Maine where he had been playing in bluegrass, folk, and jam bands for many years. Here in Michigan, he plays the stand up bass for a quadruped of fun loving artists who like to call themselves 'Pinky Lee Josh n Me'.
Sponsored in part by:
Dream Tracers
Double Tree Hotel
Quality Inn
Little Forks Outfitters
Edward Jones
Fusion Cafe
Nielsen Gallery
Showcase Mitsubishi
Seward, Tally & Piggott, P.C.
DC&M Partners - SAP Consulting
Whites Bar
Tickets are $10.00
Buy Tickets OnLine - Click Here
---
---
---
Send This Story to a Friend!
Letter to the editor
Link to this Story
Printer-Friendly Story View
---
--- Advertisments ---