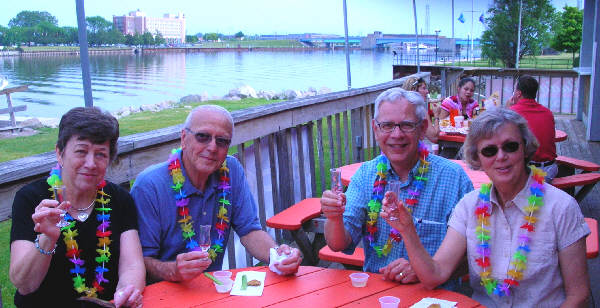 ATMOSPHERE! ATMOSPHERE!
Experienced wine tasters from L/R,
Marilyn & Fred Hamilton and Tim & Jan Slezak enjoyed the atmosphere at Bay City Hooters, Riverfront! The group laughed, and said, "We start early & stay late!"
---
A PERFECT Evening for A Wine Walk
Wine connoisseurs from all over the country participate in Wine Event
June 8, 2008 Leave a Comment
By: Julie McCallum, Entertainment Editor
It was a Perfect night for wine connoisseurs as they participating in the popular (3rd annual) Midland Street Wine Walk, Thursday, June 5, 2008. Many people from out of state, participated in the wine tasting event held on the West side of Bay City.
It was wine tasting at all the fun hot spots on or near Historic Midland Street. If all 15 stops were made all together participants received 28 samples of red and white wines.
Each Establishment served two different Wines to sample from around the world, plus hors d'oeuvres at each location.
(MyBayCity Photos By Julie Munger)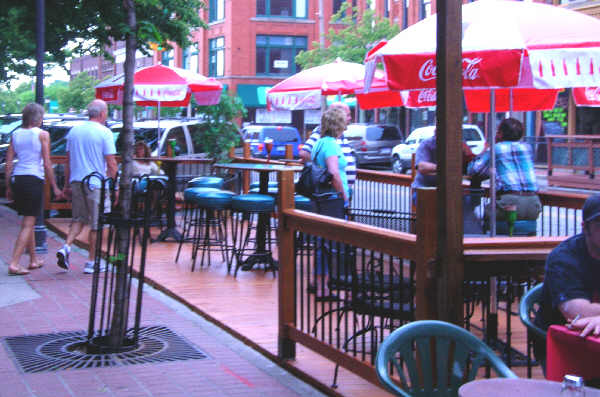 Perfect Weather, Great Atmosphere, Fun People, Fine Wine, Tasty Hors d'oeuvres -
2008 Midland Street Wine Walk . . .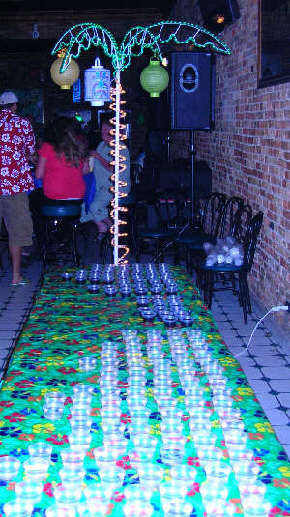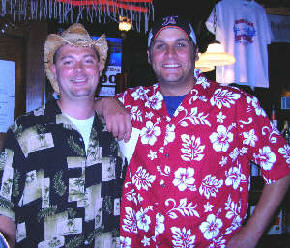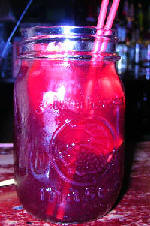 FESTIVE! FESTIVE!
- Midland Street Pub -
went Hawaiian for the occasion and handed out leis, dressed and decorated in the Hawaiian theme. Their hors d'oeuvres even fit the mode with grilled steak and shrimp shish-ka-bobs.
(Top Right)
Midland Street Pub bartenders, Andy Schihl and Scott Zielinski in their festive wear give festive smiles. Schihl explained the ingredients of a Sangria, (pictured above) a specialty wine drink with fresh fruit as he served one up to a wine walk patron. Well done Andy!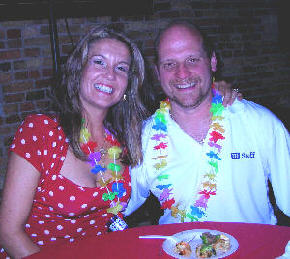 (Left)
Annual 'wine walkers' Greta & Matt Zalucha, share laughs with old friends and are always sure to meet up with them at Midland Street Pub every year!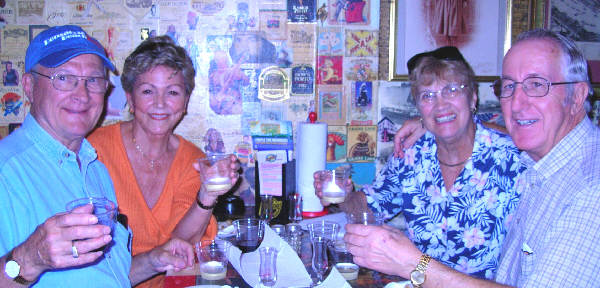 At River Rock Café
. . .All the way from Ft. Myers, Florida . . .
Tarcy & Harriet Wojciechoski (Left). Pictured Right - Nancy & Jim Lacombe. The Lacombe's said this is their 2nd year participating in the west side wine walk, they commented, "We enjoyed it some much last year we invited The Wojciechoskis all the way from Florida." Lacombe said, "We visit each other back and forth, they are our 'True Blue Buddies' and have been for forty years."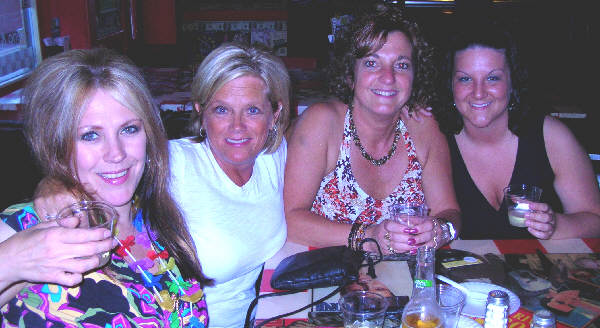 (Above) Rockin at River Rock;
L/R
Keely Winters, Cindy Adamowski, Dar Matlock and Kayla Courneya. Owner Greg Kimbrue, played Aerosmith on the jukebox at the girls request, way to go Greg!! Sweet! Emotion that is! :)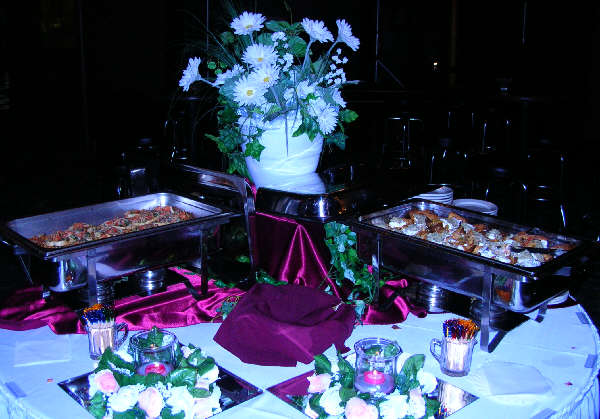 Presentation! Presentation! . . . THE DIAMOND!
The Elegant Diamond Ball Room received many compliments on their display and fine food.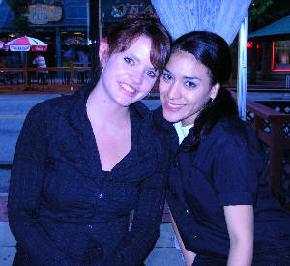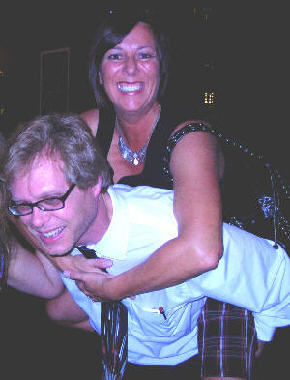 (Above Left)
Serving wine at the Diamond were the very cute Michelle Rocheleau and Maria Osuna.
(Above Right)
Laurie Renner and Matt Lance said they met that night during the wine walk. They goofed around and laughed, "Too much wine and not enough walking." - or - was that too much wine and too much talking??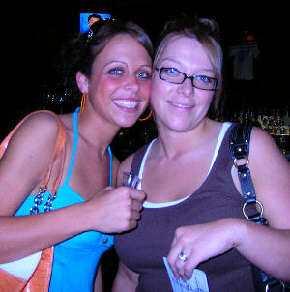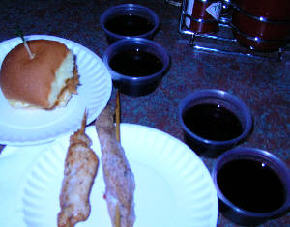 (Above Right)
Meeting up at
Lumberjacks
with Miranda Rush and her sister Britten Slatten from Amarillo, Texas.
(Above left)
A few Samples of the hors d'oeuvres, bar-b-q beef and grilled chicken at Lumberjacks.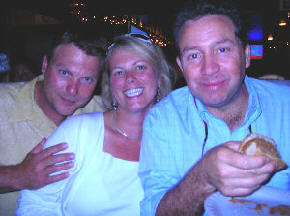 At THE RATHSKELLER
(L/R)
- Walter & Bridgette Huszar with their friend, Tim McKissick from Richmond Virginia. McKissick enjoyed the wine walk in Bay City and the wines offered, he named his favorite wine, so far and was on his way to the Big House Bar to ride the bull.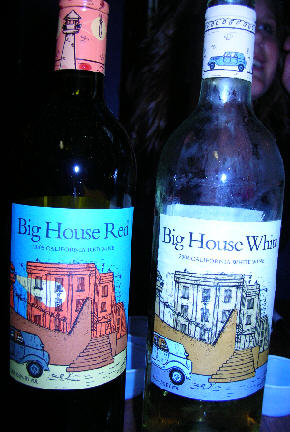 (Right) -
Clever! Clever! -
THE BIG HOUSE!
How appropriate!
Enough said. :)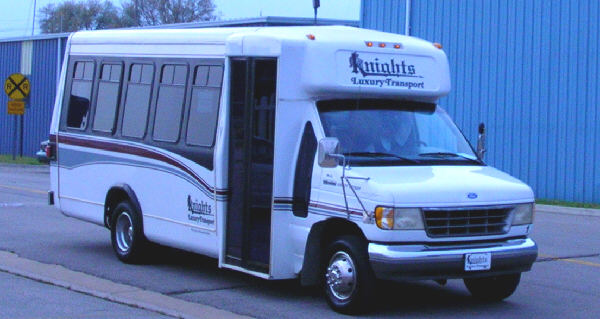 (Above) Knights Luxury Transport
shuttle bus was available for the convenience of wine tourists, traveling back & forth between Tommy V's & Hooters. (Participants started at either end of Midland Street, Tommy V's or Hooters and picked up their souvenir wine glass.)
(Below Right)
Sweet! - Hors d'oeuvres from Art's Brew Pub!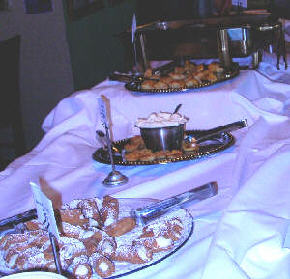 Always trying to beat the clock . . . the wine walk ran from 5:00 p.m. to 10:00 p.m. Does anyone ever make it to all the wine stops? I sure would like to know . . . I've never completed all, but it sure is fun trying!
The following is a list of all participating establishments.


Lumberjacks Steakhouse
The Diamond Ballroom
The Westown
Lucky's Pub
Steamers
Hooters
Art's Brew Pub (Lumber Barons')
The Big House
Arlington Hotel
River Rock Café
Midland Street Pub
O'Hare's Bar
Rathskeller
Indian Barry's
Tommy V's
---
---
---
Send This Story to a Friend!
Letter to the editor
Link to this Story
Printer-Friendly Story View
---
--- Advertisments ---