Holy Trinity Holds Their Second Annual Parish Festival!
Parishioners Beat The Heat And Weathered The Storm For A Fun Filled Weekend
June 8, 2008 Leave a Comment
By: MyBayCity Staff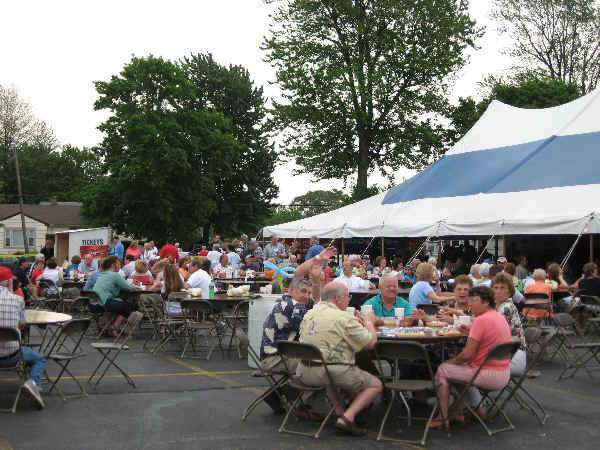 Holy Trinity's second annual festival definitely brought out a crowd this weekend!
(MyBayCity Photo)
(Photo by Julie Munger)
It was hot enough on Saturday, let alone working hard over these grills, Mark Gwizdala and crew worked hard and kept busy keeping up with the chicken orders. The grills are owned by the Nathan Weidner Foundation.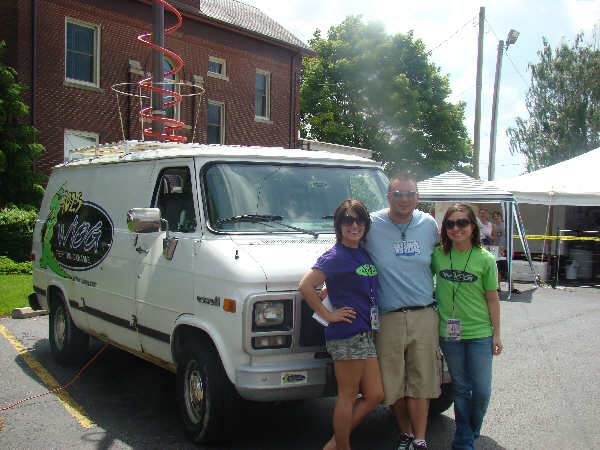 102.5, WIOG was present Saturday afternoon as part of the festivities. Pictured is personality Demas with interns
(MyBayCity Photo)
This weekend the location "hot spot" was Holy Trinity's Second Annual Parish Festival. There were festivities for every age to enjoy!
Friday night, Los Quatro Amigos sponsored a Mexican "fiesta" and Saturday a delicious barbecue chicken dinner was served up in the heat!
There was live music by The Sinclair Band all weekend and a Kids Talent Show sponsored by The Samborns - Live Show!
Other events featured throughout the weekend included a Texas Hold'em tournament, inflatable rides, handmade cotton candy and face painting for children. There was also a raffle drawing with cash prizes totaling $5,000 to 10 lucky winners! (See winners below)
Sunday morning the festival was wrapped up with a pancake breakfast after worship services.
Thelen auto dealership at 4191 N. Euclid Ave. sponsored ticket sales for the event!
All proceeds from this wondrous event to benefit the students of Holy Trinity.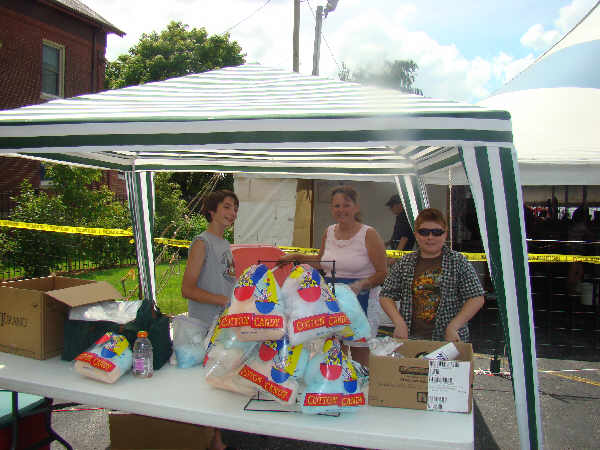 Michelle Michalski, Owner of Sweet Dreams Fundraising takes time out in the heat to pose for MyBayCity camera along with volunteers
(MyBayCity Photo)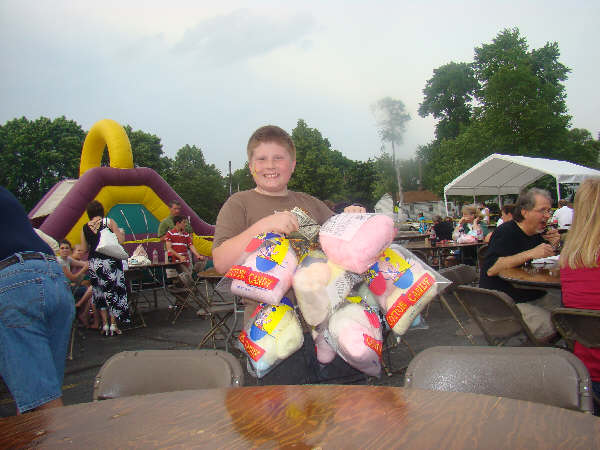 Caleb Pijaszek volunteers as a cotton candy salesman for the fundraising event!
(MyBayCity Photo)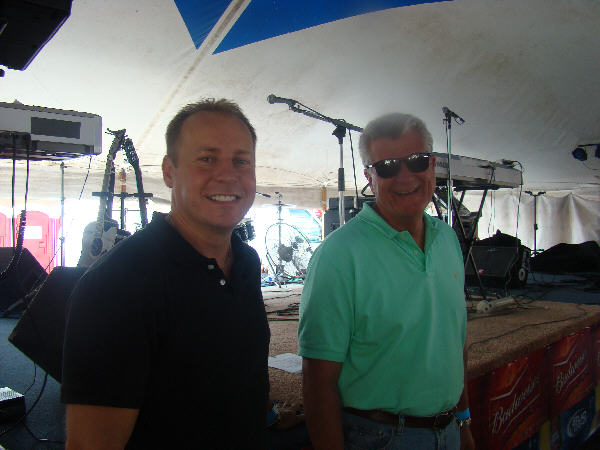 Jay Samborn and Bay City Mayor, Charles Brunner "chit-chat" while waiting for a "to-go" chicken dinner!
(MyBayCity Photo)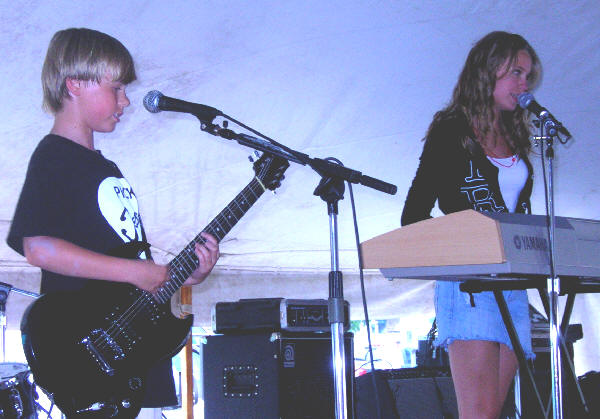 (Photo by Julie Munger)
The Samborns are a brother and sister musical duet from Bay City.
The Samborns performed Saturday, June 7, 2008 at the Holy Trinity Parish Festival.
Mitch & Brandy Samborn have each been playing since the age of 6. The Samborns made their debut in 2004. The Samborns cover many popular songs and perform original songs they have written together. The Samborns are Michigan's NEWEST Musical Duet catch them at this year's Labadie Pig Gig, The Bay City Fireworks Festival, and the Farwell Labor day Festival.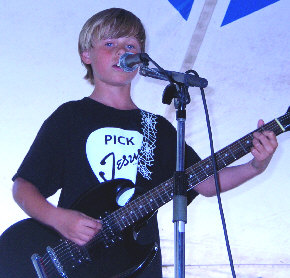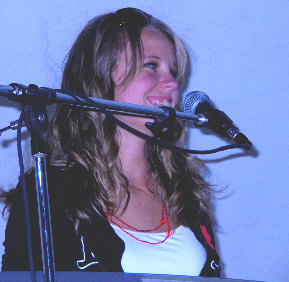 (Photos by Julie Munger)
(Above Left)
Mitchell Samborn, Guitar & Vocals, age 11, attends Holy Family.
(Above Right)
Brandy Samborn Keyboards & Vocals, age 15 attends All Saints.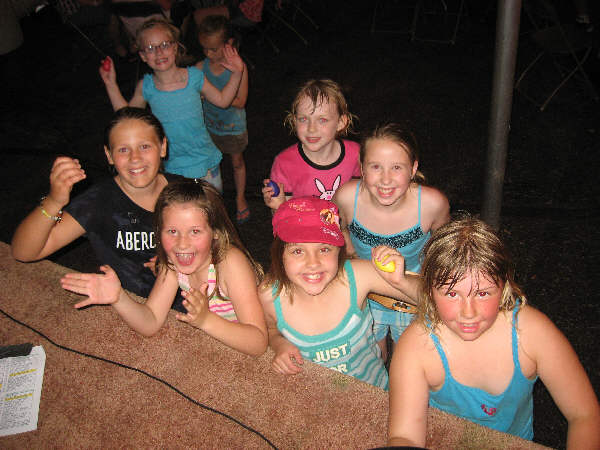 The heat didn't keep these children from dancing up a "storm"!
(MyBayCity Photo)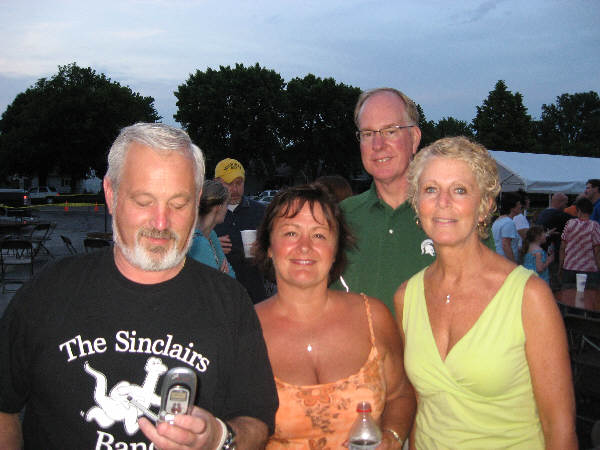 Dave Bernreuter arrives at the festival and gets on the "horn" to call all of his friends out for the festivities!
(MyBayCity Photo)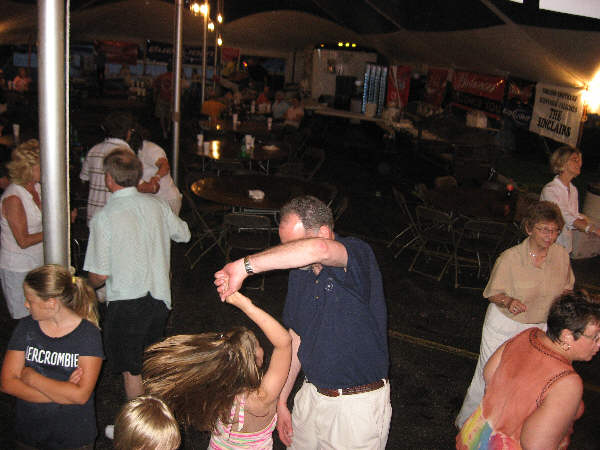 Mike Debo, 1st Vice President for Chemical Bank and Holy Trinity Treasurer "whoops it up" with one of his daughters on the dance floor!
(MyBayCity Photo)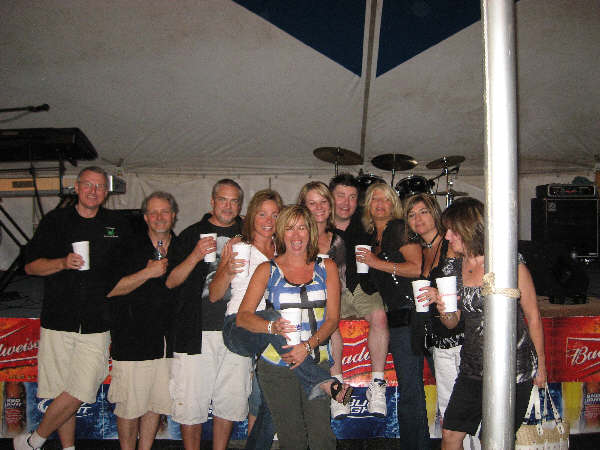 Sinclairs fans came from far and wide to see their favorite entertainers put on the show
(MyBayCity Photo)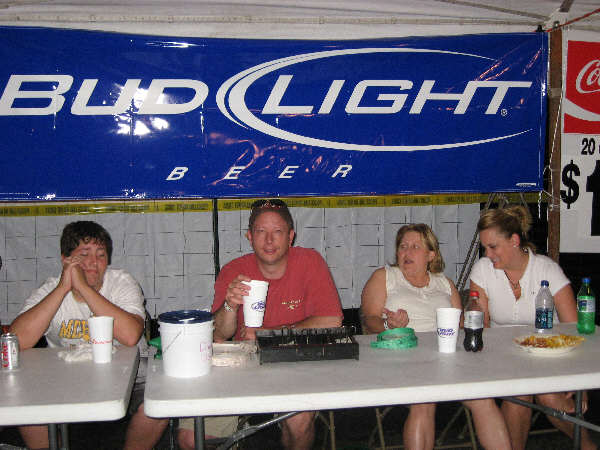 Raffle ticket volunteers keep cool with a "cold one"
(MyBayCity Photo)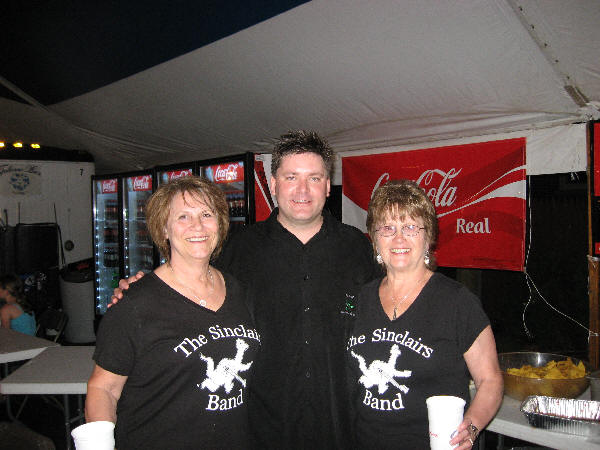 Dennis Beson from The Sinclairs Band poses with "posse"! The Sinclairs Band will be featured on June 15th at the Great Lakes Loons All Star Fan Fest-All Star Game and opening for The Grass Roots at the Pig Gig in August!
(MyBayCity Photo)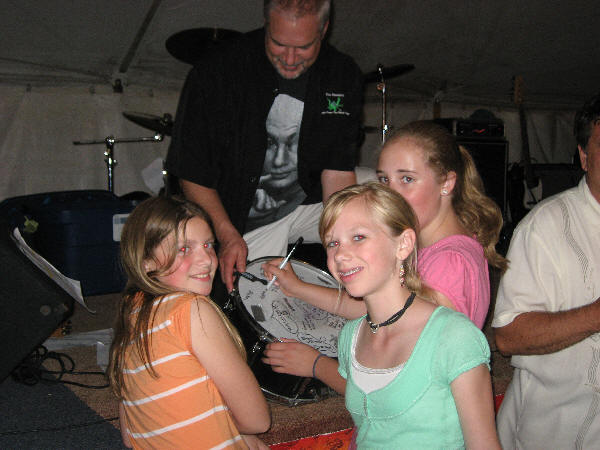 Friday night children were allowed to give "their" signatures on The Sinclars Band drum!
(MyBayCity Photo)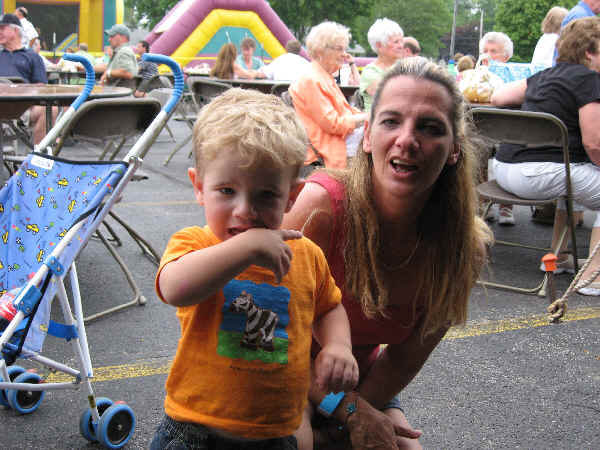 Mommy...wheres that cotton candy?
(MyBayCity Photo)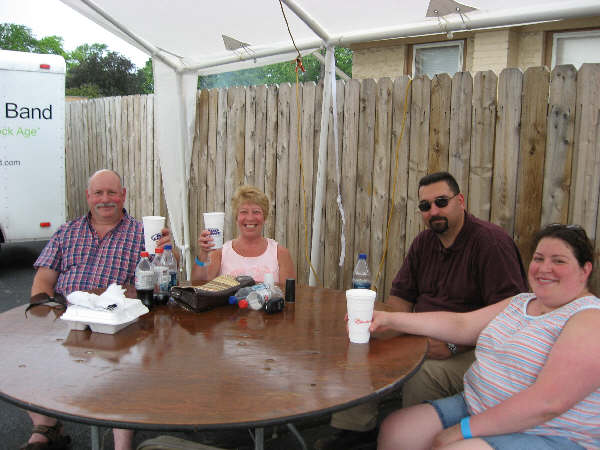 Parish members, the Hanson's and the Zimmerman's enjoy their meal and prepare to hit the dance floor!
(MyBayCity Photo)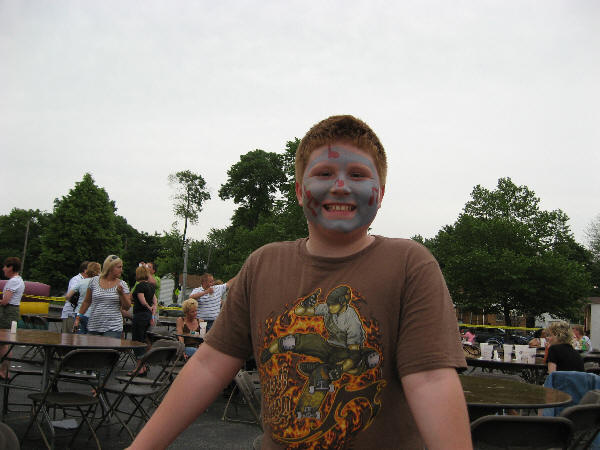 Volunteer Caleb Pijaszek takes time out from selling cotton candy to get his face painted, just one of the many activities available for children at the festival
(MyBayCity Photo)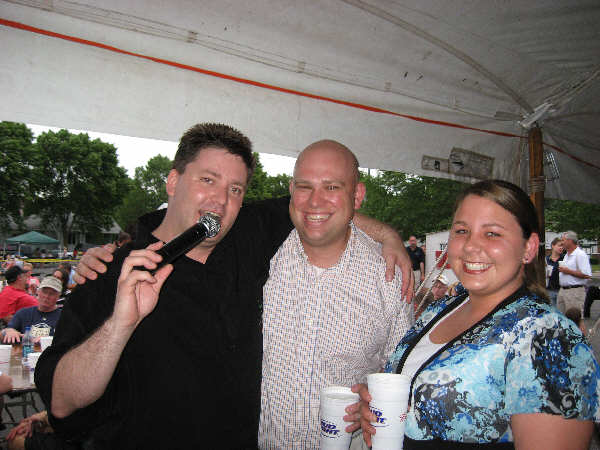 "WILL YOU MARRY ME?": Dennis Beson from The Sinclairs Band announces the engagement of Jeff Ott and Becky Barcia during the festivities! MyBayCity congratulates the young couple on their life's journey!
(MyBayCity Photo)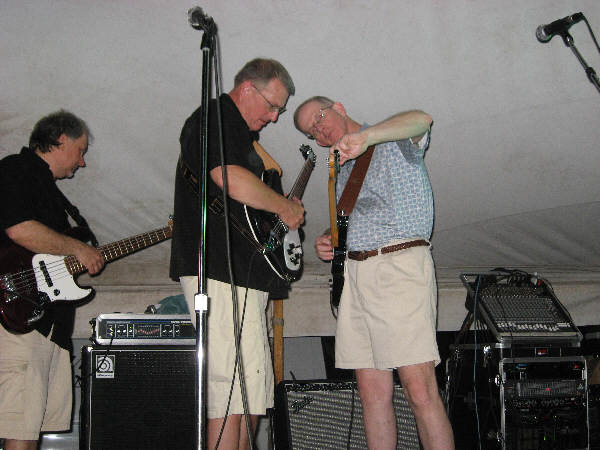 Fr. Bert showed off his talent and hit the stage with The Sinclairs both Friday and Saturday nights!
(MyBayCity Photo)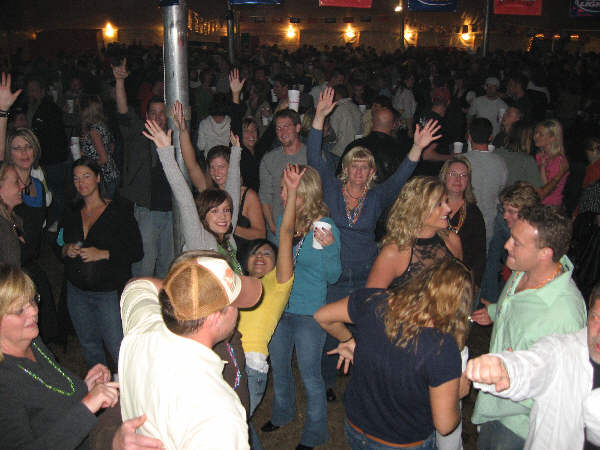 The dance floor sure saw some action this weekend. Pictured is the Freeland Walleye Festival gang! Many parishioners enjoyed not only the entertainment but the entire event!
(MyBayCity Photo)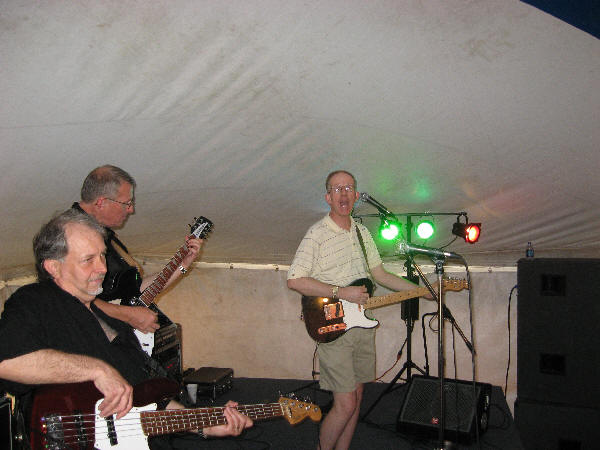 Fr. Bert takes center stage belting out a tune for all!
(MyBayCity Photo)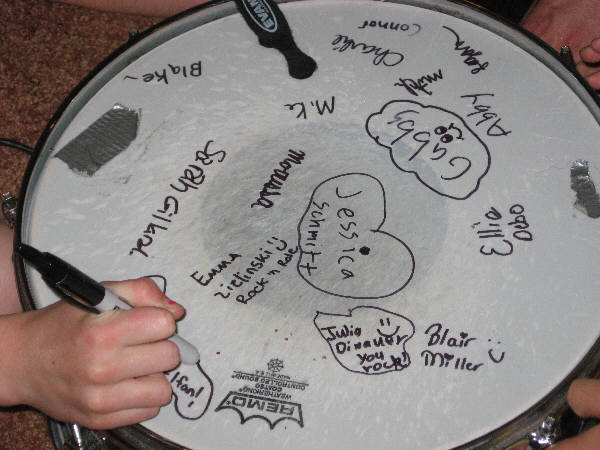 Children absolutely loved being able to sign their "John Hancock" onto The Sinclairs Band drum!
(MyBayCity Photo)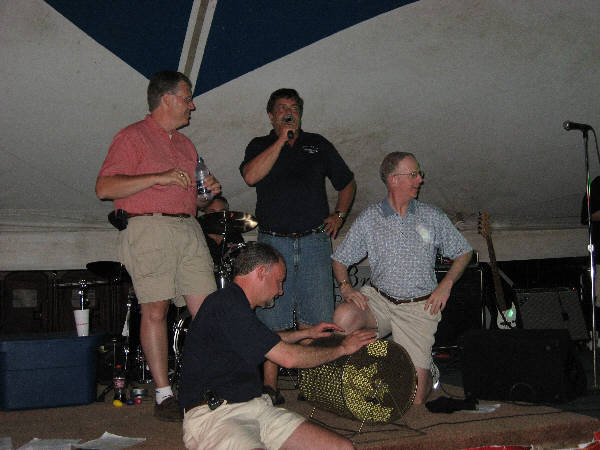 Mike Debo "spins the barrel" and picks the raffle ticket winners!
(MyBayCity Photo)
Raffle Ticket Winners:
Bill Molesky - $2500

Jay Samborn - $1000

Glenn Duncan - $500

Nicole Spliedt - $250

Bill Wade - $250

Joe Vogl - $100

Ivan Miller - $100

Lynn Mistura - $100

Jenny Werner - $100

Barb Dinauer - $100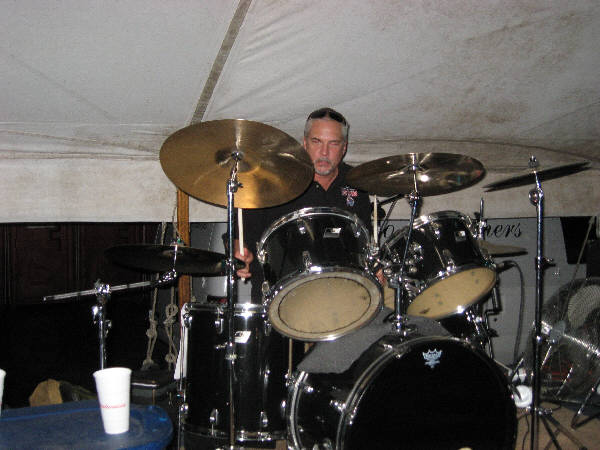 The Sinclairs Band truly put on a wonderful show for the festival! Pictured is Sinclairs Drummer, Chris Jarema. Organizers of the event did a fabulous job! What a great way to kick off the summer!
(MyBayCity Photo) .
---
---
---
Send This Story to a Friend!
Letter to the editor
Link to this Story
Printer-Friendly Story View
---
--- Advertisments ---