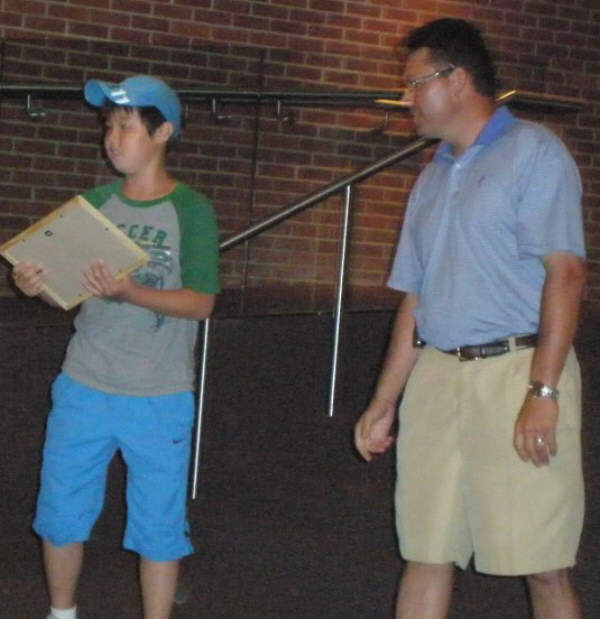 Director Doug Temple gives the award for dedication to learning the game of golf with enthusiasm.
---
Too Much fun Golfing?
Bullseye Golf Foundation Teaches the game for Life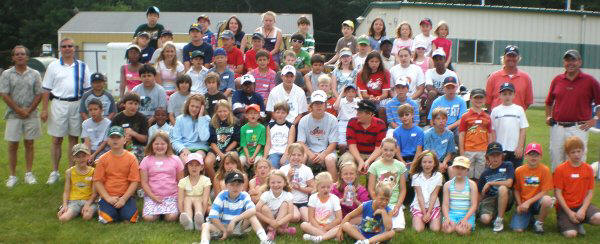 Golf for Life campers paused from their instruction to pose for the MyBayCity camera.
(MyBayCity Photo by Kevin Leahy)
Bullseye Golf Foundation hosts golf camps and day lessons to children 6-17 throughout the tri-cities.
Anyone who has played the game of golf knows how much fun it can be and sometimes how frustrating it can be. It's a game filled with life lessons and one that can never be mastered.
The nice thing about golf is that it is a game once learned it can be enjoyed for a lifetime.
"My father was a national amateur Champion and he taught me the game when I was twelve and that was seventy years ago," said Larry Lorge who helps instruct during the summer camps offered by Bullseye Golf Foundation.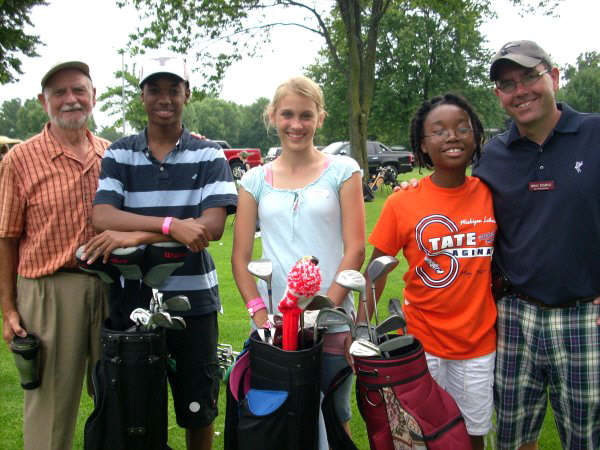 Volunteer instructor Larry Lorge (left) poses with campers Darrius Taylor, Brenna Leahy, Monique Taylor and Bullseye Golf Director Doug Temple.
(MyBayCity Photo by Kevin Leahy)
The Bullseye Golf foundation specializes in hosting golf camps / programs for schools and youth groups. The Bullseye Golf Foundation, a 501 (C) (3) not for profit community based organization was formed in 2003 to introduce its "Golf for Life" programming to youth in the Saginaw Valley area.
Programs from 2 hours to two weeks can be designed that will maximize each child's exposure to the game of golf and the values that the game represents.
The foundation's mission is to improve the lives of participants through a rounded education in recreation, core values, and life skills. The unique curriculum teaches the game of golf (history, mechanics, and on course application), core values (caring, sharing, respect, responsibility), and life skills (creating positive relationships, self-sufficiency, decision making skills). And it's a lot of fun for the kids.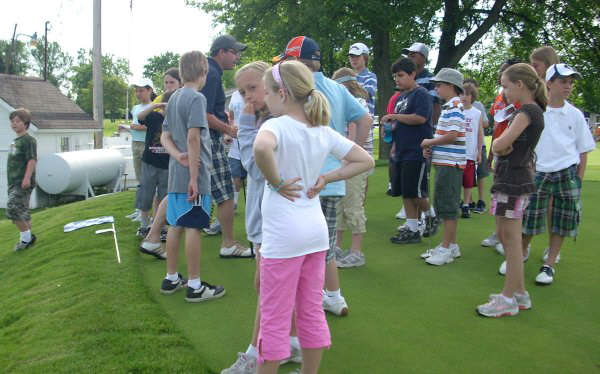 A group of kids listens intently as Bullseye Golf Director Doug temple gives "on the green" instruction.
(MyBayCity Photo by Kevin Leahy)
"She liked it so much last week, we signed her up again for this week," said Jody Temple mother of Katerina Temple. "It's a real personality booster, they really like meeting new friends and interacting with a bunch of kids doing the same thing," added Temple.
The week long camp at Delta cost $175.00 and was 9-5 Monday through Friday while on Wednesday the camp met at Twin Oaks for on course instruction and to put their new game to the test by golfing nine holes with parent volunteers and their peers.
Decklyn Leahy (left) and Brenna Leahy show their enthusiasm for their new game before going to the practice area.
(MyBayCity Photo by Kevin Leahy)
The camp is filled with many other daily activities including swimming, movies, and more. "This is the second year in a row my kids have been to the camp and they love it,and another nice thing about it is that you can write it off as a daycare expense," said Saginaw teacher and parent volunteer Cheryl Taylor. Their second, week long golf camp held at Delta College will be wrapping up on Friday 6/27 but there is one more chance for you to get your child some quality instruction this summer in their July camp for middle school kids.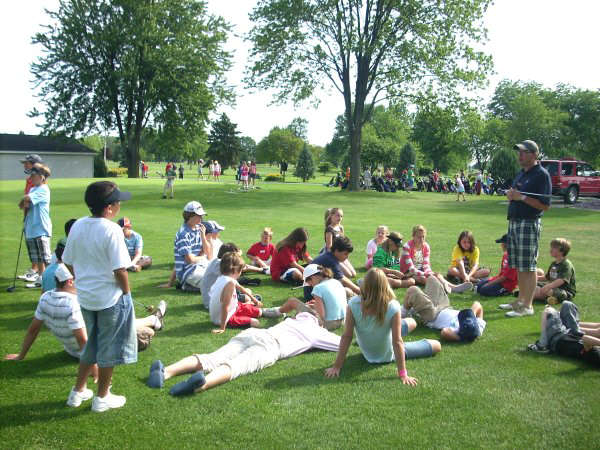 PGA pro Doug Temple keeps the camp flowing from station to station as the kids are taught all facets of the game.
(MyBayCity Photo by Kevin Leahy) <
They also hosted an abbreviated version at Maple Leaf for $40.00 this past weekend.
There is one more Delta camp for middle schoolers only that will be held July 23-27th, all details and registration forms can be found on their site
http://www.tricityjrgolf.org
(CLICK LINK TO GO TO THEIR SITE) The program is open to beginners up to advanced players ability and no equipment is needed, just show up ready to learn and play.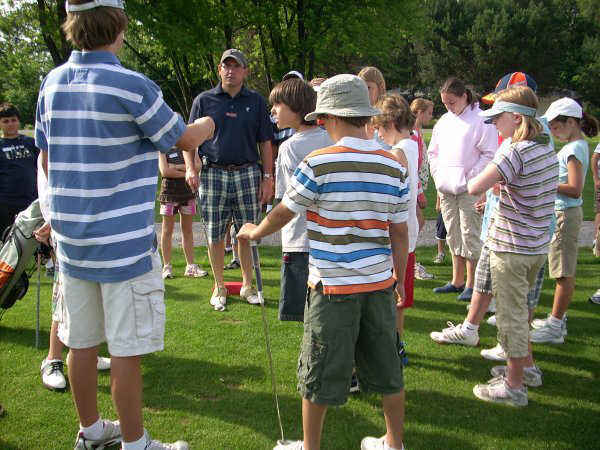 Theres no such thing as a dumb question as Doug Temple PGA pro and Camp Director responds to a campers inquiry.
(MyBayCity Photo by Kevin Leahy)
One additional benefit of the program is all participants receive a card that allows them to golf at area courses for $1.00 per round the rest of the summer. Campers must call to make tee times and inform the participating courses they were Bullseye Golf camp attendee's. The participating courses are Maple Leaf, Twin Oaks, Green Hills, Maple Hill Country Club, Sandy Ridge (July only)and The Bay County Golf Course.
The "Golf for Life" programming in the Saginaw Valley serves as a model. As the programs mature they will be made available in communities throughout the country.
"We believe that golf is an excellent way to teach children and young adults respect, responsibility, caring, dedication, and develops character, self worth, potential, and a sense of purpose. Our motto is - Building Life Through Golf," said PGA professional and Foundation Director Doug Temple.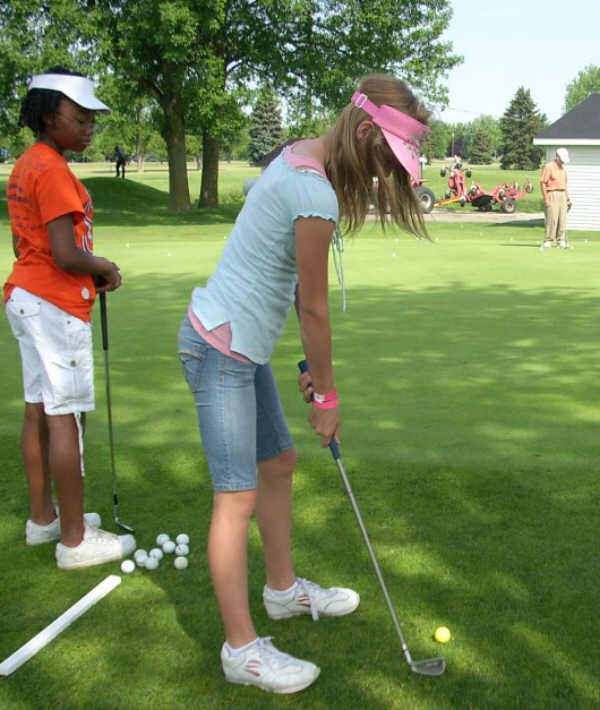 Monique Taylor watches as Brenna Leahy practices her chip shots.
(MyBayCity Photo by Kevin Leahy)
Many awards were given out at the end of the week for low score golfers, dedication awards and one leadership award. Every camper received a plaque with their name on stating their accomplishment and a work book with many of the aspects of golf they learned. PGA professionals, community leaders, and volunteers serve as mentors, teachers, and friends throughout the camp. The programming is taught throughout the year and sessions are conducted at community centers, golf courses, schools, and colleges.
You can sign up your child at tricityjrgolf.org, by calling Director Doug Temple at 992-0404.

Brenna Leahy
Leadership Award Winner at the Camp
(Video by Kevin Leahy)
Tell them you saw it on MyBayCity.com
---
Sports Article 2791
---

Kevin Leahy




Kevin Leahy has an interest in all sports-related activities at the Local, State and National levels. Looking for the inside story? Leahy's got it . . .

More from Kevin Leahy
---
Send This Story to a Friend!
Letter to the editor
Link to this Story
Printer-Friendly Story View
---
--- Advertisments ---