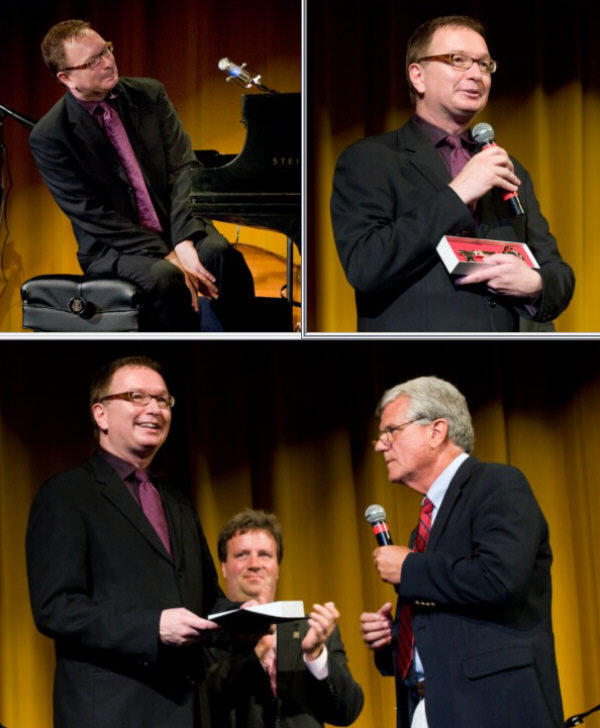 Mayor Charles Brunner (Right) presented the "Key to Bay City" to Cole (Left) for all he has done to for music and for his hometown, Bay City Michigan. State Theater's Mike Bacigalupo was also part of the ceremony. (MyBayCity Photo by Andy Rogers)
---
Kevin Cole Smooth As Silk At State Theater - Gets Key to the City Too
CD Release Postponed for Technical Issues
Kevin Cole played to another packed house Saturday night at the State Theater in Bay City.
And before the night was over, Mayor Charles Brunner presented the "Key to Bay City" to Cole, a very talented musician, for all he has done for music and for his hometown, Bay City Michigan. State Theater's Mike Bacigalupo was also part of the City Key presentation ceremony to Cole.
"It was such a wonderful concert, I always love seeing Kevin Cole in such an intimate atmosphere," said Viola Atherton after the show.

Kevin Cole In Concert - State Theater, Bay City Michigan
(Video by Kevin Leahy)
After wowing the crowd with his smooth voice while playing on his Grand Steinway, Cole was also accompanied by his drummer and big bass musicians.
Toward the end of his concert, Cole had the crowd interact by sounding out their reaction to bad news . . . and then a new baby. The "Aaawwwwhh's," were nearly identical to the one let out from the crowd when Cole informed them that his newest CD release would have to be postponed.
After a collective "Aaawwwhhh," from the crowd, Cole continued. "I had fully intended that this evening be a CD release party but something went against me from the manufacturer and the CD's are not here," Cole said. "I do apologize but if you leave me your email or regular mail address at the box office and as soon as its available you will here from me via email or with a card from me in the regular mail, you will be the first to know," said Cole to the crowd.
"It will still be coming out this summer and can be purchased at the Sweet Boutique and here at the State Theater," he added.
When Cole began addressing the crowd before his final number he started by thanking all those responsible at the State Theater for allowing him to perform there.
"Certainly not last and never least is my sound engineer who has been with me for over a dozen years both live and recorded sound . . . in all his technical wizardry is just wonderful because with an evening like this, clarity of purpose and lyric is foremost in my mind . . . so there's only one person who can give me clarity on stage and that is my sound engineer Mr. David Greer," said Cole as he completed his thank-yous.
Cole also informed the crowd that he will be playing two more area concerts in the future. "One on Sunday September 21st at 3PM at the Dow Event Center in the Heritage Theater, a brand new program I just tried out in New York this spring called Kevin Cole and the American Masters of Song," he informed the crowd.
He is also putting together another intimate affair with Sylvia McNair.
"A brand new evening called Christmas for two, an intimate evening with just Sylvia McNair and myself and it is going to be right here at the State Theater on December 18th, 19th and 20th, those of you who saw me with Sylvia know there's a certain kind of magic between us when we perform and she's just a delight and she fell in Love with Bay City so I'm very pleased to bring her back," said Cole in anticipation of a similar show to the one they did at St. Stans "
Christmas From the Heart
," last December.
So if you were not lucky enough to attend Saturdays performance you can look forward to his soon to be released CD and a few more local shows by Bay City's own world renowned pianist and performer Kevin Cole.
---
---

Kevin Leahy




Kevin Leahy has an interest in all sports-related activities at the Local, State and National levels. Looking for the inside story? Leahy's got it . . .

More from Kevin Leahy
---
Send This Story to a Friend!
Letter to the editor
Link to this Story
Printer-Friendly Story View
---
--- Advertisments ---