Lottery, Court Ruling May Open Doors of Many New Indian Casinos in Michigan
Unseen 'War' Over Gambling Going On; Bay City Casino Proposal Unconfirmed
September 12, 2003 Leave a Comment
By: Dave Rogers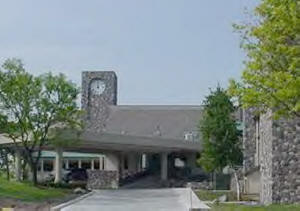 Entrance To Bay Valley Hotel and Resort In Frankenlust Township
A war is going on -- a war none of us can see and few can even realize.
It is a war over casino gambling in Michigan.
And this war has the potential to eventually affect all residents of the Bay City area.
There are 16 Native American casinos in Michigan and federally recognized tribes, which are sovereign nations not subject to state laws, are pushing to build six more.
Critics of gambling charge that casinos are "a mobster's paradise" and say they lead to gambling addiction, crime and divorce. Casino advocates stress jobs, income and state revenues saying it is the ultimate "economic development."
Complicating and confusing the matter is a recent court ruling that the state, because it operates a gambling lottery, has no jurisdiction over Indian gambling. Once the Bureau of Indian Affairs (BIA) of the U.S. Department of Interior puts the land in trust for the tribe, the state must negotiate in good faith with tribes wishing to establish casinos, a provision of the court ruling which may be opening the door to many new casinos including one proposed for the Bay City area. Critics charge that the BIA is "running wild" in its granting of land trusts to tribes wishing to establish casinos.
The cash-strapped State of Michigan now gets about 10 percent of casino revenues and local governments, mainly restricted to townships or cities,get whatever share they can negotiate, usually two percent.
A local resort owner, Anthony Barclae, of the Bay Valley Resort Hotel, reported to the Frankenlust Township Planning Commission several weeks ago that he was negotiating with a band of the Potawatomi Indians for sale of his former tennis club and lease of his Bay Valley Inn for casino operations.
There has been no further confirmation of this report either by Barclae or by any of the 12 Potawatomi tribal bands in Michigan. In fact, a spokesman of the Gun Lake Band, headquartered in Dorr, just south of Grand Rapids, emphatically denies that thetribe is interested in establishing a casino in Bay City, pointing instead to the possibility that the tribe talking with Barclae are Potawatomi from the Bay Mills or Sault Ste. Marie reservations, both in the Upper Peninsula.
The volatility of this issue may be keeping lips zipped all around. Casinos are controversial almost everywhere they are proposed. Lawsuits abound in the Battle Creek and South Bend, Indiana, areas where casinos have been planned. Groups named Taxpayers of Michigan AgainstCasinos (TOMAC) and Citizens Exposing Truth About Casinos (CETAC) are leading the charge.
Religious groups organized and held rallies against a referendum Tuesday in Muskegon which was in effect an advisory vote on whether a waterfront casino should be allowed. Young people, perhaps desperate for jobs in a declining economy, reportedly turned out in large numbers to lead "yes" voters to a 54 percent to 46 percent majority in the advisory vote.
Residents of the Bay Valley condominium complex have not as yet launched opposition to a casino proposal. Along with township officials they seem to be taking a "wait and see" approach, not knowing if there is a valid proposal on the table. Several residents seemed pleased with the prospect that their property may become more valuable if the casino were to be established here.
Information has circulated from the Michigan Townships Association exploring "The Working Relationship Between Townships and Neighboring Casinos." The article notesthat growth of Indian gaming "has forged new partnerships between township and tribal officials as both parties find ways to co-exist despite the tribe's sovereign status."
A ruling last November by the Michigan Court of Appeals illustrates the difficulty of controlling Indian gaming. "Tribal sovereignty is dependent on, and subordinate to, only the federal government, not the states," the court held, adding: "A state which permits a substantial amount of gambling activity and which operates a state lottery regulates rather than prohibits gambling in general, and thus the state may not interfere with gambling conduct which occurs on an Indian reservation." The ruling by a three judge panel was made in a suit brought against the state by TOMAC.
The court further held: "Under the federal Indian Gaming Regulatory Act, licensed gaming activities may be conducted on Indian lands by Indian tribes to generate tribal revenue, and promote the goals of tribal economic development and self-sufficiency. The regulation of gaming activity on Indian lands is exclusively the province of the Indian tribes. The operation of gaming activity by Indian tribes is permitted within a state which does not as a matter of law and public policy prohibit such gaming activity."
The financial impact of the issue is shown in the CETAC case attempting to stop a Potawatomi casino on 79 acres in Emmett Township, near Battle Creek. The Nottawaseppi Huron Band has a contract with Full House Resorts of Las Vegas, Nevada, to develop a 200,000 square foot casino that is projected to gross $125 million per year from 6.2 million visitors.
It's clear that with all the court cases and state legislative wrangling it will be a long time before any decision is madeabout a casino in the Bay City area.
---
---

Dave Rogers




Dave Rogers is a former editorial writer for the Bay City Times and a widely read,
respected journalist/writer in and around Bay City.
(Contact Dave Via Email at carraroe@aol.com)

More from Dave Rogers
---
Send This Story to a Friend!
Letter to the editor
Link to this Story
Printer-Friendly Story View
---
--- Advertisments ---