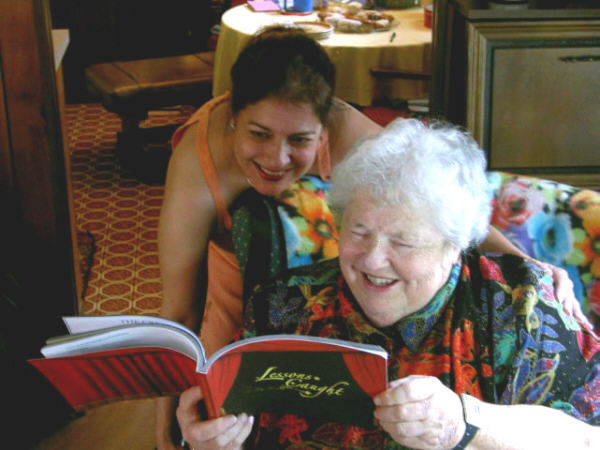 Garber High graduate and friend Lori Perreault looks over Miss Pat Ankney's shoulder as they review the book, "Lessons Caught,"
---
Miss Pat Ankney Puts 42 Years of Student Advice Into A Book and CD
Lessons Caught: A Lifetime of Wisdom Caught on the Run: The World in 7 Acts
July 20, 2008 3 Comments
By: Dave Rogers
(THE BOOK: "Lessons Caught: a lifetime of wisdom caught on the run." by Patricia A. Ankney, Essexville, MI: McKay Press, 2006, $35, includes compact disk, contact:
misspata3@gmail.com
One of this area's most inspirational teachers for 42 years, Miss Pat Ankney has compiled her lifetime of wisdom into a multi-media package.
So her teaching can continue indefinitely, "Lessons Caught: A Lifetime of Wisdom Caught on the Run," is available in a 7 x 8 1/2 inch 146 page book and a star-spangled "Celebrate America" compact disk.
The package includes prayers, Biblical passages, songs, sermons and music. It is a cornucopia of inspiration based on her life experience and the lessons she learned.
In keeping with her background that includes musical producer and director of 69 musicals, 76 concerts and 200 variety shows, talent shows and benefits with students and adults, the book does not have chapters but rather "acts."
The contributors to the project are listed in a "Cast of Characters" of three dozen, ranging from students, fellow teachers, a pastor, an international music figure, a leader of local community theatre and even "reference folks at Alice and Jack Wirt Public Library."
Ms. Ankney became a local legend at Essexville-Hampton Garber High where she started as music and history teacher in 1962 -- just as the new school was swinging open its doors to suburban and rural kids in eastern Bay County.
The path from Washington Township, Ney, Ohio, to Essexville, Michigan, followed by Ms. Ankney is worthy of a book itself. At age 7, her family moved to Hillsdale, Michigan, where her father worked for Hillsdale Steel Products, a defense contractor during World War II.
"We lived at the bottom of the hill near the railroad tracks, an area that wasn't too cool," she recalled.
Although her band and orchestra teacher at Hillsdale High had a music scholarship at the University of Michigan in mind for her, her "fireball" economics teacher, Don Clark, urged her to attend Western Michigan University College of Education. She earned a Bachelor of Music in Vocal and Instrumental Music in 1955 and Master of Arts in Teaching in 1959.
Offered two better paying jobs in Lansing and Grosse Pointe, Miss Pat instead took one at Allegan, in southeastern Michigan, because "they didn't have a choral music program they were satisfied with and I wanted to build one."
She did just that, growing the program from 18 girls to 400 in a few years.
During the summers she worked for former Bangor Township Schools Superintendent Ken Wahl running a summer enrichment program at Caseville, a vacation enclave for wealthy Detroit area residents.
One sweltering day in July, students stirring made her notice two men watching activities inside the non-air conditioned classroom. "We were rehearsing the chorus and the kids were drenched with sweat; all of a sudden they sat up and began singing their heads off. They sensed that Miss Pat was being observed."
The two curious gentlemen were Quintin E. Cramer, superintendent of the new Essexville-Hampton School District, and Chuck Wood, an E-H school principal.
"I had never heard of Essexville but Cramer invited me down an offered me a job at this wonderful non-graded school," she recalled, adding: "I wanted to be part of building this new school so I hired on and have been here ever since.
"Even though one of my college instructors warned me not to go north of Flint, calling the area 'a barren land for the arts,' I have never regretted it."
Besides music, she taught history for 50 years, eight years in Allegan and 42 in Essexville, observing: "Most music teachers get burned out and quit after about 10 years." She retired in 1994 and two years later her name went up on the Ankney Auditorium at Garber.
Other awards she has received include the Bay County NAACP Humanitarian Award, Temple Israel Gentile Honoree, Princess Wenonah of Bay County Award, and the MSU Service-Learning Center State of Michigan K-12 Education Lotus Award.
Other books and multi-media she has produced include "The Colors of His Life," "The Essexville-Hampton Story: From Chalkboard to Computer;" "A Letter to Amber," and, "The Magic of Mason." In progress is "Seeking the Spiritual in a Secular World."
"The school, the church and the community are most responsible for the design and pattern of my intellectual pursuits," she wrote. "I have learned that human existence is meaningless if one does not use his intellect and talents to the greatest level of ability." ###
---
Local News Article 2882
"The BUZZ" - Read Feedback From Readers!
gbigal Says: On July 22, 2008 at 05:06 PM

Miss Pat's correct email address is: misspata3@gmail.com
Can you correct it?
%OJ says: On July 22, 2008 at 06:44 PM

I have fixed the e-mail address in the article. Sorry for any confusion.
nuttygeo2 Says: On July 27, 2008 at 04:59 PM

Miss Pat is a great lady and an inspiration to all who know her. She is someone to look up to and to follow, nothing gets in her way.
---

Dave Rogers




Dave Rogers is a former editorial writer for the Bay City Times and a widely read,
respected journalist/writer in and around Bay City.
(Contact Dave Via Email at carraroe@aol.com)

More from Dave Rogers
---
Send This Story to a Friend!
Letter to the editor
Link to this Story
Printer-Friendly Story View
---
--- Advertisments ---