Americans Always Expect to Win,
Says Former Air Force General About Iraq
David Hall, of Saginaw, Speaks to Rotary on His Book, ABC's of Leadership
Last Weeks program - July 22, 2008
Americans Always Expect to Win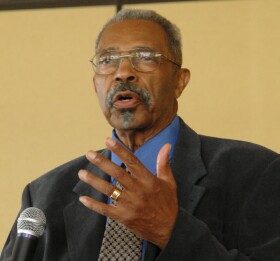 In every war, American soldiers have been liberal in helping rebuild the nations they invaded, said David M. Hall, of Saginaw, retired U.S. Air Force Brigadier General.
Iraq is a different kind of war, he told Rotarians last Tuesday, since soldiers must tear down and rebuild at the same time. "Eventually the rebuilding will prevail," he said.
"Americans always expect to win," he said, citing Gen. George Patton's famous quote about making the enemy give his life for his country, not the other way around. "Thinking positive is important."
Among the laws of leadership cited by Mr. Hall was this: "First, you must maintain absolute integrity; that is an important ingredient in every leadership position."
Not only do our soldiers rebuild schools in Iraq, they stand guard while the students study, he said, adding: "It is fostering the notion that we're not all bad."
Items from care packages sent by local folks to members of the Bay City Army Reserve unit stationed in Iraq were given to the Iraqi people, helping build positive relations in that war ravaged Mid-East nation.
"Taking care of people and practicing the Golden Rule is important," he said, noting that the American attitude of assisting indigenous peoples is an important component of victory.
He noted that the integrity of the President of the United States and the intelligence community regarding the Iraq invasion has been called into question. "No one really knew, but the appearance was that the intelligence community blew it," he said.
The only way the U.S. can regain its leadership of the free world is to work on trust, he said. "Once the trust chain in broken, it's hard to re-establish."
While the plans for war were made by President George W. Bush and Secretary of Defense Donald Rumsfeld, "when the first shot was fired the plans were no good." Under Rumsfeld, who he called "a control freak who micromanaged," all decisions were made at the Department of Defense level, he said.
However, the Department of Defense under Robert Gates, who is listening to the generals and working with their recommendations, now is continually creating plans to help us survive in Iraq, he added, commenting: "Working together, we will prevail as long as everybody is on the same page and knows where we're going and why we need to be there."
A native of Gary, Indiana, Mr. Hall was graduated from Howard University, Washington, D.C., and earned a master's degree in Educational Sociology from North Carolina A&T State University as well as a Ph.D. in Business Administration from Kennedy Western University. After serving 31 years in the U.S. Air Force, rising from Airman Basic to Brigadier General, he was director of data processing at the Delco Remy Division of General Motors and regional manager for EDS in Anderson, Indiana, and Saginaw. He is executive in residence at Saginaw Valley State University and associate professor at Northwood University.
Mr. Hall is the author of a 100-page book entitled "The ABC's of Leadership" that outlines 26 characteristics of more effective leadership.
The book, published by Authorhouse, is available for $12,99 through Crimiel Publications LLC, P.O. Box 20061, 49 West Hannum Blvd, Saginaw, MI 48202, or through a website, www.authorhouse.com. ###
---
CLUB NEWS and ANNOUNCEMENTS
The Polio Plus Challenge should have exceeded the $12,000 giving goal by the time this article is published. An admirable achievement considering the club is only a few months into the planned three year fund raising effort!
Rotarians have been enjoying a new weekly challenge with the "Rotarian of the Week" quiz where facts about a mystery member are read and the club is asked to guess who that member is. If you have not filled out your fact sheet, be sure to do so!
---
Upcoming Programs
(See the official schedule at
RotaryBayCity.org
)
July 29 Head Football Coach Jim Collins of Saginaw Valley State University will talk about the upcoming season and his new position as head coach at SVSU.


Aug 05 District Governor Bob Chadwick's official visit and address.


Aug 12 Ambassador Scholar Kerry Kall
---
Visit RotaryBayCity.org
---
---

Dave Rogers




Dave Rogers is a former editorial writer for the Bay City Times and a widely read,
respected journalist/writer in and around Bay City.
(Contact Dave Via Email at carraroe@aol.com)

More from Dave Rogers
---
Send This Story to a Friend!
Letter to the editor
Link to this Story
Printer-Friendly Story View
---
--- Advertisments ---