Stables' Talent Finalists Headed To Big Stage
At Pig Gig Tonight
Final Five Set To Perform Thursday, July 31, 2008 at 7:11pm - Vets Park
July 31, 2008 2 Comments
By: Julie McCallum, Entertainment Editor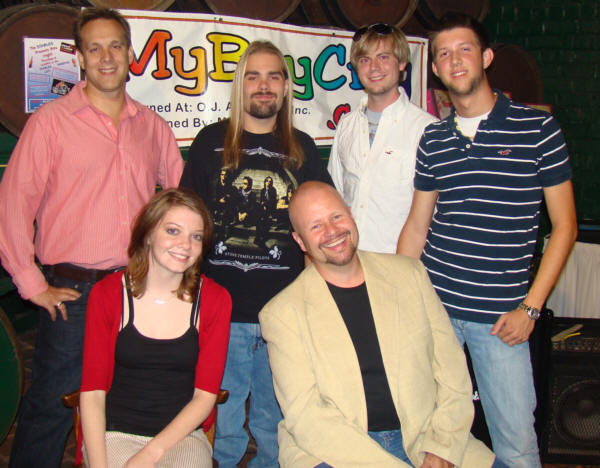 Winners of the Talent Finals Night are: (Pictured Above Back Row L/R), Kevin Sackett, Drew Brady, The Steves; (Steve Solinski, Steve Gould,).(Front) Lauren Thomas and Alto. These five are all set to perform tonight, Thursday, July 31, 2008 on the Big Stage at Pig Gig, Vets Park Bay City at about 7:11 pm
These 5 Finalists (Below) Will Perform at Pig Gig Tonight -- July 31, 2008
Mid-Michigan's Got Talent Finalists had an extraordinary night at the Stables Wednesday night!
ONE Winner will be announced after the five performers strut their stuff on the Big Stage at Pig Gig (Tonight, Thursday, July 31) and that grand prize winner will also receive an all-expense-paid trip to Las Vegas and will be the opening act for The Grass Roots on Sunday at Pig Gig -- 5:10p.m.
Talent Judge Tommy Anderson said, "I think anyone could have picked the final 5 on Wednesday night. The hard part right now is trying to pick one out of those five," Anderson said. "It was a good night at the Stables, Anderson went on. "Everything just seemed to fall into place."
Anderson added, "I'm looking forward to the final judging at the Pig Gig tomorrow night (Thursday). Right now there are five winners. In a matter of hours there will be only one," Anderson said. "Remember: You're only as good as your last performance."
Congratulations to all Finalists and Good Luck Tonight!!!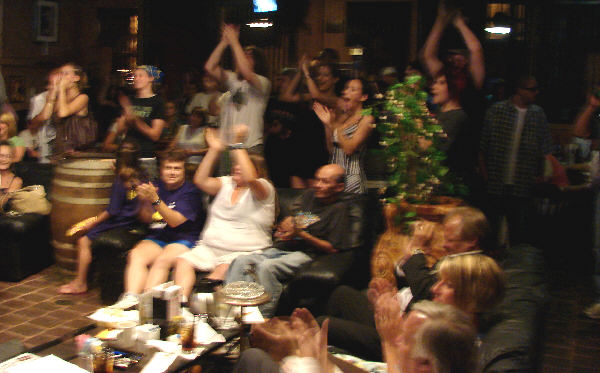 ELECTRICITY IN THE AIR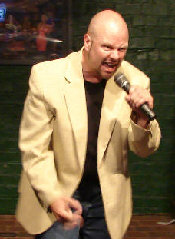 (Left) One of the Five Finalist, Alto, said, "There was definitely electricity in the air, the Stables was packed, no one could have had a bigger night." Alto's daughter chose his song of the night - Bon Jovi's YOU GIVE LOVE A BAD NAME.
Electricity there was and so more as each contestants gave it their all in a 'Free For All' -- performers could choose from any music category.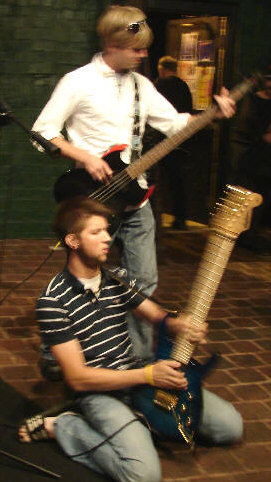 <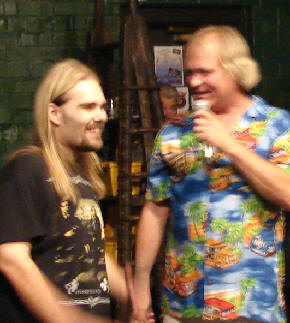 (Above Left)
The Steve's had the place ROCK'N with Night Ranger's, DON'T TELL ME YOU LOVE ME!
(Above Right)
And a stellar performance from Drew Brady who sang, Brett Michael's SOMETHING TO BELIEVE IN.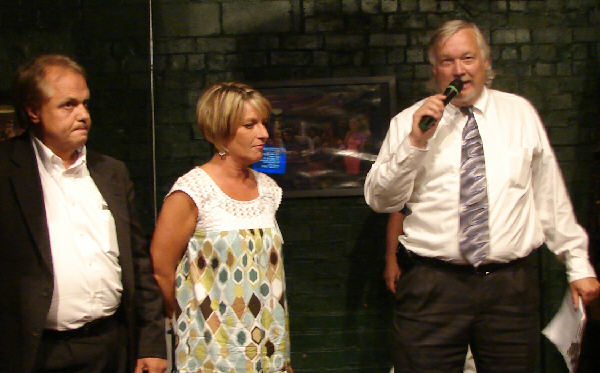 TOUGH JOB
Talent Judges had a tough job picking 5 winners out of the 15 performances.
Above: (L/R)
Judges: Tommy Anderson, Kathy Lagalo, and Dick Bork. "What a great turn out, Bork said. "Everybody performing tonight were winners as everyone came out and gave their best." Bork went on to say, "It was so hard to pick as there were so many talented singers here tonight. I think we (the judges) made the right choice," Bork said, as supported by the crowd's cheering. "I feel very good about the five finalists."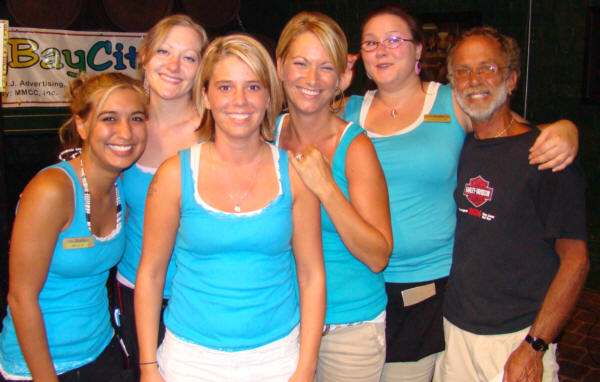 The wait staff at the Stables definitely have to stay on their toes on Wednesday nights. Stables wait staff are pictured with Stables Manager John Buehl
(R)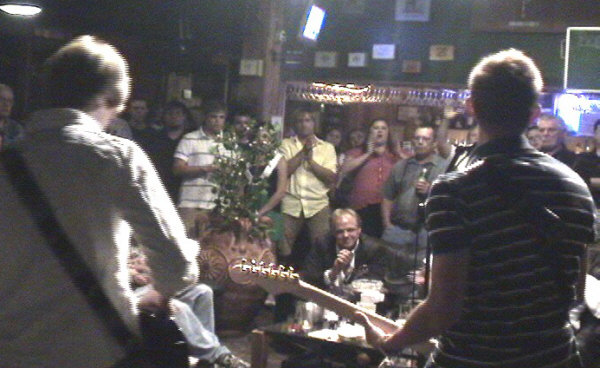 Steve & Steve had the crowd "under control" during their performance on Wednesday.


Sponsors for the 17-week program that make the on-line voting possible are: Starlyte Productions/Tri-City Party Rentals, Clock Doctor, Bay City Bakery, AP Sites, Dick Bork of Labadie New & Used Cars and Sheri Deardoff of Bay Area Real Estate.







---
"The BUZZ" - Read Feedback From Readers!
LaurenThomas says: On August 01, 2008 at 11:30 AM

I just want to thank everyone-- the judges, O.J., Julie, all the contestants and the audience. I had so much fun performing each week and watching everyone else perform. There truly is a lot of talent in the area. I appreciate all the support I was given throughout the past 10 months I've been involved in Michigan's Got Talent. It's really been fun!
DrewBrady says: On August 01, 2008 at 01:12 PM

Comment:Let me be among the first to give my congrats to Kevin Sackit on an awesome performance and for taking the competition last night. Kevin, you won this competition with all the heart and soul that you put into to every song that you perform.... and I'm glad that the judges took notice of that. I look forward to seeing you on Sunday. Secondly, I'd like to say that this competiton has led to and awesome summer and given me memories that I will never forget.... thank to everyone that made it happen! I also hear that Alto is trying to set up a "reunion" show on August 20th.... count me in. Hope to see all of you there again! Thanks again for a great competiton and a great summer! peace.
---
---
Send This Story to a Friend!
Letter to the editor
Link to this Story
Printer-Friendly Story View
---
--- Advertisments ---